Reviews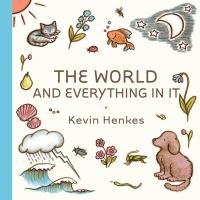 Kirkus
Copyright © Kirkus Reviews, used with permission.

Young children are always figuring out their place in the universe. Accompanied by Henkes' signature charming watercolors, presented in panels outlined in brown, the spare, quiet prose differentiates between the "big things and little things in the world." This work goes beyond many similar concept books by encouraging children to consider the enormity of the sea, the sun, and the moon in contrast to "little animals. Tiny flowers. Pebbles. Things so small you can't see them." The last sentence is pictured with an empty box. Children may question this representation of infinitesimal objects, leading adults to start a discussion about atoms or bacteria. Kids have an innate interest in their surrounding world and the science that explains it. This book will work on several levels. At its simplest, it's a consideration of big and little that will be enhanced by the pictures. On another level, connections between Earth and space, between sea and land, or between animals and humans may become the focus. The diverse children pictured will invite readers to place themselves in the scenarios Henkes presents: holding "a little animal" or noticing a patch of the big sun "on the rug on your floor." Perfect for family reading, this will also work with groups at schools or libraries. (This book was reviewed digitally.) A contemplative picture book to help young readers understand the reality of their world. (Picture book. 3-6) Copyright © Kirkus Reviews, used with permission.
---
Book list
From Booklist, Copyright © American Library Association. Used with permission.

Young children may feel like the world is full of things that are bigger and more important than they are. With an unerring understanding of the child's perspective, Henkes presents simple comparisons, demonstrating how all the people and parts of the world are significant to the whole. Using brown ink and watercolor paint, the opening image shows a large tree and a small sprout. The text acknowledges there are "big things and little things in the world": Little things such as animals, flowers, and pebbles, and a blank box to suggest the things so small they cannot be seen. Big things such as the sea, the sun, and the moon. Next, a series of children interacts with the world in natural ways. A child may pick up a pebble, a flower, or an animal while also being part of the bigger elements by holding some seawater, sitting in a sunbeam, or watching the moon. We all fit into the world; we all are somewhere "in-between." Soothing and accepting, the book reassuringly demonstrates that the world is big enough for everyone and everything.
---
Publishers Weekly
(c) Copyright PWxyz, LLC. All rights reserved

Serene reflectiveness flows through this meditation by Henkes (Little Houses), whose simple prose initially segments the universe into two camps: "big things and little things." An early spread shows both: a grown, gnarled tree is pictured against billowing clouds on a grassy rise; a seedling grows beside it. In subsequent pages, framed spreads display diminutive entities: "Little animals.// Tiny flowers.// Pebbles.// Things so small you can't see them." Shown against backgrounds of white, they evoke the objective calm of encyclopedia illustrations. Next come the big things, including "The sea.// The sun.// The moon." Humans are in the middle, and able to interact with both, having "some of the little things"—spreads show children of various skin tones holding the items—and fragments of big things, too. "The moon is big,/ but you can see all of it/ out the window in your bedroom." But how big is big? How small is small? "Most of the things are in-between," straightforward text concludes. "Like you./ And me." Spare images and text, and an almost reverent stream of thought, helps illuminate humans' comparative scale in the wide, variously populated world. Ages 4–8. (Mar.)