Reviews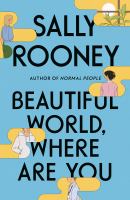 Publishers Weekly
(c) Copyright PWxyz, LLC. All rights reserved

Rooney (Normal People) continues her exploration of class, sex, and mental health with a cool, captivating story about a successful Irish writer, her friend, and their lovers. Alice Kelleher, 29, has suffered a nervous breakdown as a result of her work's popularity. After moving from Dublin to a small seaside town, she meets Felix, a local with a similar background—they both grew up working-class, and both have absent fathers—who works in a shipping warehouse. She invites him to accompany her to Rome, where he falls in love with her but resents what he takes to be her superior attitude. Meanwhile, in Dublin, Alice's university friend Eileen Lydon works a low-paying literary job and explores her attraction to a childhood friend who seems to return her feelings but continues seeing other women. Alice and Eileen update each other in long emails, which Rooney cleverly exploits for essayistic musings about culture, climate change, and political upheaval. Rooney establishes a distance from her characters' inner lives, creating a sense of privacy even as she describes Alice and Eileen's most intimate moments. It's a bold change to her style, and it makes the illuminations all the more powerful when they pop. As always, Rooney challenges and inspires. Agent: Tracy Bohan, the Wylie Agency. (Sept.)
---
Kirkus
Copyright © Kirkus Reviews, used with permission.

Two erudite Irishwomen struggle with romance against the backdrop of the Trump/Brexit years. Eileen and Alice have been friends since their university days. Now in their late 20s, Eileen works as an editorial assistant at a literary magazine in Dublin. Alice is a famous novelist recovering from a psychiatric hospitalization and staying in a large empty rectory on the west coast of Ireland. Since Alice's breakdown, the two have kept in touch primarily through lengthy emails that alternate between recounting their romantic lives and working through their angst about the current social and political climate. (In one of these letters, Eileen laments that the introduction of plastic has ruined humanity's aesthetic calibration and in the next paragraph, she's eager to know if Alice is sleeping with the new man she's met.) Eileen has spent many years entangled in an occasionally intimate friendship with her teenage crush, a slightly older man named Simon who is a devout Catholic and who works in the Irish Parliament as an assistant. As Eileen and Simon's relationship becomes more complicated, Alice meets Felix, a warehouse worker who is unsure what to make of her fame and aloofness. In many ways, this book, a work of both philosophy and romantic tragicomedy about the ways people love and hurt one another, is exactly the type of book one would expect Rooney to write out of the political environment of the past few years. But just because the novel is so characteristic of Rooney doesn't take anything away from its considerable power. As Alice herself puts it, "Humanity on the cusp of extinction [and] here I am writing another email about sex and friendship. What else is there to live for?" A novel of capacious intelligence and plenty of page-turning emotional drama. Copyright © Kirkus Reviews, used with permission.
---
Library Journal
(c) Copyright Library Journals LLC, a wholly owned subsidiary of Media Source, Inc. No redistribution permitted.

Having met in college in Dublin, Eileen and Alice have been best friends for years. Alice is a critically acclaimed novelist and world traveler, while Eileen continues to work at a Dublin office. Alice relocates to Ballina on Ireland's west coast, where she meets Felix, a local laborer, while Eileen spends time with childhood friend Simon. As these four people explore their relationships with one another, Eileen and Alice exchange emails about ecological collapse, political cynicism, consumerism, economic inequality, civic decline, and religious and aesthetic experiences. While these fraught themes complicate Alice and Eileen's friendship as well as their respective relationships with Felix and Simon, they do not discourage them from determining that love can prevail even in the midst of chaos. VERDICT Rooney's third novel deals with some of the emotional dynamics and ideas explored in Conversations with Friends and Normal People but expands and enriches them by depicting human dramas against vast historical backdrops, amplifying art's essential status in human life. Once again, she has written a masterly and significant work of fiction that is both traditional and innovative.—John G. Matthews, Washington State Univ. Libs., Pullman
---
Book list
From Booklist, Copyright © American Library Association. Used with permission.

Alice, a famous young novelist renting a home on the Irish coast, goes on a date with local Felix, who works in a warehouse, and they don't hit it off at first. Alice's best friend, Eileen, is an editorial assistant at a Dublin-based literary magazine who goes home to the sad room she's been renting since her breakup. She's known Simon, an activist and devout Catholic several years her senior, her whole life, and been in love with him for much of it. Their actions often observed at a neutral distance, these four fully human and flawed characters navigate contemporary life, with its dating apps and worsening inequalities and horrifying quantities of plastic, in a novel that yet feels refreshingly old-fashioned. Interspersed among chapters are emails between Alice and Eileen, not uncritical but steeped in affection, in which they discuss philosophy, politics, the degradation and collapse of societies, and how one can still be concerned about beauty, sex, and friendship, let alone something as inconsequential as a novel, in light of all that. Writing with her trademark truthfulness and wit, Rooney compels with both these meta-conversations and the actions of her characters' lives: their enthralling, intimate, and consequential grappling with themselves, with one another, with desire, and with the world.HIGH-DEMAND BACKSTORY: Rooney's first novel since Normal People (2019), which became a popular and award-winning Hulu series, is steadily drawing excitement.