Reviews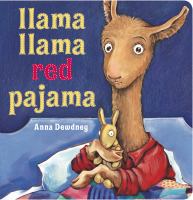 School Library Journal
(c) Copyright Library Journals LLC, a wholly owned subsidiary of Media Source, Inc. No redistribution permitted.

PreS-K-With its sweet rendering of the trials of bedtime and separation anxiety, this book's familiar theme will be a hit with youngsters. Baby Llama, all tucked in and kissed after his bedtime story, watches his mama leave the room with a worried expression on his face. When he calls her and she does not come back immediately, he succumbs to a fit of wailing and weeping, finally bringing his panic-stricken mother at a full gallop. After her reassurance that "Mama Llama's always near, even if she's not right here," Baby Llama settles and drifts off to sleep. This story has a simple rhyme scheme, using natural language that children will enjoy. The large, boldly colored pictures have a grand and sweeping quality, extending out to the edges of the pages. Baby Llama's facial expressions capture his fear and alarm wonderfully. The contrast between light and dark enhances the drama in the story. This effective read-aloud will be a popular choice for storyhour and one-on-one sharing.-Corrina Austin, Locke's Public School, St. Thomas, Ontario, Canada (c) Copyright 2010. Library Journals LLC, a wholly owned subsidiary of Media Source, Inc. No redistribution permitted.
---
Kirkus
Copyright © Kirkus Reviews, used with permission.

Dewdney's authorial debut is an uproariously funny tale detailing the true events that occur between lights out and when a wee one actually falls asleep. Feeling bereft after his mother leaves the room, little Llama soon calls down for a drink of water. What happens between that moment and his mom's arrival is a treat for seasoned parents and a eureka moment for young readers. With unerring accuracy, Dewdney perfectly captures the existential, pint-sized angst little ones experience after they are tucked in for the night. With dead-on comic timing, Dewdney's snappy verses convey the juxtaposition of little Llama's escalating anxiety and Mama's last minute efforts to get something done before heading back up to the room. The full-color, full-bleed illustrations are an intrinsic part of why this tale works so well. The combination of little Llama's expressions with the ever-darkening hues expertly capture his growing concerns. When Llama's worries reach their climactic peak, Mama's sensible but sensitive response soothes both her ruffled baby and young readers alike. Dewdney's tale is bound to become a comical classic oft-requested at bedtime. (Picture book. 3-7) Copyright ŠKirkus Reviews, used with permission.
---
Book list
From Booklist, Copyright © American Library Association. Used with permission.

PreS. After Mama Llama reads Baby Llama a bedtime story and turns out the light, the llama drama begins. Feeling alone without his mama, Baby Llama wants a drink and calls down to Mama, who says she'll be up soon. But Baby Llama frets, whimpers, boo-hoos, pouts, and shouts. What if Mama is gone? At last, she appears (she was talking on the phone), and reassures her baby that she's "always near, / even if she's / not right here."\b \b0 Dewdney gives a wonderfully fresh twist to a familiar nighttime ritual with an adorable bug-eyed baby llama, staccato four-line rhymes, and page compositions that play up the drama. The simple rhymes call out for repeating, and the whimsical illustrations cleverly dramatize the increasing panic. Key worry words, such as fret,0 are highlighted, and for extra humor, Baby Llama's toy llama mimics his every expression. A real charmer that will leave preschoolers giggling and parents appreciating the familiar scenario. --Julie Cummins Copyright 2005 Booklist
---
Horn Book
(c) Copyright The Horn Book, Inc., a wholly owned subsidiary of Media Source, Inc. No redistribution permitted.

While in his bed, a llama gets worked up because he's convinced that his mother has abandoned him. Mama snaps--""Baby Llama, / what a tizzy! / Sometimes Mama's / very busy""--before reassuring him. The understated message--moms deserve a break--is refreshing in a picture book for young children, who will appreciate this llama drama's exaggerated facial expressions. (c) Copyright 2010. The Horn Book, Inc., a wholly owned subsidiary of Media Source, Inc. No redistribution permitted. All rights reserved.