Reviews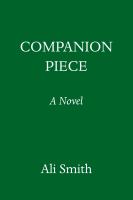 Publishers Weekly
(c) Copyright PWxyz, LLC. All rights reserved

Smith's expansive and tantalizing spin-off of her Seasonal Quartet series blends stories of mythology, English history, and personal trauma. While artist Sandy Gray waits for news about her elderly father who's recovering in the hospital after an unspecified life-threatening episode, she gets a call from Martina Inglis Pelf, an assistant to an art curator and former university acquaintance of Sandy's. Pelf tells a story about a lengthy airport customs detainment upon returning with a Boothby lock and key artifact belonging to a 16th-century chest and accidentally presenting the wrong passport. Pelf thinks Sandy can decipher the meaning behind a voice in the holding room that whispered "curlew or curfew." Therein lies Smith's intricate, interlocking narratives, which involve the story of three-headed beast Cerberus, whom Sandy imagines talking with brutish police in the register of "English music-hall comedy" ("'Ello 'Ello 'Ello. Wot's all this then?"); Pelf's peculiar twin daughters; and a teenaged female blacksmith during the 13th-century black plague with mythic connections to Vulcan and Pandora and haunting parallels to the Boothby apparatus and the Covid-19 pandemic. As ever, Smith's flawless stream-of-conscious narration is at once accessible and transforming, and with it she manages to contain eye-blinking hallucinatory images, such as a shattered clock that reconstitutes itself. This is a captivating Rubik's cube of fiction. (May)
---
Book list
From Booklist, Copyright © American Library Association. Used with permission.

Artist Sandy is forced out of her habitual, contented solitude when her father lands in the hospital with heart trouble during the COVID-19 pandemic. They have a prickly relationship; he's never forgiven her for being gay or for being a painter who paints poems, but they're all the family they have, except for his old dog. More intrusions occur when Martina, a forgotten college classmate, calls and recounts the first of the entrancing and mysterious tales that entwine to form Smith's dialogue-driven, deeply imagined, hilarious, and affecting tale of unexpected companionship during a plague. Martina's story involves an exquisitely constructed sixteenth-century lock and a disembodied voice saying, "Curlew or curfew. You choose." She is certain that Sandy, who always "knew what things meant," can make sense of this. Soon Martina's distraught, bossy, grown twin daughters invade Sandy's home, as does a strange, filthy teenage girl with a curlew, a now endangered bird once considered divine. Back in the bubonic plague era, a girl gifted in the metal arts is brutally ostracized. Returning to the present, witty and besieged Sandy is profoundly grateful to the valiant, caring hospital staff, and to the steadfast dog. Smith follows her award-winning Seasonal Quartet with a bristling yet tender, richly layered, brilliant, and dynamic novel of connections forged and love affirmed.
---
Kirkus
Copyright © Kirkus Reviews, used with permission.

An artist in England copes with old and new strangers in a time of plague in this touching entertainment. Painter Sandy Gray is at home in England in 2021 imagining Cerberus talking to a British policeman when she gets a call from someone she barely knew at college some 30 years earlier. Martina Pelf, who remembers Sandy as being good at explaining things, tells her about getting stopped at border control on her return from a trip to collect a 16th-century lock for the museum where she works. While being held in an interview room, Martina hears a disembodied voice ask a strange sort-of question: "curlew or curfew." This is Smith's pandemic land, where myth and reality converse, where lockdown might evoke medieval artisanry, and where wordplay is more than playful. The Scottish author's 12th novel displays once again her ingenuity in pulling together disparate narrative strands. The main one concerns the fallout from the unexpected phone call, which sends Sandy, who narrates the novel, back to a moment at university when she explained an e.e. cummings poem for Martina and forward to a point when, in one long hilarious scene, the Pelf family invades Sandy's home, breaking all the pandemic rules. She recalls the story of an aunt's illness in the 1930s and often thinks of her father, who is currently in the hospital with an ailment that won't be revealed until the penultimate page. The curlew and the curfew will resurface when a homeless teenager breaks into Sandy's house and then, in a 40-page fable, is pre-incarnated as a gifted teen blacksmith, perhaps the artisan behind the aforementioned lock. With art and humor, Ali is the smith who forges links for her idiosyncratic narrative, one of which is the value of acts of kindness amid distress. A truly marvelous tale of pandemic and puns and endurance. Copyright © Kirkus Reviews, used with permission.
---
Library Journal
(c) Copyright Library Journals LLC, a wholly owned subsidiary of Media Source, Inc. No redistribution permitted.

The twice Man Booker Prize-shortlisted and Baileys, Goldsmiths, and Costa-honored Smith triumphed with her distinctive "Seasonal Quartet," which has been unfolding since 2016. Now that it's done, this "companion piece" continues her investigation of #MeToo, Brexit, the global refugee crisis, the ongoing pandemic, and more.