Reviews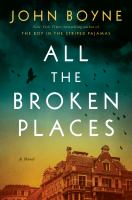 Kirkus
Copyright © Kirkus Reviews, used with permission.

An old woman is seen at key moments in a lifelong struggle to deal with the guilt-laden secrets of her youth. Irish writer Boyne mines his 2006 novel, The Boy in the Striped Pajamas, for this sequel about the boy's sister. Gretel was 12 in the earlier book when she lost her brother, Bruno, while they lived next to Auschwitz, where their father was the commandant. In the new novel, she narrates two storylines, alternating between several months before her 92nd birthday and some 10 years in her teens and 20s. In the earlier narrative, she and her mother have changed their names and fled Germany for Paris, where they fall afoul of a group hunting collaborators. Gretel moves to Australia when her mother dies but must leave after meeting a figure from Auschwitz who can expose her. The other narrative finds the nonagenarian in London dealing with a friend sliding into dementia (and the subject of a delightful twist in the tale) and troubling new neighbors in the flat below. The abusive father in this family will spark the last of several episodes in which Gretel faces the threat of having her wartime past revealed. Through these, her sense of guilt emerges as a complex amalgam of feelings about her father's role in the death camp, her initial ignorance and eventual realization of what Auschwitz represented, her silence after the war, and the part she thinks she played in Bruno's death. Boyne handles the alternating narratives well and uses them to create suspense, but they contribute to some avoidable repetitiousness in the writing and an occasional sense of aimlessness in the plot, unlike the taut, effective economy of Striped Pajamas. The ending may spark fierce debate, for what seems to be an act of redemption also smacks of self-justification that, in this fraught context, evokes grim historical antecedents. A complex, thoughtful character study that avoids easy answers. Copyright © Kirkus Reviews, used with permission.
---
Publishers Weekly
(c) Copyright PWxyz, LLC. All rights reserved

Boyne delivers a seemingly redundant adult sequel to The Boy in the Striped Pajamas, his 2006 YA novel. In the present, 91-year-old widow Gretel Fernsby lives comfortably in her London flat. She then meets new neighbors Alex Darcy-Witt, a movie producer; his emotionally fragile wife, Madelyn; and their nine-year-old son, Henry, who reminds Gretel of her brother who died at the same age 80 years ago. After Gretel senses Madelyn and Henry are being physically abused by Alex, she's reminded of the evil she faced as a preteen girl when her father was commandant of Auschwitz. Gretel has spent the years since living under a shadow of complicity, which Boyne unfurls in flashbacks. As a young woman in Paris, Gretel is called the "devil's daughter" and imagines she'll be executed; and in Sydney, she coincidentally runs into the guard she'd had a crush on back at Auschwitz. As Gretel looks back on her past, she must decide what to do with the threat posed by the icily manipulative Alex, who offers a benign explanation for his violent episodes. Boyne creates vivid characters, but a certain thematic obviousness dilutes the dramatic effect. Fans of the first book may enjoy revisiting the material as adults, but this doesn't quite land on its own. (Nov.)
---
Book list
From Booklist, Copyright © American Library Association. Used with permission.

Irish author Boyne (A Traveler at the Gates of Wisdom, 2020) returns to one of the characters from his YA historical novel, The Boy in the Striped Pyjamas, in this fast-moving story set largely in present-day London, with flashbacks to the WWII era. Gretel, the older sister of Pyjamas' protagonist Bruno, is 92 and still wracked with guilt about her past as the daughter of the Commandant of Auschwitz and over the fate of her brother. She gets a chance at redemption when a bookish nine-year-old boy moves into the flat below hers with his abusive father and abused mother. Where its predecessor was a fable aimed at younger readers, this sequel is unquestionably an adult novel. Boyne moves nimbly through Gretel's history and numerous subplots in which some coincidences strain credulity. Gretel is a compelling character, sardonic and damaged, and the novel raises intriguing questions about the psychological effects of guilt and shame. While it stands sturdily enough on its own, it will probably appeal particularly to fans of Boyne's earlier bestseller.