Reviews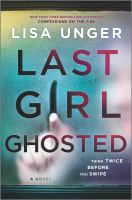 Publishers Weekly
(c) Copyright PWxyz, LLC. All rights reserved

Advice columnist Wren Greenwood, the protagonist of this enthralling psychological thriller from Thriller Award finalist Unger (Confessions on the 7:45), meets Adam Harper after she joins the online dating app Torch. Wren and Adam begin an emotional affair that she believes will last, but three months later Adam vanishes, ghosting Wren by deleting all his contact information, including his Torch profile, and disconnecting his cell phone. Wren is further devastated when a private investigator shows up at her Brooklyn townhouse claiming that Adam may be responsible for the disappearance of three women, who, along with all their money, have never been located. The search for Adam forces Wren to confront her turbulent childhood, which included a violent father who insisted his family live off the grid. Readers will root for the appealing, intelligent characters, even when they're not acting in their own best interest. Believable plot twists related to questions of identity and the value of friends who become family further elevate the story. Unger is on a roll. Agent: Amy Berkower, Writers House. (Oct.)
---
Library Journal
(c) Copyright Library Journals LLC, a wholly owned subsidiary of Media Source, Inc. No redistribution permitted.

In her 19th novel (after Love the Way You Lie), Unger introduces readers to Wren Greenwood, who seems to have her life together except for a lack of romantic love. She downloads the dating app Torch and, after a few lukewarm dates, meets and falls in love with Adam. Then he ghosts her. Readers soon learn that Wren has a complicated and painful background, and that Adam may not be who he says he is. Wren sets out to find the truth while working with Bailey, a private detective searching for a woman who seems to be connected with both Adam and Torch. In the process, Wren must confront her past and try to make things right for herself and for others. The well-drawn secondary characters make Unger's mystery even more dynamic, and the plot twists come fast. VERDICT Unger keeps readers guessing, with revelations that will make them stop and question what they thought they knew. She might also make them think twice about online dating. Recommended for those who like psychological thrillers with women protagonists, such as Andrea Bartz's We Were Never Here.—Terry Lucas, Shelter Island P.L., NY
---
Book list
From Booklist, Copyright © American Library Association. Used with permission.

Wren meets Adam through a dating app, looking for a quick hookup, only to end up totally infatuated with him. And then he vanishes. No phone, no current online presence. She has been ghosted. She has had a profitable career as an advice columnist, although she describes herself as a freelance writer. The unsavory side of peddling gossip is not all Wren has to hide, and perhaps she told Adam too much too soon, and he's just avoiding her. But Adam has secrets of his own. As Wren looks deeper into his digital past and has a visit from a private investigator who is also looking for him, she learns there were others who also fell under his spell. And they have gone missing. Unger has said that "plot flows from the characters," and the finely nuanced Wren is a perfect example of such a character, leading the reader through an immersive tale of passion and vengeance with a startling ending. Unger's Confessions on the 7:45 (2020) was a number-one best-seller and named one of Booklist's top-10 crime novels for 2020–21.
---
Library Journal
(c) Copyright Library Journals LLC, a wholly owned subsidiary of Media Source, Inc. No redistribution permitted.

A woman meets a man she spotted on a dating app, quickly falls for him, but later finds herself ghosted—his phone has been disconnected, and his profile has vanished like smoke. Then she learns about other women who have had the same experience she did—and have since vanished as well. Now she's investigating. With a 100,000-copy first printing; Unger was an Edgar finalist in 2019 for her paperback original Under My Skin and her story "The Sleep Tight Motel," and 2020's Confessions on the 7:45 was an international and USA Today best seller.
---
Kirkus
Copyright © Kirkus Reviews, used with permission.

A psychological thriller spins a dark tale of hidden identities and buried pasts. Wren Greenwood is skeptical about looking for love, or even for a hookup, online. But one of her best friends, vivacious Jax, presses her. At 28, Wren is totally focused on her job writing and podcasting an advice column called "Dear Birdie." She's so intent on helping her audience with their personal lives she barely has one of her own. So Wren signs up for a Tinder-like service called Torch, and there he is. Adam Harper, broodingly attractive, enigmatic—and quoting Rilke in his profile. Rilke fan Wren falls for him as soon as they meet, and for a few months it's bliss. Then he vanishes. She's hurt and bewildered—and then she's frightened, as what she thought she knew about his identity seems to be an opaque mask. But why is she getting strange texts from unknown numbers, catching glimpses of a tall figure watching her from a distance? Then a private detective named Bailey Kirk starts asking questions about another woman who connected online with a man who looks like Adam—a woman who has disappeared. Unger crafts Wren's first-person narration skillfully, creating an engaging, witty character and drawing the reader into her life and only slowly revealing that she has secrets of her own. Almost no one in this thriller is who they appear to be. Unger always ratchets up the tension, and the revelations, in her final chapters. But in this book, she spins like Simone Biles—and sticks the landing. A young woman's foray into online dating becomes a heartbreak—and then a deadly nightmare. Copyright © Kirkus Reviews, used with permission.