Reviews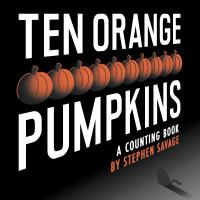 Kirkus
Copyright © Kirkus Reviews, used with permission.

In this strong graphic treatment of a traditional theme, 10 Halloween pumpkins are spirited away or destroyed one by one by various seasonally appropriate, sometimes-scary entities: a scarecrow, a mummy, a bolt of lightning, a hungry ghost, alligators in a pond, pirates ("Arrr!"), an owl, a witch and a spider. In a visual style reminiscent of 1950s horror tales, Savage creates a highly dramatic and sensational sequence using strong color contrasts, including, of course, Halloween orange and black. Homely scenes of country life--fields, clothes on a line, a spooky mansion, a stormy churchyard--and more exotic ones--a witch's kitchen, pirate skeletons on a stormy ocean--are all rendered in a strong, airbrushed graphic style. While the overall mood is scary and grotesque, there are light touches in several features, including the cat that appears on every spread, the alligators that morph from rock look-alikes to snapping monsters that consume the pumpkin, the mummy who mummifies a pumpkin and the doughboy ghost who makes a pumpkin into pie. The simple rhymes of the countdown have a sweetly repetitive nursery-rhyme quality, and they will help to reassure children who may be a little apprehensive about Halloween, as well as aiding counting and subtraction skills. Although the landscapes Savage creates are highly stylized, they have a softness and gentle humor that will capture the imaginations of young children and add to their anticipation. (Picture book. 3-5)]] Copyright Kirkus Reviews, used with permission.
---
Book list
From Booklist, Copyright © American Library Association. Used with permission.

This counting book opens with 10 orange pumpkins on a farm. As the rhyming, rhythmic verses roll along, one pumpkin after another disappears, but observant children will be able to figure out what happens to each. In one double-page spread, a pickup truck carrying 6 pumpkins crosses a bridge in the evening. The verse reads, Six orange pumpkins / out for a drive. / Watch out! There's a bump ahead. / Splash! There are five. A page turn after bump ahead depicts the same scene with water splashing up as a pumpkin lands in the water, awakening several alligators. The rhyming text works well enough, but the real drama comes in the simple, striking artwork. Savage uses line, color, form, and contrast beautifully. Throughout the book, the color of the sky changes, providing beautiful backdrops for the characters and objects silhouetted against it. Spooky but not truly scary, this reverse counting book makes a fun read-aloud choice for younger children looking forward to Halloween.--Phelan, Carolyn Copyright 2010 Booklist
---
Publishers Weekly
(c) Copyright PWxyz, LLC. All rights reserved

Savage counts down from 10 as, one by one, pumpkins vanish in very Halloween-appropriate ways. Fans of Where's Walrus and Savage's Polar Bear books will recognize and appreciate the sleek design of Savage's artwork, which still allows room for Halloween mischief, too. "Eight orange pumpkins/ Beneath a starry heaven./ Thunderclouds come rolling in./ Flash! There are 7," he writes as a gleaming white zigzag of a lightning bolt obliterates one of the pumpkins, which are lined up in a graveyard in one scene. Ghosts, skeletons, and other holiday standbys also make appearances, and Savage's spirited rhymes (no pun intended) make this an ideal readaloud for younger Halloween celebrants. Ages 3-5. Agent: Brenda Bowen, Sanford J. Greenburger Associates. (Aug.) (c) Copyright PWxyz, LLC. All rights reserved.
---
School Library Journal
(c) Copyright Library Journals LLC, a wholly owned subsidiary of Media Source, Inc. No redistribution permitted.

PreS-Gr 2-Another rhyming book counting down pumpkins at Halloween? Yes, please! Bold colors contrast with seasonal shadows in the mixed-media (digital and traditional) illustrations, drawing readers in to a countdown that does not anthropomorphize the pumpkins. Rather, readers see one pumpkin at a time disappearing in benignly spooky fashion: a mummy chooses a pumpkin, lightning flashes one away, a witch uses one in her brew. The catchy rhyme scheme never feels forced and is predictable enough for listeners to enjoy guessing. With just one to three lines per page, the text is also well suited to beginning and newly independent readers. The clean illustrations and uncluttered pages will show well in a group setting. When the last pumpkin turns into a glowing jack-o'-lantern next to a black cat that has appeared throughout the story, readers are wished a happy Halloween, but this is a story that could be enjoyed year-round.-Julie R. Ranelli, Queen Anne's County Free Library, Stevensville, MD (c) Copyright 2013. Library Journals LLC, a wholly owned subsidiary of Media Source, Inc. No redistribution permitted.