Reviews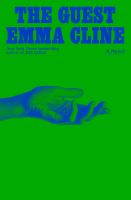 Publishers Weekly
(c) Copyright PWxyz, LLC. All rights reserved

A 22-year-old woman loses her apartment and her grip on reality in the provocative latest from Cline (The Girls). After Alex's sex work dries up, she gets kicked out of her place in New York City and takes up the offer from Simon, an affluent older man, to spend the summer in the Hamptons. All goes well until a week before Simon's Labor Day party, when Alex dings his car, and Simon suggests she head back to the city. Hoping to preserve what luster she can in Simon's eyes, she doesn't mention she has nowhere to go and convinces herself she'll be welcome at his party. She then launches a series of schemes to get through the next five days, taking advantage of strangers' assumptions that she belongs. As Alex wanders from a rental full of hard partiers to a pool house on property left vacant for renovations, she draws on her sex work skills to keep herself welcome and leaves a trail of destruction. Before the first couple days are out, she's slept with another girl's boyfriend and damaged a blue-chip painting, while holding out hope, however misguided, that Simon will be happy to see her again. Cline has a keen eye for class differences and makes Alex into an intriguing protagonist who has learned to be observant, but must also recognize she's losing her judgment if she wants to survive. Like watching a car crash, this is hard to look away from. Agent: Bill Clegg, Clegg Agency. (May)
---
Kirkus
Copyright © Kirkus Reviews, used with permission.

A week in the life of a 22-year-old grifter in the Hamptons. Cline does pretty-but-creepy like no one else and now takes her brand of alluring ickiness to the wealthy enclaves of Long Island (the location is unnamed but clearly recognizable) in the last week of summer. We meet Alex swimming in the ocean, high on painkillers she's stolen from her man of the moment, a "civilian" named Simon who doesn't know Alex is a working girl and who has invited her to spend the month of August at his place "out east." She floats along thinking about the pile of shoes left at the entrance to the beach, "how easy it would be to take things, out here. All sorts of things. The bikes leaning against the fence. The bags unattended on towels. The cars left unlocked, no one wanting to carry their keys on the beach. A system that existed only because ev-eryone believed they were among people like themselves." Unfortunately, Alex makes a judgment error at a party that evening and ends up getting delivered by Simon's personal assistant to the train station. But she can't go back to the city—her roommates have kicked her out, she's no longer welcome in certain restaurants, and there's a dangerous man who is very, very angry with her. Instead of boarding a train, she attaches herself to a group arriving for a shared rental, successfully pretending to be one of the invitees. When that stops working, she finds another mark. Alex is very good at fooling others, but the trouble is that she's also fooling herself, thinking if she can just make it until Simon's Labor Day party at the end of the week, he'll welcome her return. The riveted reader watches helplessly as her mistakes pile up and the sense of imminent disaster steadily soars, humming in every sentence. "Alex passed the white skeleton of a lifeguard tower." "So many people with open, gnashing mouths and glasses in their hands, their private moons of alcohol." Cline's writing is an addictive treat, and if her cliffhanger ending cuts us off like a mean drug dealer, maybe cold turkey is the only way. A propulsive read starring an irresistible antihero. Copyright © Kirkus Reviews, used with permission.
---
Book list
From Booklist, Copyright © American Library Association. Used with permission.

Cline's (Daddy, 2020) absorbing novel follows opportunistic twentysomething Alex after she is dumped by older art dealer Simon in his tony beach town. She finds herself with a one-way ticket back to New York City, but things there are bleak. Recently kicked out of her apartment after skipping on rent and stealing from her roommate, she's also on the outs with an angry ex-client, Dom. Rather than return to the city, Alex convinces herself that if she can make it through the week in the wealthy Long Island enclave, she can return to Simon's good graces during his annual Labor Day party. She drifts through the lives of the townsfolk, relying on her charms to gain the trust of partying vacationers, hired help, and high schoolers to navigate the days. Long-simmering tensions build as Labor Day nears, and Alex's situation becomes more complex when she gets tangled up with a troubled teenager, and Dom's attempts to track her down become more threatening. Cline's captivating narrative effortlessly weaves Alex's unapologetic boldness into the varied lives she disrupts.