Reviews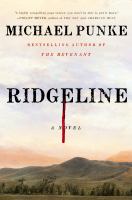 Publishers Weekly
(c) Copyright PWxyz, LLC. All rights reserved

Punke (The Revenant) again brings the Old West to life in this engrossing account of the violence and horror of a Wyoming massacre that presaged the Battle of Little Big Horn. On Dec. 21, 1866, Lakota war leader Crazy Horse lured 80 U.S. soldiers into a trap, slaughtering all of them. A prologue set on the fateful day teases what's to come, with Crazy Horse's advance unit of decoys surprised by the cavalry soldiers' new rapid-fire rifles. Punke then shifts back five months, as Crazy Horse becomes aware of an ominous development. The American military has decided to establish a new outpost, Fort Phil Kearney, to deter Native American attacks on those traveling to and from Montana's gold fields. Gen. William Sherman believes construction of the fort is permitted under a treaty, despite scout Jim Bridger's explanation that the agreement had been entered into with chiefs who didn't represent the affected Native American bands. Once Crazy Horse spots white women and children at the fort, he realizes the soldiers are not there simply for defensive purposes, and that settlement of the area is in the works. The tensions build, culminating in Crazy Horse's plan to take advantage of the American military's discounting of the alliance of tribes and their ability to strategize. Punke makes the battle vivid, and draws deep characterizations of individuals on both sides, exploring Crazy Horse's fear of impending change, U.S. soldiers' indifference to fighting, and a captain's lament of the breakdown of discipline and reason within the battalion's leadership. This is historical fiction at its best. (June)
---
Book list
From Booklist, Copyright © American Library Association. Used with permission.

Punke is brilliant: an author (The Revenant, 2002), attorney, professor, former U.S. ambassador, and current vice president at Amazon Web Services. Ridgeline, a novelization of the 1866 Fetterman Fight, in which a confederacy of Lakota, Cheyenne, and Arapaho tribes fought a detachment of U.S. soldiers from Fort Phil Kearny in the Dakota Territory (present-day Wyoming), confirms his mastery as a writer. A foreboding sense of ruin and sadness clings to each page. Deftly switching between character perspectives provides a multifaceted account of the weeks leading up to the fight. He loosely fictionalizes army officers, enlisted men, an officer's wife, two civilian scouts, and Lakota leaders (including Red Cloud, Crazy Horse, and a transgender prophet). The day of the battle is described in unflinching detail. The devastation feels real. Punke deeply respects Native American tribal history, and explains how an uneasy tribal allegiance led to battle victory. In short time, however, the war was lost. Even in a novel so bleak, Punke carves out poignant moments (conversations between the two civilian scouts, the camaraderie between the young Lakota warriors). Ridgeline transcends genre categorization—any sophisticated reader would appreciate this novel.
---
Kirkus
Copyright © Kirkus Reviews, used with permission.

A fictional portrait of a lesser-known battle in American history. A massacre of U.S. Army soldiers by Native Americans that foreshadowed the more famous one at the Little Bighorn River a decade later is the subject of this richly detailed but fast-paced novel. The Fetterman Fight on Dec. 21, 1866, resulted in the deaths of 81 Army combatants and helped bring a temporary halt to the expansion of a chain of fortifications in present-day Wyoming. As Punke meticulously describes it, the slaughter resulted from careful planning by an alliance of Native tribes and was executed by bands of skilled warriors that included the famed Lakota leader Crazy Horse, who emerged into prominence at this time. On the Army side, Punke seamlessly shifts perspectives among a cadre of officers and enlisted men, including Col. Henry Carrington, commanding officer at Fort Phil Kearny, and the charismatic but reckless cavalry officer Lt. George Washington Grummond, portrayed as largely responsible for the outcome. Imagined diary entries of Grummond's wife, Frances, provide valuable insight and color. The novel effectively inhabits the mind of Crazy Horse, a sober, determined fighter who understands that he "must fight not for his own aggrandizement or glory, but only for the betterment of his people." Punke patiently escalates the tension between the opposing sides, as raids on the fort's cattle herd and skirmishes with crews dispatched to fell trees for the wood supply threaten its survival while the tribes recognize the need to attempt a fatal blow before the onset of winter. The expansive, vivid account of the climactic battle, in which Crazy Horse acts as a decoy to lure the Army forces into a deadly trap, brings the novel to a pulsating climax. A nuanced story of conflict between Native people and Whites on the 19th-century American frontier. Copyright © Kirkus Reviews, used with permission.