Reviews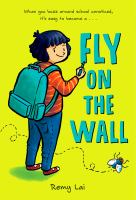 School Library Journal
(c) Copyright Library Journals LLC, a wholly owned subsidiary of Media Source, Inc. No redistribution permitted.

Gr 4–7—Henry Khoo is tired of being babied by his family and invisible at school. Trying to declare independence from both, he started the infamous "Fly on the Wall" blog, which spreads gossip about his schoolmates, and is currently on his way to the airport for an unauthorized trip from Perth, Australia, (where he lives with his helicoptering mom, sister, and grandmother), to Singapore for a surprise visit to his dad. On the way, he must deal with a former best friend, a lurking nemesis, a seatmate who could double as an encyclopedia, and an online comment from the unknown "Frog in the Well," threatening that Frog is going to out Henry to Principal Trang as the creator of the notorious blog. Near-misses and laugh-out-loud moments abound in this novel, which will endear it to readers who like "Big Nate" and "Wimpy Kid," but Henry's character development in this illustrated novel leaves Greg Heffley in the dust. VERDICT Henry's hero journey is replete with pitfalls and moments of self awareness, both of which lead him to a better understanding of why he does what he does (he's lonely) and why his family is so overprotective (they love him). Any kid who recognizes that they have weaknesses will identify with and cheer for Henry. Highly recommended for libraries that serve tweens.—Elizabeth Friend, Wester Middle School, TX
---
Publishers Weekly
(c) Copyright PWxyz, LLC. All rights reserved

Henry Khoo chronicles his life quandaries in this fresh, idiosyncratic story that meshes prose and graphic novel formats. The 12-year-old Australian resident feels suffocated and sometimes humiliated by his overprotective mother and older sister, and is convinced that his father in Singapore, with whom he shares only perfunctory phone conversations, doesn't like him. At school, Henry's best and only friend suddenly adopts a new passel of pals, leaving him alone, resentful, and ready to retaliate. The multistranded plot unfolds in Henry's notebook, brimming with hyperbolic line drawings that are charged with imagination, emotion, and humor. (He portrays his mother and sister as anthropomorphized helicopters hovering overhead, while a flattened Henry exclaims, "You've turned me into a helipad!") The disgruntled boy makes some uncharacteristically bold, even reckless, moves. He creates the anonymous blog Fly on the Wall (the name reflects his feeling of invisibility), which features mean-spirited cartoons of classmates, and he surreptitiously flies alone to Singapore to speak with his father about some long-percolating questions. As she did in Pie in the Sky, Lai deftly mines the angst and conundrums of life as a dual-cultural adolescent fording the turbulent torrents of peer and family relationships. Ages 8–12. Agent: Jim McCarthy, Dystel, Goderich & Bourret. (May)
---
Book list
From Booklist, Copyright © American Library Association. Used with permission.

Henry Khoo just wants his family to stop treating him like a baby. He's 12 years old, for crying out loud! Instead, he's got a helicopter mother and older sister, who won't let him do anything on his own. When the family's annual trip to visit Henry's dad is canceled, Henry is crushed—and doubly so when his suggestion to make the trip on his own is immediately dismissed. Henry is positive he's mature enough to fly by himself from Australia to his dad in Singapore, and thus a scheme to do just that is born. Lai follows her debut, Pie in the Sky (2019), with another winning tale of middle-school trials. Her comics-style artwork gives the book Wimpy Kid flair, while accentuating the story's funny moments (including fart jokes!) and bringing a secondary story line to life. The latter revolves around an online comic by "Fly on the Wall" that pokes fun at students and staff at Henry's school. Henry is the secret creator of the comic, which he began in response to being dumped by his best friend. Lai authentically navigates the conflicting emotions that define the awkward transition from kid to teenager, and readers will fall in love with Henry as he struggles to find that tween balance. A smile-inducing crowd-pleaser for every collection.
---
Kirkus
Copyright © Kirkus Reviews, used with permission.

Some things you must learn on your own. In this graphic/prose hybrid, Henry Khoo embarks on a secret mission. Now that he's 12, the legal age to travel alone, he has plans to fly from his Australian home to Singapore, where his father lives. As he haphazardly navigates his way to his flight, his tangled motivations slowly unfold. Initially it appears he wants to establish his independence, seeking reprieve from the overbearing eyes of older sister Jie, Mama, and wuxia drama–watching Popo. Soon the comedic narration reveals that Henry is confronting myriad issues: his emotionally and geographically distant father; his waning relationship with his best friend; and his need to hide his secret identity as the creator of the Fly on the Wall website. Spawned from Henry's sense that he's invisible to all, his online comics illustrate school gossip—and draw the opprobrium of the school administration. As in Lai's debut, Pie in the Sky (2019), humorous line drawings punctuate the text and reveal Henry's inner feelings. Flashbacks deftly illuminate Henry's emotional journey to a wider worldview and eventual ownership of his feelings. Lai has a talent of not preaching to her readers, instead offering the reassurance that no one is alone in experiencing the painful awkwardness and occasionally harsh realities of growing up. Henry and his family are Chinese, and dialogue is occasionally bilingual. This thrilling coming-of-age adventure is both quirky and sincere. (Graphic/fiction hybrid. 9-12) Copyright © Kirkus Reviews, used with permission.
---
Horn Book
(c) Copyright The Horn Book, Inc., a wholly owned subsidiary of Media Source, Inc. No redistribution permitted.

Lai's follow-up to Pie in the Sky (rev. 7/19) is another accessible, fast-paced, copiously illustrated novel (this one in journal format) starring an unconventional hero. Henry Khoo is determined to prove that he is not a bao bao (Mandarin for baby) by embarking on "the greatest adventure everrr." Unbeknownst to his hyper-protective mother, sister, and grandmother, the twelve-year-old embarks from his home in Perth, Western Australia, for his father's apartment in Singapore. Henry's first-person present-tense narration is studded with text-speak, sound effects, doodles, web comics, poems, and more, resulting in a youthful, authentic voice. The three major arcs of the story (before, during, and after the flight to Singapore) move swiftly and are peppered with Henry's memories and musings on failed friendships and fraught family dynamics. Readers intermittently discover Henry's true reason for his flight: a host of insecurities (from mild to massive) that drove him to publish Fly on the Wall, a mean-spirited gossip blog about his school. It is only once Henry's adventure (imagined as an epic martial arts TV drama) comes to an end, and through the guidance of several quirky characters along way, that he acknowledges the damage he has done. With multiple overlapping subplots, a large secondary cast, and an overabundance of metaphors (both written and visual), the story's momentum can get muddled, but it is always reestablished through authentic emotion and entertaining cartooning. Lai's journal-format novel is ideal for readers looking for a more introspective tale than is typically offered in other big-name diary series. (c) Copyright 2021. The Horn Book, Inc., a wholly owned subsidiary of Media Source, Inc. No redistribution permitted.