Reviews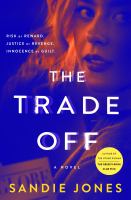 Book list
From Booklist, Copyright © American Library Association. Used with permission.

When Jess is hired as a junior reporter for British tabloid The Globe, she's thrilled. It's been her dream job since she was little. But shortly after she starts her new job, she's exposed to the sleaze tactics The Globe has long been accused of using to get a story that sells papers, no matter what the cost to that story's subject. Senior reporter Stella Thorne is the queen of corrupt, nasty schemes, and she'll stop at nothing to trap her unwitting victims. The Globe's editor, Max, tells Jess he's determined to stop the corruption and asks her to help. Naively, Jess jumps right in, with disastrous results. But even in her wildest dreams, she could never have imagined the shocking outcomes that she inadvertently sets in motion. She has no idea who her true enemies are—or the peril they create for her. Featuring double-crosses, shocking twists, violence, and steamy sex, plus an inside look at the murky practices of which UK tabloids are often accused—including sexism, bribery, and faked evidence—Jones' story is an eye-opening, harrowing, intense read for fans of fast-paced thrillers.
---
Kirkus
Copyright © Kirkus Reviews, used with permission.

A green reporter and her coldblooded editor go after a big, misogynistic fish in Jones' #MeToo–era thriller. Interviewing for a job at the powerful tabloid The Globe is a dream come true for Jess Townsend; she's miles away from the local paper where she cut her journalistic teeth. After one uncomfortable moment with Max Forsythe, the editor, she learns that he's going to hire her because she seems to have a moral compass, and Max is looking to steer the paper out of its nasty-gossip–infested waters into the world of more serious journalism. This is news, however, to Stella Thorne, the deputy editor who ruthlessly sets up stings to catch celebrities in flagrante delicto, and to the owner, Peter Kingsley, who just wants the money to keep rolling in. When Jess is forced to help set up a young actress in a fake drug bust, she can hardly live with herself; then, a hot reality TV star becomes the target of the paper, and a false story about her having an affair leads to her death by suicide. As Jess begins to reckon with this tragedy and her own role in it, she stumbles onto a much bigger story about a wealthy tycoon who has been drugging and raping young women for years. It just so happens that Stella has personal reasons to believe Jess and the motive, therefore, to team up with her to take down the bastard once and for all. But the corruption at the paper runs deep, and Jess and Stella's quest for justice is mostly unfulfilled, though there's some hope in the end. Jones unapologetically stares down the ugliness of the modern media and its coldblooded exploitation of celebrities to benefit those truly in power, as well as the rampages of fake news. It's a novel that couldn't exist without #MeToo, but it falls short of its desired impact—it's too busy prioritizing thrills over character development. Stella has the biggest awakening, "realiz[ing] that all she's ever done is what powerful men have wanted her to do"; Jess exists mainly to offer her a mirror but contributes little complexity or humanity to the narrative. Jones reminds us that there's a lot to be outraged about these days. Copyright © Kirkus Reviews, used with permission.