Reviews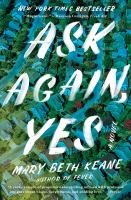 Book list
From Booklist, Copyright © American Library Association. Used with permission.

You could call Peter Stanhope naive. Or you could call him optimistic. After all, as he tries to escape his traumatic childhood punctuated by his mom's mental illness and a violent incident during his teenage years, he reasons that his family's history might not matter in the long run. But of course, it does. The long shadow cast by his loneliness, the struggle to put a name to his mother's suffering these exact a toll not just on Peter but on his close childhood friend and neighbor, Kate. As their love blossoms, the couple realizes that a parent's imprint might be more lasting than either could ever have imagined. Marriage is long. All the seams get tested, cautions Kate's dad. Keane (Fever, 2013) reveals the full and remarkable veracity tucked into that simple statement. Even if it occasionally seems like Keane's male characters seek refuge for their troubles in predictable ways, this is a haunting look at what happens when mental illness goes undefined. The slow-burning and nameless terror it creates swallows everyone in its path.--Poornima Apte Copyright 2019 Booklist
---
Kirkus
Copyright © Kirkus Reviews, used with permission.

Neighboring families in a New York commuter suburb are entwined, root and branch, through work, their children, and a tragedy of profound consequence.Displaying impressive reach in this thirdand possibly breakoutnovel, Keane (Fever, 2013, etc.) delivers an epic of domestic emotional turmoil. Its twin families are united initially through the careers of Francis Gleeson and Brian Stanhope, who meet as unmarried rookies in the New York City police academy. Later, now with partners, they move into adjacent homes in the safe-seeming small town of Gillam, where Francis' wife, Lena, gives birth to three daughters, Sara, Natalie, and Kate. Brian's wife, Anne, whose temperament is increasingly mercurial, loses her first child but then has a boy, Peter. Friendship between Peter and Kate is cemented from the outset, and as teenagers, the couple's affections intensify. But on the night Peter tells Kate he thinks they will marry one day, Anne's mental disturbance and violence reach a climax, one that inflicts terrible, indelible damage and drives Peter and Kate apart. Narrated from multiple perspectives, in compassionate but cool tones, Keane's story embraces family lives in all their muted, ordinary, yet seismic shades. The Gleesons offer solidity and an assumption that marriage will endure, no matter the tests. The Stanhopes, however, are seamed with inherited fault lines, and Peter will not emerge unscathed from his upbringing. Keane offers empathy and the long view, across a larger spectrum of issues than is at first apparent, pursuing her story for decades while adhering to Anne's observation "that the beginning of one's life mattered the most, that life was top-heavy that way." Tender and patient, the novel avoids excessive sweetness while planting itself deep in the soil of commitment and attachment.Graceful and mature. A solidly satisfying, immersive read. Copyright Kirkus Reviews, used with permission.
---
Publishers Weekly
(c) Copyright PWxyz, LLC. All rights reserved

In her thoughtful, compassionate latest, Keane (Fever) traces two families' shared history over the course of four decades. When Brian Stanhope and Francis Gleeson meet in 1973, they forge the kind of quick, close-knit friendship that can arise from shared trials-in their case, the pressures of being rookie cops in a tough Bronx precinct. When both young men marry and plan to have children, they purchase neighboring homes in the fictional suburb of Gillam, hoping the 20-mile commute to the city will provide a sufficient buffer between the grind of police work and the pleasures of family life. All is not well in suburbia, however-although Francis's youngest daughter, Kate, and Brian's only son, Peter, become fast friends, tensions between the two families eventually flare into violence fueled by alcoholism and untreated mental illness. Years later, Kate and Peter grasp a chance for a hesitant new beginning, despite their fears about recapitulating the past. The two families' stories offer a visceral portrait of evolving attitudes toward mental health and addiction over the past 40 years. More generally, Keane's novel, which unfolds through overlapping narratives, illustrates the mutability of memory and the softening effects of time. "We repeat what we don't repair," Keane writes, and Kate and Peter's story poignantly demonstrates how grace can emerge from forgiveness, no matter how hard-won. (June) © Copyright PWxyz, LLC. All rights reserved.