Reviews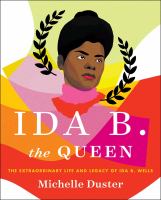 Kirkus
Copyright © Kirkus Reviews, used with permission.

A warm remembrance of a civil rights icon. A great granddaughter of Ida B. Wells (1862-1931), Duster celebrates the life and legacy of the tireless activist, once named "one of the most dangerous Negro agitators" by the FBI. Wells, along with her husband, a lawyer and journalist, spoke out vociferously against injustice, lynching, inequality, and racism both in print (she was a newspaper publisher and editor as well as an investigative journalist) and in speeches throughout the country. She defied death threats and efforts to sully her reputation. When she protested inequality in the school system where she taught, she was fired. When she was ejected from the Whites-only "ladies' car" of the Chesapeake and Ohio Railroad, she sued the railroad and won only to see her victory overturned by the Tennessee Supreme Court. Wells also helped to found several significant organizations: the first all-Black suffrage club in Illinois, the Negro Fellowship League, and the NAACP. Among her widely read books was The East St. Louis Massacre: The Greatest Outrage of the Century (1917), which chronicled "the horrific slaughter of an entire Black community" and, Duster notes, "outlined oft-overlooked tensions that existed in the American North, where the first waves of the Great Migration tested the Union states' full belief in their cause." Wells boldly confronted presidents, pressing William McKinley to enact a federal anti-lynching law and Woodrow Wilson to support advancement for African Americans. Both efforts failed, but Wells was undaunted. "My great-grandmother's life was not easy," writes the author, but despite frustrations, "she stayed focused on truth-telling. She believed that her voice was important and her story needed to be heard." In a narrative featuring generous photos and illustrations as well as reproductions of historic documents, Duster succinctly traces Wells' legacy in the voices and efforts of many contemporary Black activists who "stand tall and let their voices be heard by those in power." A brisk recounting of Black activism, past and present. Copyright © Kirkus Reviews, used with permission.
---
Publishers Weekly
(c) Copyright PWxyz, LLC. All rights reserved

Duster (co-editor, Michelle Obama's Impact on African American Women and Girls) delivers a vibrant and accessible portrait of her great-grandmother Ida B. Wells (1862–1931). Born into slavery in Mississippi and orphaned at age 16, Wells raised her five siblings with the help of her grandmother and found work as a teacher and newspaper reporter in Memphis, Tenn. After three grocery store owners she knew were killed by a white mob, Wells pioneered aspects of investigative journalism in articles and pamphlets documenting lynchings and other forms of violence against Black people. She eventually settled in Chicago, where she cofounded Illinois's first all-Black suffrage club. (When organizers of a suffrage march in Washington, D.C., asked Black participants to walk in the back of the parade, Wells famously refused to follow orders.) Duster also details Wells's frustrations with the NAACP, which she cofounded in 1909; notes that the FBI maintained files on Wells and other civil rights leaders; and draws parallels between her great-grandmother's "legacy of speaking truth to power" and the Black Lives Matter movement. Enriched by family history, striking illustrations, and deep knowledge of the ongoing fight for racial justice, this is a worthy introduction to Wells's life and legacy. (Jan.)
---
Library Journal
(c) Copyright Library Journals LLC, a wholly owned subsidiary of Media Source, Inc. No redistribution permitted.

A founder of the NAACP, Wells was famed as a pioneering journalist and antilynching crusader and for refusing to give up her seat on a ladies' train car in 1884 Memphis. The FBI dubbed her "a dangerous negro agitator," but some balance of justice came in 2020 when she was awarded a 2020 Pulitzer Prize Special Citation. From Wells's great-granddaughter, herself a writer, professor, and advocate for racial and gender equality; with a 125,000-copy first printing.