Reviews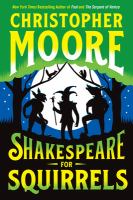 Library Journal
(c) Copyright Library Journals LLC, a wholly owned subsidiary of Media Source, Inc. No redistribution permitted.

Remember Pocket of Dog Snogging, last seen in New York Times best-selling author Moore's The Serpent of Venice? Cast off by his pirate crew, Pocket washes ashore in Greece and is promptly condemned to death for suggesting that a duke's ordering Hermia to marry Lysander or face excution is crazy. Luckily, fairy king Oberon promise to rescue Pocket—if he can figure out who murdered that troublemaker Puck. With a 200,000-copy first printing.
---
Publishers Weekly
(c) Copyright PWxyz, LLC. All rights reserved

Moore's amusing third installment to the Fool series (after The Serpent of Venice) finds series hero Pocket of Dog Snogging transported into the plot of Shakespeare's A Midsummer Night's Dream. When Pocket and his apprentice, Drool, are shipwrecked in Greece, they quickly run afoul of the powers that be. However, their initial adventures seem harmless enough: they discover a group of tradesmen rehearsing a play, run into Demetrius's jilted lover, Helena, and make good use of their codpieces to store the nuts and berries they collect in the forest. But when Pocket witnesses the murder of Puck, the sprightly fellow responsible for the hijinks in Shakespeare's original, he is forced to begin negotiations with various kings and queens— Duke Thesesus and his soon-to-be bride, Hippolyta the Amazon; the sex-crazed Fairy Queen Titania; kinky King Oberon—to deduce who committed the murder. Along the way, Drool is thrown into Duke Theseus's dungeon, and Pocket aims to free him and solve the mystery with the help of enchanted puppet Jones and Cobweb the fairy. In this raucous, crass, and innuendo-filled romp, Moore once again delivers light and derivative fun. This cheeky homage will please lovers of Shakespeare and camp. (May)
---
Kirkus
Copyright © Kirkus Reviews, used with permission.

Manic parodist Moore, fresh off a season in 1947 San Francisco (Noir, 2018), returns with a rare gift for Shakespeare fans who think A Midsummer Night's Dream would be perfect if only it were a little more madcap. Cast adrift by pirates together with his apprentice, halfwit giant Drool, and Jeff, his barely less intelligent monkey, Pocket of Dog Snogging upon Ouze, jester to the late King Lear, washes ashore in Shakespeare's Athens, where Cobweb, a squirrel by day and fairy by night, takes him under her wing and other parts. Soon after he encounters Robin Goodfellow (the Puck), jester to shadow king Oberon, and Nick Bottom and the other clueless mechanicals rehearsing Pyramus and Thisby in a nearby forest before they present it in celebration of the wedding of Theseus, Duke of Athens, to Hippolyta, the captive Amazon queen who's captured his heart, Pocket (The Serpent of Venice, 2014, etc.) finds Robin fatally shot by an arrow. Suspected briefly of the murder himself, he's commissioned, first by Hippolyta, then by the unwitting Theseus, to identify the Puck's killer. Oh, and Egeus, the Duke's steward, wants him to find and execute Lysander, who's run off with Egeus' daughter, Hermia, instead of marrying Helena, who's in love with Demetrius. As English majors can attest, a remarkable amount of this madness can already be found in Shakespeare's play. Moore's contribution is to amp up the couplings, bawdy language, violence, and metatextual analogies between the royals, the fairies, the mechanicals, his own interloping hero, and any number of other plays by the Bard. A kicky, kinky, wildly inventive 21st-century mashup with franker language and a higher body count than Hamlet. Copyright © Kirkus Reviews, used with permission.
---
Library Journal
(c) Copyright Library Journals LLC, a wholly owned subsidiary of Media Source, Inc. No redistribution permitted.

This third book (after The Serpent of Venice) to feature Pocket the Fool in a twisted version of a Shakespeare play has Pocket washed up on the shores of Athens and into a Midsummer's Night Eve. Drool, his slow-witted apprentice, and Jeff the monkey have also been jettisoned from their pirate ship. Soon, they run into a theater troupe of local craftsmen attempting to rehearse their play for the duke's wedding. After the troupe is raided by the local guard, Drool is taken into custody, but Pocket manages to evade arrest. To free his apprentice, our fool must solve Puck's murder, save some fairies from King Oberon, and resolve the problem of the mixed-up lovers. Hilariously wacky adventures ensue as Pocket discovers that there is much more to fairies than meets the eye. In true Shakespearean fashion, Pocket rewrites the wedding play to reveal the murderer and wrap up all other loose ends. VERDICT Moore's trademark humor is on full display with his cast of strangely lovable characters. This is Shakespeare with an edge and will not only appeal to Moore's fans but garner new ones. [See Prepub Alert, 11/11/19.]—Kristen Stewart, Pearland Lib., Brazoria Cty. Lib. Syst., TX
---
Book list
From Booklist, Copyright © American Library Association. Used with permission.

Pocket, star of Moore's Fool (2009) and The Serpent of Venice (2014), returns for another comic adventure based on a play by William Shakespeare—this time it's A Midsummer Night's Dream. Stranded in Greece, Pocket is determined to worm his way into the duke's inner circle. Well, don't you know, his plan goes horribly, hilariously wrong, and, before you know it, Pocket is wandering around in the Forest of Arden, ruled by King Oberon, whose fool, a fellow by the name of Puck, has been—gasp!—murdered. It takes a certain amount of guts and wild abandon to recast a Shakespeare comedy as a hard-boiled detective story, but if anyone can pull it off, it's master satirist Moore, whose gift for funny business apparently knows no bounds. What sets him apart from most of his fellow comic storytellers is his determination never to let the story take a back seat to the jokes. And yet, the humor flows from the story; the story isn't dictated by the jokes. A welcome return of a fan-favorite character in a romp of a tale that will delight not only mystery buffs but also fantasy fanatics, and, of course, Bard lovers.