Reviews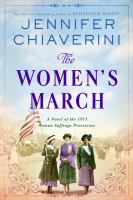 Kirkus
Copyright © Kirkus Reviews, used with permission.

Suffragettes work to advance their cause by planning a march in Washington, D.C. Leading up to the 1912 election, Maud Malone, a librarian advocating for women's right to vote, becomes known as a heckler after being arrested for interrupting political rallies to ask presidential candidates their opinions on the issue. After the election, she joins a group of women marching from New York City to Washington, D.C., to ask the newly elected Woodrow Wilson to mention women's suffrage in his inaugural address. They plan to join the national march for suffrage being planned by Alice Paul, a Quaker from Pennsylvania who spent several years working with the British suffragettes. Yet Alice's work in planning a successful march on behalf of the National American Woman Suffrage Association threatens to be derailed by red tape and in-fighting among state chapters. Following her career as a journalist, during which she focused on the horrors of lynching, Ida B. Wells-Barnett now leads numerous social groups in Chicago working to ensure the suffrage movement includes women of color and calls attention to the Jim Crow laws preventing Black men from voting in Southern states. She is invited to march with the Illinois delegation, but racism within the movement is prevalent. Chiaverini's latest work of historical fiction weaves together the actions of these three real women, effective character choices for highlighting the disparate groups advocating for social and legal change while also speaking to the tensions regarding race, class, and rhetorical arguments that prevent these groups from working together smoothly (if at all). The strengths of this work are also its weaknesses: The novel is so heavily researched that it sometimes feels weighed down by biographies and historical details, leaving dialogue sparse and making narrative momentum difficult. Yet the window it provides into the painstaking efforts to secure voting rights for all citizens is undeniably valuable and timely. Informative and insightful. Copyright © Kirkus Reviews, used with permission.
---
Book list
From Booklist, Copyright © American Library Association. Used with permission.

On March 3, 1913, a day before President Wilson's inauguration, suffragists marched down Pennsylvania Avenue in Washington, DC, to advocate for a constitutional amendment. In her latest women-focused historical novel, following Mrs. Lincoln's Sisters (2020), Chiaverini offers an impassioned account that pulls readers into the organization, staging, and aftermath of this historic protest, making the details feel freshly alive. The perspective alternates among three historical figures. Procession co-organizer Alice Paul grows impatient with the national suffrage organization's focus on state-by-state legislation and pushes for a federal solution. Activist Ida Wells-Barnett advocates for Black women's rightful place at the voting booth and in the movement. So-called "militant suffragist librarian" Maud Malone challenges politicians to take a stance. As their plans come together, Chiaverini adeptly evokes the obstacles they all face, from Wilson's opposition to inadequate police protection and internal divisions over appeasing bigoted southern white women. Although some expressions feel overly modern, this politically aware novel about a historic quest for democratic justice compels readers to contemplate everything that has and hasn't changed regarding voting rights and gender and racial equality.