Reviews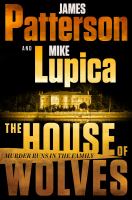 Library Journal
(c) Copyright Library Journals LLC, a wholly owned subsidiary of Media Source, Inc. No redistribution permitted.

Following up their last outing, The Horsewoman, the Patterson/Lupica team introduce readers to California's powerhouse family, the Wolfs. Mid-thirties Jenny is now in charge, running the San Francisco Tribune and the professional football team, the Wolves, while looking into her father's murder. But her three brothers are plotting her overthrow. With a 400,000-copy first printing.
---
Book list
From Booklist, Copyright © American Library Association. Used with permission.

Meet Jenny Wolf: high-school teacher, football coach. And now, due to her father's unexpected death, she controls the family's financial interests, which include, among other things, a pro football team and a venerable newspaper. Managing the family's finances while trying to deal with family politics is stressful enough, without the added pressure of finding out who's responsible for her father's death. The authors combine mystery and family drama in this entertaining novel—sportswriter and novelist Lupica's second collaboration with Patterson, following 2021's The Horsewoman. Lately Patterson's novels have been hit or miss, depending largely on his coauthor, and this one is a modest hit. It's not, perhaps, as compelling as it could have been, given Lupica's talent and his wide-ranging knowledge of the sports world. However, the authors keep the reader interested by employing a likable first-person narrator, Patterson's signature short chapters, and some clever surprises. Flawed but definitely worth a read.
---
Publishers Weekly
(c) Copyright PWxyz, LLC. All rights reserved

Bestseller Patterson and Lupica's fast-paced if faltering sequel to 2021's The Horsewoman centers on the Wolf family, whose dominance of San Francisco is imperiled after patriarch Joe falls off his boat in San Francisco Bay and apparently drowns. The autopsy reveals both an elevated blood alcohol level and that Joe suffered a heart attack after entering the water. Given the number and power of Joe's many enemies, his daughter, Jenny, suspects her father was murdered. Her pursuit of that possibility comes as her life undergoes a dramatic shift. Joe's will leaves her in charge of his chief assets: the Wolves, an NFL franchise (whose aging star quarterback is Jenny's ex-husband), and the Tribune newspaper. That rankles her two brothers, who've been running the team and the paper, respectively, and vow to resist her takeover by fighting dirty if necessary. More deaths follow as Jenny falls for someone she shouldn't, wrestles with fulfilling her father's wishes, and tries to find his killer while still coaching a high school football team. Readers should be prepared for predictable plot twists and superficial characters. Those expecting the nuances and depth of family business dramas such as HBO's Succession will be disappointed. Agent: Robert Barnett, Williams & Connolly. (Jan.)