Reviews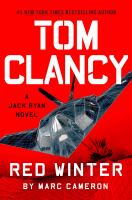 Publishers Weekly
(c) Copyright PWxyz, LLC. All rights reserved

Set in 1985, bestseller Cameron's winning sixth Jack Ryan novel (after 2021's Chain of Command) opens in West Berlin, where newbie Foreign Service officer Ruby Keller, who's having a snack at McDonald's, gets caught up in a fracas that leaves her holding a floppy disc and a note from an unknown person who wants to defect to the West from East Berlin. Meanwhile, in the Nevada desert, East German Stasi agent Garit Richter witnesses the crash of an F-117 Nighthawk, an experimental stealth bomber. After killing two people, Richter steals a small chunk of the fuselage and goes on the run, headed back to his masters in East Germany. CIA analyst Jack is assigned the job of capturing Richter and overseeing the matter of the East Berlin defector. Cameron has fun with the period references, including cell phones the size of bricks, Farrah Fawcett posters, IBM Selectrics, and dot matrix printers. This return to earlier days opens the field to further adventures of the young Jack Ryan. Readers will eagerly await the next. Agent: Gina Panettieri, Talcott Notch Literary. (Dec.)
---
Library Journal
(c) Copyright Library Journals LLC, a wholly owned subsidiary of Media Source, Inc. No redistribution permitted.

As president of the United States, Jack Ryan is one powerful man. But even he cannot outrun his past in this latest Tom Clancy continuation from the author of the New York Times best-selling "Jericho Quinn" novels.
---
Kirkus
Copyright © Kirkus Reviews, used with permission.

Not "too many months" after dispatching a tricky submarine issue in The Hunt for Red October, young Jack Ryan faces a deadly East German foe. The trouble starts in 1985, near Area 51 in Nevada, where UFO believers witness a flash in the night sky and anticipate an extraterrestrial visit. Only the East German spy who happens to be among them suspects an earthly explanation. A woman guides him through a mountainous area, where he discovers the remains of a U.S. military aircraft he correctly presumes to be "beyond big" in importance. Making off with a small piece of the wing he must somehow smuggle across the Iron Curtain, he leaves a trail of dead and wounded in his wake. The U.S. suspects that someone has removed a piece of secret radar-absorbing material from the wreckage. Meanwhile in West Berlin, a low-level Foreign Service officer is asked to meet a possible defector, an encounter that takes a terrible turn. Meanwhile (this story has lots of meanwhiles), the East German aeronautical physicist Dr. Uwe Hauptman is doing important research on radar-absorbing surfaces. The CIA suspects it has a mole, whom they code-name Fledermaus. Jack Ryan and Mary Pat Foley cross through Checkpoint Charlie into East Berlin and bypass the "Anti-Fascist Protection Rampart," known to us bourgeoisie as the Berlin Wall. There, they face a peck of trouble, but luckily, "Ryan wasn't exactly a neophyte when it came to hairy situations," nor is Foley to be mistaken for a shrinking violet. Cameron is but one of the authors who so skillfully maintains the Clancy legacy that began in the 1980s. The many characters are all spot-on, the scope is wide-ranging, and the action reaches to the dreaded Hohenschönhausen Prison—readers are guaranteed to hate the freckle-faced guard Mitzi Graff as much as they will admire Ryan and Foley. So well-adapted to the entire series, this could have been the late Tom Clancy's second novel. Copyright © Kirkus Reviews, used with permission.