Reviews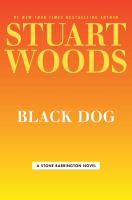 Kirkus
Copyright © Kirkus Reviews, used with permission.

New York attorney Stone Barrington fights to protect a sizable estate from a predatory claimant determined to grab it from whomever stands in his way. When Stone's secretary, Joan Robertson, introduces him to her aunt, Annetta Charles, whose attorney at Stone's firm, Woodman & Weld, has just died, Stone thinks her request to revise her will is routine. And so it is, on paper. Annetta, who rose from a shady background to marry into her late husband's serious money, wants to continue paying $100,000 a month into the trust fund of her stepson, Edwin Charles Jr., but to cut him off without a cent at her death—because she wants to discourage him from killing her for the nest egg. Eddie, a Yale Law graduate who's never worked a day in his life, reacts to the news that his do-nothing lifestyle depends on his leaving his stepmother alone with predictable outrage and a series of pleasingly unpredictable countermeasures. He bursts into Stone's home office in Turtle Bay; accosts him at dinner with his former partner, NYPD Commissioner Dino Bacchetti; and tells everyone who'll listen that he's Stone's client. The lie becomes especially fraught when Annetta is shot to death and Eddie's arrested for her murder. Apart from Stone's forgettable flings with two women involved in very different ways with Eddie's threats, Woods keeps his eye on the ball throughout, and though the suspense never exactly intensifies—Woods doesn't do rising suspense—Stone's pesky antagonist is so well matched with both his hero and the requirements of his plot that fans' interest will never flag. As a bonus, Stone's self-effacing secretary is rewarded with a leading role and other emoluments. Stone's most memorable reflection: "He had been too long without a woman." Yeah, right. Copyright © Kirkus Reviews, used with permission.
---
Publishers Weekly
(c) Copyright PWxyz, LLC. All rights reserved

Bestseller Woods's slick 62nd novel featuring suave New York attorney Stone Barrington (after A Safe House) opens with the arrival of recently widowed Annetta Charles at Stone's Manhattan townhouse. Annetta wishes to make changes to her will regarding her stepson, Eddie Charles, "the black dog of the family." When Stone says you mean "black sheep," she replies, "He's all dog, all the way through, and a mean one, at that." Annetta wants Stone to set up a trust paying Eddie $100,00 a month for her lifetime, because she believes it's the only way to stop Eddie from killing her. Annetta's been receiving threatening notes she's sure are from Eddie, with whom she wants no further contact. It's Stone's job as trustee to deal with Eddie. Thereafter, Eddie, despite being a smart Yale Law School graduate, keeps doing stupid things like showing up unexpectedly at P.J. Clarke's, where Stone and best pal Dino Bacchetti, the New York City police commissioner, often dine, to annoy Stone. A couple of murders, glimpses into the lifestyles of the ultrawealthy, and comic if at times edgy banter between Stone and Dino keep the pages turning. As usual, Woods gives his fans exactly what they want. Agent: Anne Sibbald, Janklow & Nesbit Assoc. (Aug.)
---
Library Journal
(c) Copyright Library Journals LLC, a wholly owned subsidiary of Media Source, Inc. No redistribution permitted.

Readers all know Stone Barrington, behind-the-scenes guy for a Manhattan law firm and an expert in high-class intrigue and government intelligence. He's back, but with no plot details. Woods sold nearly a million copies across frontlist formats in 2020.