Reviews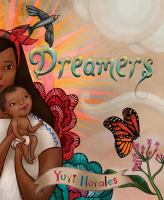 School Library Journal
(c) Copyright Library Journals LLC, a wholly owned subsidiary of Media Source, Inc. No redistribution permitted.

PreS-Gr 1-A gentle guitar helps viewers float into the story of a mother and her child as they make the life-changing journey from Mexico to America. Vibrant animation brings to life author and illustrator Yuyi Morales's first important encounter with libraries and books, and how this experience impacted the challenges the author faced in having to communicate in a language she was not familiar with. A lively and colorful invitation into a new world, with a hopeful message for all dreamers. © Copyright 2019. Library Journals LLC, a wholly owned subsidiary of Media Source, Inc. No redistribution permitted.
---
Horn Book
(c) Copyright The Horn Book, Inc., a wholly owned subsidiary of Media Source, Inc. No redistribution permitted.

Two "migrantes," a mother and her infant son, arrive on "the other side." Here they meet cultural challenges (customs, language) that are resolved at the San Francisco Public Library, with its "unimaginable" wealth of books that offer paths to literacy, community, even a career. Occasional Spanish words enrich the succinct, gently poetic text, illustrated with rich and vibrant pen-and-ink, acrylic, and collage art. Back matter sets the narrative in personal and historical context. Concurrently published in Spanish as Soqadores. (c) Copyright 2019. The Horn Book, Inc., a wholly owned subsidiary of Media Source, Inc. No redistribution permitted.
---
School Library Journal
(c) Copyright Library Journals LLC, a wholly owned subsidiary of Media Source, Inc. No redistribution permitted.

PreS-Gr 3-The acclaimed creator of Niño Wrestles the World and Viva Frida has crafted another masterpiece in this autobiographical picture book. From her son's birth to their move to the United States from Mexico in the mid-1990s to their often fraught- and barrier-filled life, the tale highlights the many obstacles immigrants face while trying to survive in a new country that doesn't readily welcome non-English-speaking people of color. The pair encounters respite at the library where, with the help of librarians, they find a home in the children's section. The dreamlike, lyrical text captures the wonder of childhood, learning, and discovery through books. The magical art marries the succinct and powerful narrative in a resplendent celebration of literacy, language, and the transformative power of the picture book form. Readers will delight in finding Morales's tributes to kid lit classics, new and old, throughout the spreads. The majestic illustrations often incorporate Mexican traditions and mythology and they resound with mythic imagery, speaking volumes about the love and dreams shared between mother and child. Morales explains in an author's note that she and her son are not "Dreamers" in the modern sense-"young undocumented immigrants who were brought to the U.S. as children"-but dreamers in the sense of all immigrants who come to a new country. Also appended are a thorough list of the books referenced in the artwork and a fascinating note on the materials used in the creation of this work, including a nib pen that once belonged to Maurice Sendak, scanned images of Morales's studio floor, her and her son's childhood drawings, and more. VERDICT- This excellent memoir encapsulates the fears, hopes, and dreams that come along with immigrating to a new place and building a new life in an unfamiliar and often hostile landscape. A timely and much-needed selection.-Shelley M. Diaz, School Library Journal © Copyright 2018. Library Journals LLC, a wholly owned subsidiary of Media Source, Inc. No redistribution permitted.
---
Publishers Weekly
(c) Copyright PWxyz, LLC. All rights reserved

In warm, sparkling prose that moves easily from English to Spanish and back, Caldecott Honor artist Morales (Viva Frida) traces the journey that she and her small son took in 1994, when they immigrated from Mexico to the United States. ("My Story," included after the text, supplies the details.) A woman and a child struggle to understand the rules as they explore San Francisco. (When the two play in a public fountain, a policeman approaches, hands on hips; "Ay!" the mother cries in dismay.) Then they discover the library: "Suspicious./ Improbable./ Unbelievable./ Surprising." It's a miraculous oasis-countless books to borrow, information about everything in the world. There, she says, "We learned to read,/ to speak,/ to write,/ and/ to make/ our voices heard." As the languages blend, so do the images. Mexican motifs-a genial skeleton, a painted dog, embroidered flowers-dance through the pages, keeping mother and son company on their journey, and the library shelves swoop and curve, embracing them. (Readers will recognize favorite titles among the carefully painted book covers.) Many books about immigration describe the process of making new friends and fitting in; this one describes what it's like to become a creative being in two languages, and to learn to love in both. "We are two languages./ We are lucha./ We are resilience./ We are hope." A Spanish-language version will be published simultaneously. Ages 4-8. Agent: Charlotte Sheedy, Charlotte Sheedy Literary Agency. (Sept.) © Copyright PWxyz, LLC. All rights reserved.
---
Book list
From Booklist, Copyright © American Library Association. Used with permission.

*Starred Review* Yuyi Morales and her son are dreamers the books they read allow them to imagine a new life in a new country that doesn't always welcome them. Based on her own immigration tale, the multi-award-winning Morales' newest picture book recounts the challenges and wonders of living in a new country. She and her son experience discrimination because they don't always know the rules and customs of their new home. English becomes a barrier that makes it difficult for them to fully comprehend the world around them. Despite it all, Morales and her son find hope in the books of their local library, and their voracious reading leads them to create their own books. The narrative text is poetic and full of emotion. The English version is sprinkled with Spanish words like migrantes, caminantes, and amor, which monolingual readers will understand from the context of the story. In classic Morales style, the mixed-media illustrations are breathtaking, created through painting, drawing, photography, and embroidery. The joyous imagination and intricacy of each illustration will make readers of all ages explore them further. The pages with the library, for example, depict the covers of other significant Latinx children's books like Carmen Lomas Garza's In My Family / En mi familia (2000) and Jorge Argueta's A Movie in My Pillow / Una pelicula en mi almohada (2001). This rich offering launches the new Neal Porter Books imprint and can be paired with Duncan Tonatiuh's Undocumented: A Worker's Fight (2018) for its focus on the Latinx immigrant experience.--Sonia Alejandra Rodríguez Copyright 2018 Booklist
---
Kirkus
Copyright © Kirkus Reviews, used with permission.

Based on her experience of leaving Mexico for the United States, Morales' latest offers an immigrant's tale steeped in hope, dreams, and love.This story begins with a union between mother and son, with arms outstretched in the midst of a new beginning. Soon after, mother and son step on a bridge, expansive "like the universe," to cross to the other side, to become immigrants. An ethereal city appears, enfolded in fog. The brown-skinned woman and her child walk through this strange new land, unwilling to speak, unaccustomed to "words unlike those of our ancestors." But soon their journey takes them to the most marvelous of places: the library. In a series of stunning double-page spreads, Morales fully captures the sheer bliss of discovery as their imaginations take flight. The vibrant, surreal mixed-media artwork, including Mexican fabric, metal sheets, "the comal where I grill my quesadillas," childhood drawings, and leaves and plants, represents a spectacular culmination of the author's work thus far. Presented in both English and Spanish editions (the latter in Teresa Mlawer's translation), equal in evocative language, the text moves with purpose. No word is unnecessary, each a deliberate steppingstone onto the next. Details in the art provide cultural markers specific to the U.S., but the story ultimately belongs to one immigrant mother and her son. Thanks to books and stories (some of her favorites are appended), the pair find their voices as "soadores of the world."A resplendent masterpiece. (author's note) (Picture book. 4-8) Copyright Kirkus Reviews, used with permission.