Reviews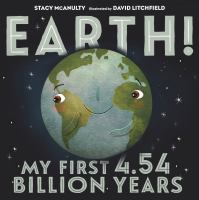 Publishers Weekly
(c) Copyright PWxyz, LLC. All rights reserved

McAnulty (Mr. Fuzzbuster Knows He's the Favorite) and Litchfield (Miss Muffet, or What Came After) cast planet Earth as an exuberant celestial body with bright brown eyes and a broad smile, who couldn't be happier to share its life story. There's family (dwarf planet Pluto "is more like the family dog"), favorite activities (spinning, circling the sun), and the whole process of growing up: "I don't remember what it was like to be a baby. Who does? But I've been told I was a hot mess." (A photo album shows the planet as an infant with a pacifier; the accompanying text reads, "Explosive. Gassy! Very cranky.") Litchfield's mixed-media cartoons work in perfect sync with the irreverent narration to share geological tidbits with panache; on one spread, a ruler represents the timeline of the planet's existence, labeled to note when air, plants, animals, and humans showed up. Despite brief references to past extinctions and current environmental threats, the mood is largely upbeat, and a closing spread includes more detailed information about Earth and its inhabitants. Terrifically entertaining. Ages 4-8. Author's agent: Lori Kilkelly, Rodeen Literary Management. Illustrator's agent: Anne Moore Armstrong, Bright Groups. (Oct.) © Copyright PWxyz, LLC. All rights reserved.
---
School Library Journal
(c) Copyright Library Journals LLC, a wholly owned subsidiary of Media Source, Inc. No redistribution permitted.

K-Gr 4-Ink-and-watercolor illustrations combine with a first-person narrative in this autobiography of Earth, who says, "You can call me Planet Awesome." Facts about Earth's favorite activities, such as spinning, circling the sun, and hanging out with the moon are mentioned. The process of the planet forming and cooling is shown as photos in a scrapbook. A time line chronicles the development of air, plants, and animals with a comment for each milestone ("My first dinosaur!"). The end of the dinosaurs is shown in a spread with Earth fearfully watching an angry asteroid hurtling closer. Younger readers learn basic facts, such as the names of the planets in the solar system or that it takes 29 days for the moon to orbit the earth. Older students will enjoy the personification of the planet and the humor of the narrative. For instance, Earth remarks that "animals are nice. But they mostly eat and poop and never wonder about my amazing life." There are also details in the illustrations (an image of the Beatles) that will amuse observant readers and adults. Back matter includes information on the continents, Earth's location in space, extinction events, and a list of sources. There is also a brief author's note addressed to "alien visitors," aka readers. VERDICT A humorous approach to planetary facts for the elementary grades.-Suzanne Costner, Fairview Elementary School, Maryville, TN © Copyright 2017. Library Journals LLC, a wholly owned subsidiary of Media Source, Inc. No redistribution permitted.
---
Book list
From Booklist, Copyright © American Library Association. Used with permission.

What better way to learn about the Earth than from Earth herself, who narrates this cheery introduction to our home planet: Hi! My name is Earth. Some people call me Gaia, the blue marble, the world, or the third planet from the sun. You can call me Planet Awesome. Warm and welcoming full-page scenes invite youngsters to learn a flurry of information about Earth in a genial, personable tone. For instance, the solar system is a set of eight siblings (Pluto's the family pet); Earth's favorite activity is spinning (a cute way to describe rotation); and she describes her childhood as Explosive. Gassy! Very cranky an apt description of early Earth. Litchfield's cartoonish depictions of expressive planets are a fitting complement to McAnulty's playful text, which ends on a reflective note that might encourage little ones to think about their own activities and habits: Humans have been super fun . . . But sometimes they forget to share and play nice and clean up after themselves. The book closes with additional resources. A creative, educational, and entertaining read for inquisitive kiddos.--Lock, Anita Copyright 2018 Booklist
---
Horn Book
(c) Copyright The Horn Book, Inc., a wholly owned subsidiary of Media Source, Inc. No redistribution permitted.

This sweetly humorous picture book presents facts about the earth as told by Earth itself. Touching on its formation, place in the solar system, and its inhabitants, the mixed-media illustrations depict a winsome Earth with a variety of facial expressions and accessories. The story briefly (and lightly) discusses pollution and conflict before ending positively. Factual back matter is included. Bib. (c) Copyright 2018. The Horn Book, Inc., a wholly owned subsidiary of Media Source, Inc. No redistribution permitted.