Reviews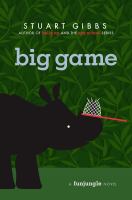 Horn Book
(c) Copyright The Horn Book, Inc., a wholly owned subsidiary of Media Source, Inc. No redistribution permitted.

After FunJungle Wild Animal Park's pregnant rhinoceros is targeted by a hunter, twelve-year-old Teddy agrees (not entirely voluntarily) to help nab the poacher. Hunting-related facts and details get too much attention in this third installment, and there's less of the slapstick silliness that made Belly Up and Poached so laugh-out-loud funny. That said, tricky red herrings make for a twisty-turny whodunit. (c) Copyright 2016. The Horn Book, Inc., a wholly owned subsidiary of Media Source, Inc. No redistribution permitted.
---
Kirkus
Copyright © Kirkus Reviews, used with permission.

Middle schooler Teddy has an enduring love for animals, a healthy dose of intellect, and a way with high jinks. Since Teddy, his primatologist mother, and wildlife photographer father moved into FunJungle Wild Animal Park two books ago in Belly Up (2010), the excitement hasn't ceased. In the opening chapter of this third installment, a shot is fired at the park's beloved, pregnant, and very endangered rhinoceros, Rhonda. Teddy is at the epicenter of the brouhaha involving stampeding pachyderm and a wily, escape-artist orangutan. Meanwhile, a candy store and an ice cream shop have been ransacked, and once again wannabe detective Marge's favorite suspect is Teddy. Teddy is still trying to hide his crush on the bosses' daughter, Summer, as together they work to solve the mystery of the would-be poacher without being misled by red herrings or eaten by crocodiles. As silly as this story is, its tense action serves to illustrate the very real threat to the rhino's survival due to black-market sales that value the horns more highly, ounce for ounce, than gold. This whodunit explores the many sides of the complex exotic-animal issue while supplying ample wildlife trivia, such as the fact that elephants are the only animals with four knees. Monkey business included, this adventure strikes a neat balance between shenanigans and gravitas to inspire young conservationists. (Mystery. 9-13) Copyright Kirkus Reviews, used with permission.
---
Book list
From Booklist, Copyright © American Library Association. Used with permission.

When Teddy discovers a bullet hole in the pen housing Rhonda, FunJungle's precious pregnant rhino, he and his friends fear poachers are after her valuable horn. They frantically search for leads, hoping to catch the poacher before the rhino keepers take a drastic measure: dehorning the entire herd. Though some of the characters, particularly the adults, fall flat, Gibbs packs each chapter with lots of animal facts, especially the sobering realities of poaching and the quickly dwindling rhino population. This middle-grade mystery series is the bee's knees for animal fiends, and with tidy plots in each installment, each entry easily stands alone.--Hunter, Sarah Copyright 2015 Booklist