Reviews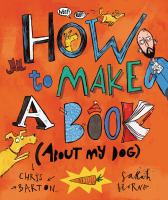 Book list
From Booklist, Copyright © American Library Association. Used with permission.

In a clever meta twist, Barton describes the creation of a (nonexistent) nonfiction picture book about his actual shelter dog, Ernie, from initial premise to physical volume. Noting (in a time line at the end) that making this "how to" took more than eight years, he describes the collaborative work of "Team Ernie," a group that includes not just Horne, himself, and Ernie but agents, editors, designers, and dozens of others. In contrast to Eileen Christelow's What Do Authors and Illustrators Do? (2013), so much of this is presented from the writer's point of view that the illustrator's creative contribution gets sketchier treatment. Still, along with individualized portraits of the physically and racially diverse "Team Ernie," Horne's informally drawn cartoon illustrations infuse every stage of the project with bright, comical energy. Most of the team members come with generic job labels, and the production of the book's digital edition gets barely a mention. But general readers and budding authors will still come away strongly impressed by the everyday miracle that is the book in their hands.
---
Kirkus
Copyright © Kirkus Reviews, used with permission.

With some help from his dog, Ernie, Barton outlines the process of making an informational picture book. First there is the idea and then lots of research: Even though Barton knows Ernie really well, he also knows that he doesn't know everything—a valuable lesson for his young readers. Then, at a level of detail many readers may find astonishing, he describes the roles of the agent, the editor, the art director, the illustrator (and their agent); the myriad people at the publisher who are part of the team that makes the book a reality get mentions too: trafficker, typesetter, proofreader, marketing, etc. Horne illustrates it all with cheery cartoons that depict main characters as White but include people of color among the publisher's staff. Lots of arrows help readers track the progress of the manuscript across the busy pages, display type highlighting some of the many, many questions that need to be asked and answered along the way. Through it all, Ernie helps to keep both author and readers grounded with requests for play or walks. Though Barton explicitly frames his hypothetical book as nonfiction, aside from minor details, the process he describes applies to works of fiction as well. Readers who've never thought very hard about what goes into making a book will come away slightly dizzy and appreciative of the complexity of the process. A master class in how to make a picture book. (tips for readers, timeline) (Informational picture book. 7-12) Copyright © Kirkus Reviews, used with permission.
---
Publishers Weekly
(c) Copyright PWxyz, LLC. All rights reserved

Aiming to unveil the process behind book creation, Barton walks readers through the steps of writing a nonfiction picture book about his dog in this elucidative meta-story following its own production. Starting with researching and writing the manuscript, the conversational narrative patiently offers next steps: "My agent will share the manuscript with someone who works for the publishing company that's going to turn my story into an actual book." The revision process and illustrator selection are covered in turn. Horne offers brightly colored graphic art, including flow charts with speech bubbles and arrows, plus a cast of cartoon-style humans in a range of skin tones, rendered in Indian ink with a dip pen and colored digitally. While publishing staff are not surveyed in-depth, aspiring authors will find the volume intriguing. Ages 6–10. (Oct.)