Reviews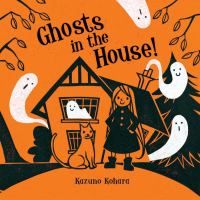 Kirkus
Copyright © Kirkus Reviews, used with permission.

With bold black prints on a bright orange background, this cheery tale presents readers with a young, can-do witch who isn't fazed by a house full of tissue-paper ghosts. When she moves into "a big old house at the edge of town" and discovers that it's haunted, she just catches the ghosts, one after another. She pops them all into the wash and hangs them, smiling and sheet-like, on the line, before deploying them as curtains, tablecloths and other household linens. A real demonstration that less is more: The simplicity of color and line combine with the capably happy heroine to make this a whimsical winner. (Picture book. 2-6) Copyright ŠKirkus Reviews, used with permission.
---
Book list
From Booklist, Copyright © American Library Association. Used with permission.

*Starred Review* This attractive Halloween tale may elicit a few shrieks, but mostly smiles. A little girl goes to live in an old house. One problem. Turn the page and there's an almost transparent ghost spooking across the spread. Fortunately, the little girl is a witch with a plan in mind and some ghost-hunting abilities under her tall black hat. The freshly caught ghosts go into the washing machine and come out to a new life as sheets and tablecloths, and the last two ghosties turn into cozy comforters. Kohara's wonderfully distinctive art, all orange and black, has the look of woodcuts, while the ghosts, whether flying about or on a bed, seem to have not just shape but depth. Just as delightful are the little girl and her white cat, who are cute enough at the book's beginning but find extra charm when she puts on her witch's hat and the kitty dresses up in a black cat suit. A must-have for Halloween.--Cooper, Ilene Copyright 2008 Booklist
---
School Library Journal
(c) Copyright Library Journals LLC, a wholly owned subsidiary of Media Source, Inc. No redistribution permitted.

PreS-This visually arresting, easy picture book is a surprisingly powerful masterpiece of design. Laid out entirely on electric orange pages, the two-color scheme hearkens back to a bygone era in children's book publishing. Far from being dated or dull, though, Kohara's elegant achievement retains an oh-so-contemporary flair thanks to savvy layout techniques. The story is delightfully simple: a little witch moves into a haunted house, and, fortunately for her, she knows exactly what to do with a house full of ghosts. First she traps them, then she washes them, and finally she repurposes them as useful items, such as curtains, table linens, and bedding. The story ends happily, with smiling ghosts performing new jobs all over her house. The ghosts have the opacity of used dryer sheets and trick the eye into thinking there are two textures on the page; this unique optical illusion is so convincing that readers may find themselves compelled to reach out and touch them. The dense orange that saturates each page casts the whole book in a rich, warm twilight. Toddlers and preschoolers are sure to enjoy this engaging read. With its subzero fear factor, fun narrative, and artful illustrations, it's a surefire Halloween hit.-Catherine Threadgill, Charleston County Public Library, SC (c) Copyright 2010. Library Journals LLC, a wholly owned subsidiary of Media Source, Inc. No redistribution permitted.