by Sally Rooney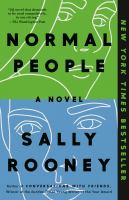 Library Journal
(c) Copyright Library Journals LLC, a wholly owned subsidiary of Media Source, Inc. No redistribution permitted.

Marianne and Connell attend the same secondary school in Carricklea, a small town in Sligo, Ireland. The popular Connell, captain of the football team and a promising scholar, is the son of a single mother who cleans house for Marianne's mother. Marianne, bullied by her financially well-off family, occupies the lowest rung of the school's social ladder but outshines all of her peers academically. Though they avoid each other in public, Marianne and Connell share an intense emotional bond reinforced by secrecy and sex. Over several years, both will test and undermine this fierce and sometimes disturbing attachment. As the intimacy between Marianne and Connell evolves over time, they seem to identify and embrace varying degrees of self-worth from their powerful regard for each other, which may depend on a mutual acceptance of the social, economic, and emotional inequalities they have at different times embraced and exploited at their own and each other's expense. -VERDICT This brilliantly nuanced second novel fulfills the promise evident in the stunning debut, Conversations with Friends, as Rooney once again portrays to dazzling effect intelligent young adults who negotiate social roles and scenarios reinforcing power structures that, for better or worse, define relationships. Marianne and Connell are unforgettable characters, alluring and sympathetic, and Rooney is a formidable talent. A major literary achievement. [See Prepub Alert, 10/15/18.]-John G. Matthews, -Washington State Univ. Libs., Pullman © Copyright 2019. Library Journals LLC, a wholly owned subsidiary of Media Source, Inc. No redistribution permitted.
---
Book list
From Booklist, Copyright © American Library Association. Used with permission.

When Connell picks his mom up from her job as his classmate Marianne's family's housekeeper, he and Marianne discover an unusual connection. Though Connell is a well-liked athlete and Marianne is seen as an antisocial outsider, they're both known as their high school's brightest: their first, and lasting, bond. The secrecy of their relationship creates a shelter in which to explore their intense chemistry, both intellectual and sexual, before Connell blithely betrays Marianne, and they both leave their small town for Dublin's Trinity College. Advancing months or minutes at a time along the next four years, chapters ripple through the subsequent reunions and rifts of their college years. Connell knows that Marianne is fragile, but it's a long time before he fully understands why and that he is, too. Long-listed for the 2018 Man Booker Prize, this superb book more than lives up to the high expectations set for it by Rooney's lauded first novel, Conversations with Friends (2017). Showcasing Rooney's focus and ability in building character relationships that are as subtle and infinite as real-life ones, and her perceptive portrayal of class, Normal People gets at the hard work of becoming a person and the near impossibility of knowing if a first love is a true one.--Annie Bostrom Copyright 2010 Booklist
---
Publishers Weekly
(c) Copyright PWxyz, LLC. All rights reserved

Rooney (Conversations with Friends) stuns with her depiction of an on-again off-again relationship between two young adults navigating social pressures. Connell is a popular soccer player at his school in Carricklea, Ireland. He embarks on a secret, mostly sexual relationship with Marianne, the socially isolated and mistreated daughter of the wealthy family Connell's mom cleans for. Connell's paranoia about social standing spoils their relationship when he asks another classmate to a school dance. When they connect again as students at Trinity College in Dublin, Marianne has found a stronger voice and a large group of friends while Connell struggles to adapt to college life. A miscommunication scuttles their second attempt at a relationship, and Marianne soon gets involved with a boorish student with sadistic sexual desires. She confides in Connell about her ambivalence toward rough sex, but he fails to act on his strong desire to protect her. Personal crises and dissembling about feelings push the pair alternatively together and apart up to an open-ended but satisfying conclusion. Rooney crafts a devastating story from a series of everyday sorrows by delicately traversing female and male anxieties over sex, class, and popularity. This is a magnificent novel. (Apr.) © Copyright PWxyz, LLC. All rights reserved.
---
Kirkus
Copyright © Kirkus Reviews, used with permission.

A young Irish couple gets together, splits up, gets together, splits upsorry, can't tell you how it ends!Irish writer Rooney has made a trans-Atlantic splash since publishing her first novel, Conversations With Friends, in 2017. Her second has already won the Costa Novel Award, among other honors, since it was published in Ireland and Britain last year. In outline it's a simple story, but Rooney tells it with bravura intelligence, wit, and delicacy. Connell Waldron and Marianne Sheridan are classmates in the small Irish town of Carricklea, where his mother works for her family as a cleaner. It's 2011, after the financial crisis, which hovers around the edges of the book like a ghost. Connell is popular in school, good at soccer, and nice; Marianne is strange and friendless. They're the smartest kids in their class, and they forge an intimacy when Connell picks his mother up from Marianne's house. Soon they're having sex, but Connell doesn't want anyone to know and Marianne doesn't mind; either she really doesn't care, or it's all she thinks she deserves. Or both. Though one time when she's forced into a social situation with some of their classmates, she briefly fantasizes about what would happen if she revealed their connection: "How much terrifying and bewildering status would accrue to her in this one moment, how destabilising it would be, how destructive." When they both move to Dublin for Trinity College, their positions are swapped: Marianne now seems electric and in-demand while Connell feels adrift in this unfamiliar environment. Rooney's genius lies in her ability to track her characters' subtle shifts in power, both within themselves and in relation to each other, and the ways they do and don't know each other; they both feel most like themselves when they're together, but they still have disastrous failures of communication. "Sorry about last night," Marianne says to Connell in February 2012. Then Rooney elaborates: "She tries to pronounce this in a way that communicates several things: apology, painful embarrassment, some additional pained embarrassment that serves to ironise and dilute the painful kind, a sense that she knows she will be forgiven or is already, a desire not to 'make a big deal.' " Then: "Forget about it, he says." Rooney precisely articulates everything that's going on below the surface; there's humor and insight here as well as the pleasure of getting to know two prickly, complicated people as they try to figure out who they are and who they want to become.Absolutely enthralling. Read it. Copyright Kirkus Reviews, used with permission.