Online Databases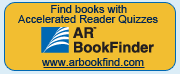 Searching for Accelerated Reader books
is fun and easy with this free online tool.
Kentucky Libraries Unbound
Digital Media Catalog
Ask Why KY is a virtual reference service that allows questions 24 hours a day, 7 days a week, 365 days a year.
Kentuckians can go on-line and "chat" with a knowledgeable and highly trained reference librarian. Questions can also be submitted via e-mail. Within minutes, questions can be researched and a real answer from a trustworthy source can be sent directly to your computer.
OCLC, a worldwide library cooperative based in Ohio, makes the 24/7 service possible. When local librarians aren't on duty, OCLC librarians pick up the questions and provide answers.