Welcome to the Joice Public Library
Online Catalog and Web Page.
On the Calendar: Saturday, 12/14/2019 9:30 AM
Holiday Open House: Santa Claus, decorating cookies, craft, letters to the military. Calendar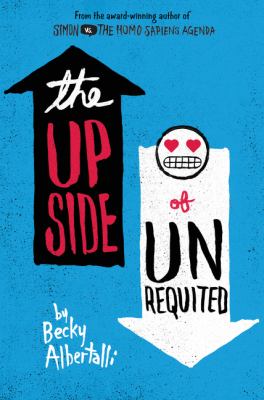 The Upside of Unrequited
by Albertalli, Becky


School Library Journal Gr 9 Up-Growing up can mean growing apart, which is a hard revelation for twins Cassie and Molly Peskin-Suso. When Cassie, who is a lesbian, begins dating Mina, a pansexual Korean American, Molly feels a little cast aside. Molly, who has an anxiety disorder, has silently nursed 26 crushes and is working on finally risking the rejection she fears and starting to date. Cassie wants Molly to hook up with Mina's best friend, Will, but Molly might be more interested in sweet and endearingly geeky Reid. While the girls are navigating these new worlds of romance, things don't slow down in other parts of their lives. Cassie and Molly's moms are finally getting married, so there's a wedding to plan, much to the delight of Pinterest-savvy Molly; plus there are jobs, friends, and a busy baby brother. Molly, Cassie, and all of the secondary characters are well-developed and distinctive. The outspoken girls have honest, humorous, and sometimes awkward conversations with each other, their friends, and their supportive and loving moms about relationships and growing up. Albertalli's keen ear for authentic teen voices will instantly make readers feel that they are a part of Cassie and Molly's world, filled with rich diversity (Cassie and Molly's family is Jewish and interracial), love, support, and a little heartache. In the satisfying conclusion, Molly and Cassie learn that letting new people into their lives does not have to mean shutting out others. VERDICT Readers will fall in love with this fresh, honest, inclusive look at dating, families, and friendship. A top purchase for all YA collections.-Amanda MacGregor, formerly at Great River Regional Library, Saint Cloud, MN © Copyright 2017. Library Journals LLC, a wholly owned subsidiary of Media Source, Inc. No redistribution permitted.
(c) Copyright Library Journals LLC, a wholly owned subsidiary of Media Source, Inc. No redistribution permitted.
Book list Seventeen-year-old Molly has had 26, count 'em, 26 crushes and not one boyfriend. But wait, here comes number 27: sweet, adorable Reid. Could a relationship finally be in the offing? But what about flirtatious, hipster-cool Will? Doesn't he count? Love sure is complicated, and for Molly, this annoying fact of life is exacerbated by her anxiety, hypersensitivity, doubts, and even self-hatred. At least partially responsible for all this Sturm und Drang is the fact that Molly is, as her grandmother indelicately puts it, zaftig. As Molly herself exasperatedly thinks, chubby girls don't get boyfriends. But why shouldn't she have the same kind of loving relationship with a boy that her twin sister, Cassie, has with a girl? In her second, relationship-rich novel, Albertalli has done an excellent job of creating in Molly a sympathetic, if occasionally exasperating, character. And her take on the agonies and ecstasies of adolescent love are spot-on, as she demonstrates, once again, that the heart, indeed, has its reasons the mind cannot know.--Cart, Michael Copyright 2017 Booklist
From Booklist, Copyright © American Library Association. Used with permission.
Publishers Weekly Molly Peskin-Suso is the opposite of sexually precocious: now 17, she's had "twenty-six crushes and exactly zero kisses." When love finds her more confident twin sister, Cassie, a fissure develops that Molly reads as the inevitable first step toward twin division, "the part where we turn from we to she and me." Cassie tries to hook Molly up with a pal of new girlfriend Mina, but Molly is drawn to Reid, a co-worker who Mina describes, derogatorily, as "one of those Ren Faire guys. Season pass, full costume." Albertalli's follow-up to Simon vs. the Homo Sapiens Agenda features a diverse family (Molly's mothers are different races and religions) living in Beltway Washington the year gay marriage is legalized. It's as full of heart as Simon (Simon himself makes a cameo appearance) and is replete with humor and honestly drawn characters like Grandma Betty, who comments inappropriately about Molly's weight and thinks all lesbians have short hair. The cheerful resolution has Molly finding her own path, concluding that, no matter how well-intentioned one's wingman might be, you have to be your heart's own goalie. Ages 14-up. Agent: Brooks Sherman, Bent Agency. (Apr.) © Copyright PWxyz, LLC. All rights reserved.
(c) Copyright PWxyz, LLC. All rights reserved