Welcome to the Joice Public Library
Online Catalog and Web Page.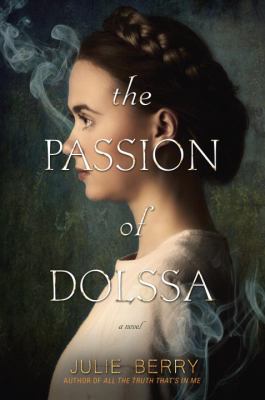 The Passion of Dolssa
by Berry, Julie


Book list *Starred Review* Publishers say that historical fiction is a hard sell, and books with religion at their core are few and far between. Kudos, then, to Berry (All the Truth That's in Me, 2013) for creating a sweeping saga that not only deeply entwines both but also dissects its characters' humanity as it looks at the often troubling beliefs that underlay their actions. The story-within-a-story begins in 1290. A friar is gathering papers and testimonies that will show how the inquisitions here on the border of France and Spain were God's holy work. But one tale troubles him, so much so that he begins to stitch the strands together, and that is where the main story begins. Botille is a sassy teenager who makes money in her seaside village of Bajas by matchmaking. A disruptive childhood and a drunken father has bound Botille and her sisters closely together, but their lives are good: Plazensa runs the tavern, Botille makes her matches, and Sazia tells fortunes with uncanny accuracy. To the north, in Tolosos, there is another girl, Dolssa. Aristocratic by birth and a mystic by the grace of God, she spends her days with her beloved, Jesus, who wraps her in his murmurs and consumes her with his love. That much love cannot be contained, and Dolssa begins telling others how much her beloved cherishes all people. The simplicity of her message is seen by the inquisitors as a threat to the church, a devil's deception, and there is only one place it can end: in a public burning. Miraculously, Dolssa escapes the pyre. She wanders until she meets Botille, who saves and shelters her. This beautifully crafted plot would be enough on its own, but Berry does so much more. First, she establishes a convincing setting, in part by peppering the dialogue with Old Provençal language. Using many voices, some of which, including Botille and Dolssa, relate their own stories, she picks beneath words and actions to expose the motives of the heart, revealing how lofty ideas can turn into terrorizing actions, and how fear and self-preservation can make friends and neighbors turn on one another. Yet despite the book's gravity, Berry also manages to infuse her story with laughter and light welcome surprises. The final surprise awaiting readers at the book's conclusion adds yet another layer to the storytelling. Also at the book's end, Berry has included a wealth of back matter, a glossary, a list of characters (possibly of more help if placed at the book's beginning), and an author's note explaining the roots of the religious discord, inquisitions, and wars, and touching on such female mystics as Hildegard of Bingen, who is referenced in the novel. The beauty of historical fiction is that it brings to life long-ago times and places even as it shows how hopes, fears, and dreams remain constant across the ages. The strength of religious-centric novels is their revelation of the myriad ways people grapple with their faith and spirituality. The Passion of Dolssa's rich brew will leave readers thinking about all of these things, even as it profoundly influences their own struggles and questions.--Cooper, Ilene Copyright 2016 Booklist
From Booklist, Copyright © American Library Association. Used with permission.
School Library Journal Gr 7 Up-Botille is a matchmaker in the small seaside town of Bajas in medieval France. She struggles to run the family's tavern and keep her sisters and herself afloat. Dolssa is a young woman with a secret that she can't help but share-her lover is God, and she speaks to him regularly. When the two young women cross paths, both deep friendship and mortal peril await them. A beautifully rendered portrait of a little-known portion of history, this work is a meticulously researched piece of fiction. Yet it is not just in the accurate details that the novel shines. The strength and humanity of the almost entirely female set of characters are inspiring and well drawn. The panic and suspicion of post-Inquisition France is omnipresent, giving the story of a supposed heretic a constant edge of danger. As the novel slips in and out of magical realism, readers will be transported into Dolssa and Botille's world. VERDICT An expertly crafted piece of historical fiction, Berry's latest is a must for middle and high school libraries.-Erinn Black Salge, Saint Peter's Prep, Jersey City, NJ © Copyright 2016. Library Journals LLC, a wholly owned subsidiary of Media Source, Inc. No redistribution permitted.
(c) Copyright Library Journals LLC, a wholly owned subsidiary of Media Source, Inc. No redistribution permitted.
School Library Journal Gr 7 Up-Two young women-Botille, a tavern wench, and Dolssa, a noblewoman possibly in communion with God-form a deep bond in a world that seeks to destroy them. Berry has reimagined 13th-century France with vigor, from the small intricacies of daily village life to the brutal ruthlessness of the Inquisition. Readers looking for a work steeped in female friendship, mysticism, and blood, with extensive back matter to boot, will be well rewarded. © Copyright 2016. Library Journals LLC, a wholly owned subsidiary of Media Source, Inc. No redistribution permitted.
(c) Copyright Library Journals LLC, a wholly owned subsidiary of Media Source, Inc. No redistribution permitted.
Publishers Weekly When Botille Flasucra finds Dolssa de Stigata lying on a riverside close to death, she takes the stranger to her family's tavern. Botille, a young matchmaker, and her sisters nurse Dolssa back to health in secret-a Dominican friar obsessively hunts Dolssa, whom he condemned as a heretic to be burned at the stake. The year is 1241 in Provensa (now Provence), where the aftereffects of the Albigensian Crusade have led to an inquisition meant to rid the Christian world of heretics. Dolssa, however, feels called to heal the sick in the name of her beloved Jhesus, and her miracles eventually bring danger to the small town of Bajas. Berry (All the Truth That's in Me) again delivers an utterly original and instantly engrossing story. Drawing from meticulous historical research (highlighted in extensive back matter), she weaves a tense, moving portrait of these two teenage girls and their struggle to survive against insurmountable odds. Love, faith, violence, and power intertwine in Berry's lyrical writing, but Botille's and Dolssa's indomitable spirits are the heart of her story. Ages 12-up. Agent: Alyssa Eisner Henkin, Trident Media Group. (Apr.) © Copyright PWxyz, LLC. All rights reserved.
(c) Copyright PWxyz, LLC. All rights reserved