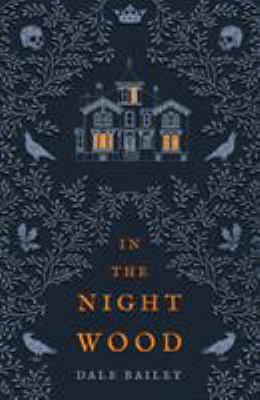 In the Night Wood
by Dale Bailey


Kirkus A couple in crisis moves to an old manor house for research on a Victorian fantasy novel and finds the story may not be as fictional as it appears.Charles and Erin Hayden fell in love in a university library soon after discovering that the obscure Victorian book that's been haunting Charles' life was written by an ancestor of Erin's. Soon after the death of their young daughter in an accident, they learn that Erin has inherited Hollow House, the former home of Caedmon Hollow, the author of In the Night Wood and the man Charles has spent his career researching. With nothing to keep them in the U.S., they move to Yorkshire and find themselves ensconced in the manor house with a groundskeeper, cook, and no idea what they're doing. Charles throws himself into his research, connecting with the young woman who runs the local historical society and her daughter, almost a twin of the daughter he lost, as Erin drowns herself in wine and pills. As stranger and stranger things begin happening around the manor, though, they'll have to face their grief to prevent another tragedy. Bailey's (The Subterranean Season, 2015, etc.) novel has every aspect of gothic horror: the drafty manor, the shady servants, the tortured protagonists. The writing is dense with allusions and details, the narrative twisting and turning in the same way the Night Wood distorts the senses of anyone who wanders into it. The writing does get a bit convoluted and hard to follow at times, but it's in keeping with the atmosphere of subtle dread that permeates the novel. The book is surprisingly short, and there's a lot of buildup to a very quick climax, which would have benefited from more time. The succession of reveals in the frantic last 30 or so pages, however, is tense and disturbing, satisfying for any horror fan.A modern gothic horror done right. Copyright Kirkus Reviews, used with permission.
Copyright © Kirkus Reviews, used with permission.
Book list A grieving American couple inherit a Victorian manor in a picturesque English village and are thrust into a gothic tale of sinister woods, dark bargains, and child sacrifice. Charles and Erin Hayden move to Hollow House to research the enigmatic Caedmon Hollow, Erin's distant ancestor, who wrote In the Night Wood, the dark fairy tale Charles has made the focus of his academic career. The move is also an escape from the ghost of their life before their daughter's death. As Charles hunts for secrets in Hollow's archives, uncovering a mystery about Hollow's own daughter, and Erin self-medicates and obsessively draws, they see strange visions in the woods an ominous horned figure, an ornate gate, and a lost child the meaning of which eventually becomes terribly clear. Bailey (The Subterranean Season, 2015) weaves literary allusions and folkloric motifs together with gorgeous prose to create this grief-imbued story, which suffers slightly from disproportionate pacing and a disservice to Erin's character, who has little agency. This will appeal to fans of psychological horror, fairy-tale retellings, and metanarratives.--Krista Hutley Copyright 2018 Booklist
From Booklist, Copyright © American Library Association. Used with permission.
Library Journal Grieving the loss of their young daughter, Charles and Erin Hayden move into the English manor house once owned by author Caedmon Hollow. Erin inherited the house as Hollow's only living descendent, and the couple hopes the change will help them heal their relationship. But isolated in the old house and surrounded by the dark woods that inspired Caedmon's macabre fairy tale, their grief is magnified. Whether awake or asleep, they are haunted by images of their daughter, as well as the specter of an elven king beckoning them to the forest. While Erin pops prescription meds in an effort to dull her pain, Charles becomes obsessed with Caedmon and what inspired him to write the book that has captivated him since his boyhood. Similar in tone and setting to Brendan Duffy's House of Echoes, Bailey's (The Subterranean Season) crossover fantasy will test readers' credulity. Verdict This super creepy read may draw in fans of magical realism; however, a disappointing ending and a florid writing style will keep it from having widespread appeal.-Vicki Briner, Broomfield, CO © Copyright 2018. Library Journals LLC, a wholly owned subsidiary of Media Source, Inc. No redistribution permitted.
(c) Copyright Library Journals LLC, a wholly owned subsidiary of Media Source, Inc. No redistribution permitted.
Publishers Weekly Bailey (The Subterranean Season) infuses his eighth novel with a sinister forboding that excellently villainizes its bucolic English setting. American couple Charles and Erin Hayden arrive at the estate of Victorian writer Caedmon Hollow to research Hollow's reclusive and tragic life. Carrying the grief of their daughter Lissa's death and their failing marriage, the Haydens throw themselves into their respective obsessions: for Charles, uncovering Hollow's dark secrets, and for Erin, taking prescription pills and sketching their daughter's likeness. Erin's depression is her only character trait, rendering her two-dimensional in comparison to Charles. Apparitions of Lissa and a horned figure haunt the perimeter of the forest behind the house, recalling the story of a child sacrificed to the Horned King in the pages of Hollow's "In the Night Wood." With the discovery of a cipher and the help of a local historian who has a daughter uncannily similar to his own, Charles realizes the horrors of "In the Night Wood" are closer to fact than fiction. Bailey's eerie prose centers readers firmly and successfully in his seductive and frightening night wood. Agent: Matt Bialer, Greenburger Associates. (Oct.) © Copyright PWxyz, LLC. All rights reserved.
(c) Copyright PWxyz, LLC. All rights reserved