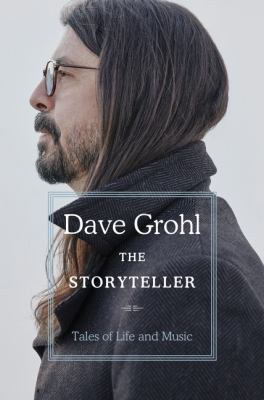 The Storyteller
by Dave Grohl


Kirkus The Nirvana drummer and Foo Fighters frontman shares anecdotes from his (mostly) charmed life in rock 'n' roll. Grohl's memoir is thick with name-drops, but not for the sake of gossip or even revelatory detail. (Fans likely won't learn anything about Kurt Cobain they didn't already know, except perhaps his choice for cheap sustenance in the band's pre-fame days, a canned-tuna-on-toast concoction dubbed "shit on a shingle.") Rather, Grohl's name-drops are of the "can you believe I get to do this for a living" variety: backing Tom Petty and Iggy Pop, meeting musical heroes from Little Richard to Joan Jett, singing "Blackbird" at the Oscars, performing at the White House, and filling arenas all over the world. As the book's entertaining early pages reveal, Grohl was an unlikely candidate for global stardom. An accident-prone kid and unschooled drummer raised in a middle-class suburb of Washington, D.C., he caught the punk bug at a Naked Raygun show in Chicago, later dropping out of high school to join Scream. Though Scream was only moderately popular, Grohl thought he'd reached the mountaintop, so Nirvana's massive fame, followed by Cobain's suicide, was seriously disorienting. Still, the author is upbeat even when talking about lean or tense moments, like when his body finally pushed back against his five-pot-a-day coffee habit. Grohl is good company, but the gee-whiz tone as well as the clichés (hanging out with the members of metal band Pantera is "not for the faint of heart") make the book feel like a missed opportunity. Grohl survived a massive band's collapse and leads another hugely successful act in a genre that's no longer dominant. Rather than exploring that, he's largely content to celebrate his good fortune. Perhaps when he finally hangs it up, he will dig more deeply into his unique career. A high-spirited yet surface-level glimpse into the life of one of the planet's last rock stars. Copyright © Kirkus Reviews, used with permission.
Copyright © Kirkus Reviews, used with permission.
Publishers Weekly Sixteen-time Grammy-winner Grohl cranks the story of his life to full volume in this exciting debut chronicling his rock 'n' roll career. Growing up in the 1970s in the suburbs of Springfield, Va.—a "Wonder Bread existence"—Grohl followed the sound of drumming all the way to the stage, from jamming with friends in high school to playing in the D.C. hardcore punk band Scream, joining Kurt Cobain's Nirvana in 1990, and eventually fronting his band, the Foo Fighters. Grohl's uninterested in regaling readers with tales of backstage debauchery; instead, he candidly shares his reverence for the enduring power of music. As a teenager, he writes, it became his religion, "the rock stars my saints, and their songs my hymns." By the time he turned 22, he was traveling the world with Nirvana. After the shock of Cobain's 1994 suicide subsided, Grohl focused on the Foo Fighters and began touring internationally again, while raising three girls with his wife ("music and family intertwined"). Reflecting on his fame, Grohl writes, "I have never taken a single moment of it for granted." Paired with his sparkling wit, this humility is what makes Grohl's soulful story a cut above typical rock memoirs. There isn't a dull moment here. Agent: Eve Atterman, WME. (Oct.)
(c) Copyright PWxyz, LLC. All rights reserved
Library Journal Nirvana drummer and Foo Fighters frontman Grohl joyfully recounts his life in this memoir. Growing up in Virginia, Grohl taught himself to play drums by ear. He left school to tour with the group Scream, then joined Nirvana and struggled with its monumental success. The lifelong nonconformist found himself adored by Nirvana's mainstream audiences while dealing the band's "awkward dysfunction." After Nirvana's breakup, Grohl started the Foo Fighters, then formed the supergroup Them Crooked Vultures, with Queens of the Stone Age's Josh Homme and Led Zeppelin's John Paul Jones. In nostalgic, often humorous anecdotes, he recalls meeting the musicians who inspired him: jamming with Iggy Pop, drumming for Tom Petty on Saturday Night Live, sharing bedtime story duties with Joan Jett. Grohl seems most proud of his role as father, and his loving stories of parenthood are sprinkled throughout the book. VERDICT Grohl bares his soul and shares his passion in this must-read memoir, which will resonate with music lovers and his fans.—Lisa Henry, Kirkwood P.L., MO
(c) Copyright Library Journals LLC, a wholly owned subsidiary of Media Source, Inc. No redistribution permitted.