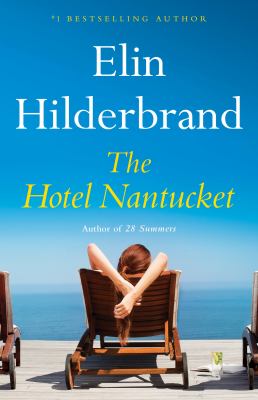 The Hotel Nantucket
by Elin Hilderbrand


Kirkus Bring on the fresh-baked gougères and the hydrangea-blue cashmere throws: A classic fictional setting—the grand hotel—gets the Hilderbrand treatment. The beloved beach novelist's 28th book is another tour de force, deploying all her usual tricks and tropes and clever points of view, again among them a character from the afterlife and the collective "we" of gossipy island residents. Our ghost is Grace Hadley, a teenage chambermaid who died under suspicious circumstances in a hotel fire in 1922. Grace's lonely days are over when the historic property is purchased and reopened by a London billionaire. As Xavier Darling tells his general manager, Lizbet Keaton, their goal will be to get five out of five keys from Shelly Carpenter, an undercover hotel blogger who has not awarded top honors to any spot visited so far. A gorgeous remodel, a sterling staff, free treats in the minibar, and—of course, since this is Hilderbrand—an incredible restaurant where a disco ball drops from the ceiling every night at 9 p.m. and the chef is hotter than any dish on the menu are all in play as the first guests come streaming in. Which one is the hard-to-please Ms. Carpenter? Other addictive storylines include a rich kid cleaning rooms to expiate some mysterious, terrible thing he did this past spring, an evil beauty breaking up island marriages (instead of a gun in the drawer, there's a half-used Chanel eye shadow in Pourpre Brun), and the desperate attempts of Lizbet's ex, who sexted with their wine rep, to win her back. One of the special services Lizbet creates for the guests of the Hotel Nantucket is a "Blue Book" containing all her recommended island itineraries. A real-life version is included as an appendix, giving the complete scoop on where to eat, drink, sunbathe, shop, and stay on the island, plus notes on which Hilderbrand novels happened where. If you're ready to check out Chicken Box or to try the sandwiches on herb bread that lured the author to become a permanent island resident in 1993, the Elin Hilderbrand Bucket List Weekend really is a thing. Honestly, who needs Nantucket. It could hardly be more fun than this book. Copyright © Kirkus Reviews, used with permission.
Copyright © Kirkus Reviews, used with permission.
Book list When Lizbet Keaton finds her longtime boyfriend has been sexting another woman, she needs a fresh start, and she finds it at the Hotel Nantucket. Long viewed as a money pit on the island—and plagued by rumors that it is haunted—the hotel was meticulously renovated by London-based billionaire Xavier Darling, whose goal is to get a five-star review from the elusive Hotel Confidential on Instagram. As Lizbet takes on the role of hotel manager, she hires the staff who become the featured players in this ensemble of characters who are all hiding something, from the front desk manager to the head of housekeeping to Chad who is hired as a cleaner. As the summer bustles on, the staff tries to keep up with demanding guests, Xavier's whims, and, yes, a ghost. Hilderbrand once again captures life on Nantucket, from the beaches to the food to the chorus of locals who comment on the goings-on at the hotel, complete with a travel guide at the end of the book. Readers will be transported by this breezy, engrossing beach read. HIGH-DEMAND BACKSTORY: Fans eagerly await Hilderbrand's Nantucket summer novels, and this one will not disappoint.
From Booklist, Copyright © American Library Association. Used with permission.
Library Journal The latest from the prolific and popular Hilderbrand (following Golden Girl) takes a satisfying look behind the scenes of a luxury Nantucket hotel. London-based billionaire Xavier Darling buys and lavishly renovates the long-derelict Hotel Nantucket, hoping to win the coveted "Five Keys" rating from an Instagram travel influencer. When he needs a local general manager, he hires Lizbet Keaton, who doesn't have hotel experience but previously ran a successful restaurant for 15 years, until she was betrayed by her business partner boyfriend. Staff shortages at the Hotel Nantucket (perhaps an oblique reference to COVID-era labor shortages) drive Lizbet to hire a raft of similarly inexperienced workers—disparate characters with slowly revealed backstories and secrets. The hotel turns out to be haunted by the ghost of a young chambermaid who was murdered there a hundred years earlier; to end the haunting, the hotel staff will have to help the ghost get closure. Beyond the intrigue, readers will learn something of the way a luxury hotel runs, including the long hours and dedication of the staff. VERDICT References to pop culture (music, celebrities, social media, fashion) will please a modern crowd, and readers will cheer for Lizbet, the crew of the Hotel Nantucket, and the ghost.—Jan Marry
(c) Copyright Library Journals LLC, a wholly owned subsidiary of Media Source, Inc. No redistribution permitted.