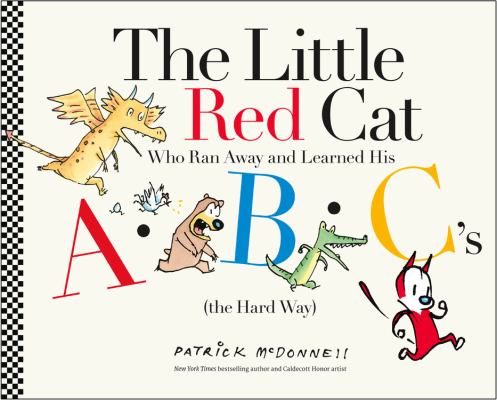 The Little Red Cat Who Ran Away and Learned His ABCs the Hard Way
by Patrick McDonnell


School Library Journal PreS-Gr 1-McDonnell's abecedarian tale takes a small scarlet cat on a breathtaking adventure. The clever tale-wordless except for two signs and one warning shout-begins when the feline notices his home's front door standing open and takes to the hills. He almost immediately comes upon a gape-mouthed Alligator, a climbing Bear, and an agitated Chicken along with a couple of other pursuers of the D and E variety. A chase begins with the cat leading his entourage through a day filled with ice and snow, a jungle, mountain peaks, and a potentially hazardous tumble off a high cliff. Humorous pen, ink, pencil and watercolor illustrations surrounded by copious white space are energetic and highly engaging for readers. The large letters of the alphabet appear near the top of the page and feature both capital and lowercase forms. While most illustrations offer a clear-cut answer to what each letter represents in the sequence, there are a few pages that require some thought; an answer key can be found at the end of the book. -VERDICT A brilliant caper that young learners will want to pore over! A must-purchase.-Maryann H. Owen, Children's Literature Specialist, Mt. Pleasant, WI © Copyright 2017. Library Journals LLC, a wholly owned subsidiary of Media Source, Inc. No redistribution permitted.
(c) Copyright Library Journals LLC, a wholly owned subsidiary of Media Source, Inc. No redistribution permitted.
Publishers Weekly This gloriously fun escapade from McDonnell follows the misadventures of the eponymous red cat, who dashes out the front door of his home, only to be set upon, almost instantly, by an alligator, bear, chicken, and dragon. The book is wordless, other than capital and lowercase letters that correspond to each new character or event, creating a guessing game for readers in the process. In one scene, the pursuers and pursued are slipping and sliding on a patch of ice for I; a page turn, and they're swinging from vines in a jungle. A king and his daughter get involved, parachutes manifest after a tumble off a cliff ("Nnnnnnnn Oooooooo!"), and there's even a bathroom break. It's teeming with visual wit, and McDonnell's cartoons illustrate the emotional dramas of the chase with telegraphic clarity. Ages 3-6. Agent: Henry Dunow, Dunow, Carlson & Lerner. (Sept.) © Copyright PWxyz, LLC. All rights reserved.
(c) Copyright PWxyz, LLC. All rights reserved
Book list A little red cat runs away from home and begins an alphabetical adventure in this (nearly!) wordless picture book. A is an alligator who joins the cat, B is a bear, C a chicken, and D a dragon. After that, the party continues on through different landscapes, and, ultimately, the red cat ends up home and catching some well-deserved z's. Because of its wordless nature, readers can make up their own stories while also hunting for what represents the letter on the page. Although some are obvious, in some illustrations, there may be multiple answers, providing a great opportunity for vocabulary building. (Answers appear at the end.) McDonnell uses a combination of simple lines and a plain background to keep the focus on the action. His is a distinctive style, but the simplicity doesn't take away from the humor, and each character remains distinctive and filled with expression. Best to be shared one-on-one, though the format could inspire young authors and illustrators to try their own journeys through the alphabet.--Linsenmeyer, Erin Copyright 2017 Booklist
From Booklist, Copyright © American Library Association. Used with permission.