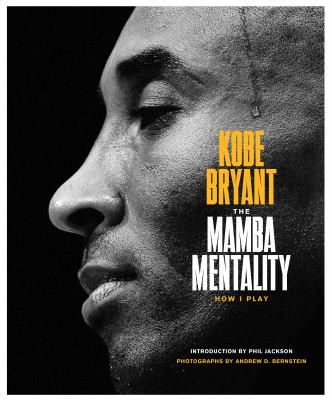 The Mamba Mentality
by Kobe Bryant


Kirkus The future NBA Hall of Famer explores his process and craft.Love him or hate himthere seems to be little sentiment in betweenformer Los Angeles Lakers star Bryant is one of the greatest basketball players of all time. He was always known for his laser-sharp focus, exacting preparation, diligent attention to details, and extreme competitiveness, and all of those qualities are on display in this photo-heavy look back on his career. The key word is "career," as the author provides almost no biographical detail unrelated to basketballwhich is probably appropriate given that he has displayed little interest in anything beyond the game. Conveyed via short, no-nonsense snippets and accompanying photos on nearly every page, the narrative, such as it is, reflects Bryant's commitment to the game. From training to practice to recovery to mental preparation to highly technical descriptions of his mechanicsand those of his opponentshe delves into it all. The book will appeal to die-hard basketball fans intrigued by one of the game's brightest minds, but the structure is somewhat haphazard and may lose general readers. The real stars here are the stunning photographs (at least one on every page, with many double-page spreads), all taken by Andrew D. Bernstein, the longtime Lakers official photographer. Each photo effectively demonstrates what Bryant is discussing, and some feature hand-drawn embellishments by the author, showing the angle and direction of a pass or cut or some other element of a particular play. Bryant also delivers capsule assessments of many of his teammates, opponents, and coaches over the years: "Pau [Gasol] was my favorite teammate ever"; "Phil Jackson was more than just a coachhe was a visionary"; "Tex Winter was a basketball genius"; "Jerry West and I had a father-son type of relationship"; Lamar Odom "was the cool-ass uncle who took care of everybody and always came through in the clutch."There's little that dedicated Kobe fans don't already know, but the book is a visually beautiful presentation that would make an ideal gift for the Lakers fan in the house. Copyright Kirkus Reviews, used with permission.
Copyright © Kirkus Reviews, used with permission.
Book list *Starred Review* Bryant is inarguably among the top 20 basketball players of all time: five-time champion, 18-time all-star, the list goes on. But overshadowing all the achievement is his legendary work ethic, drive, and devotion to the craft of basketball. The black mamba is the deadliest of snakes; Bryant was the deadliest of opponents. He could suck the air out of a rival's arena by leading a frenetic comeback or hitting a game-winning fadeaway jumper as the clock wound down. Bryant, the son of a former NBA player, came to his obsession early, joining the Los Angeles Lakers at just 17. The work ethic was part of his DNA. This extraordinarily beautiful book is built around the photography of Andrew D. Bernstein, the official team photographer of the Lakers and the L.A. Clippers. He took Kobe's rookie head shot and captured the rest of his career as well. The full-color shots dominate, showing Bryant at practice, in the training room, working out in the summer, and, of course, there are dozens of breathtaking game shots. Bryant's accompanying text is spare but insightful, at times elegant. He offers plenty of anecdotes about teammates and opponents, which will satisfy fans interested mainly in the memoir aspect; but what sets this book apart from the competition is Bernstein's photography. It's wonderful.--Wes Lukowsky Copyright 2018 Booklist
From Booklist, Copyright © American Library Association. Used with permission.