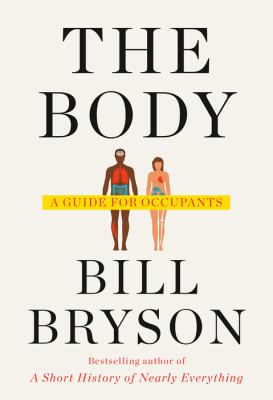 The Body
by Bill Bryson


Kirkus The intrepid explorer and popular travel writer journeys inwardliterallyto explore our mortal coil.A narrative by Bryson (The Road to Little Dribbling: Adventures of an American in Britain, 2016, etc.) rarely involves the unfolding of a grand thesis; instead, it's a congeries of anecdotes, skillfully strung, always a pleasure to read but seldom earthshakingly significant. So it is here. The author does some on-the-ground digging, talking to scientists and physicians, while plowing through libraries of literature to get at the story of how our bodies work. Early on, he pokes at the old bromide that the human body is an assemblage of a few dollars' worth of assorted chemicals and minerals. Not so, he writes: We're made up of 59 elements, including carbon and oxygen. But, he adds, "who would have thought that we would be incomplete without some molybdenum inside us, or vanadium, manganese, tin, and copper?" Bryson employs the example of an "obliging Benedict Cumberbatch," of medium height and build and good health, to venture that the real cost of a human is "a very precise $151,578.46," a figure that turns out to wiggle and wobble as we layer on additional costs. As ever, the author collects lovely oddments and presents them as so many glittering marbles: The largest protein in the body is titin, whose "chemical name is 189,819 letters long, which would make it the longest word in the English language except that dictionaries don't recognize chemical names." The heart, which, Bryson notes, doesn't really look like a valentine, does only one thing: It beats, "slightly more than once every second, about 100,000 times a day, up to 2.5 billion times in a lifetime." Along the way, the author considers whether the old surgical practice of bleeding was really a good thing to do (it wasn't), how "cytokine storms" work, and what the winning combination is for a long lifeone factor is wealth: "Someone who is otherwise identical to you but poorcan expect to die between ten and fifteen years sooner."A pleasing, entertaining sojourn into the realm of what makes us tick. Copyright Kirkus Reviews, used with permission.
Copyright © Kirkus Reviews, used with permission.
Book list Mysterious and miraculous, the human body is more than a masterfully engineered biological machine. And Bryson (The Road to Little Dribbling, 2016) serves as a delightful tour guide to nearly every component, protuberance, and crevice of it: skin, brain, sensory apparatus, heart, blood, bones, lungs, guts, immune system, genitourinary organs. Sleep, memory, hormones, pain, and aging are also explored. Peculiar bodily functions hiccups, yawning, crying are examined. We produce three types of tears (lubricating, reflex, and emotional). We blink about 14,000 times a day. The plethora of facts presented runs the gamut from mind-boggling to bizarre. A teaspoon of human blood contains around 25-billion erythrocytes. A typical American will eat about 60 tons (yes, tons!) of food during a lifetime. At the other end, an adult will eliminate roughly 180 pounds of poop annually. The runty Y chromosome has been shrinking for millions of years. Fifty-nine elements are necessary to build a body. Carbon, oxygen, hydrogen, nitrogen, calcium, and phosphorous make up about 99-percent of it, but would you have guessed a bit of tin and zirconium are necessary, too? Bryson's splendid stroll through human anatomy, physiology, evolution, and illness (diabetes, cancer, infections) is instructive, accessible, and entertaining.--Tony Miksanek Copyright 2010 Booklist
From Booklist, Copyright © American Library Association. Used with permission.
Library Journal Best known for his travel and history of science books, Bryson (The Road to Little Dribbling; A Short History of Nearly Everything) combines both genres in this journey through the human body. Traveling from head to toe, he describes the anatomical machinery of the body; explains the workings of hormones, digestion, and sleep; and examines topics ranging from the vital role of our microbiome to the current antibiotic crisis. He dispels a number of persistent myths (we should drink eight glasses of water a day) and reports that the flu may be our greatest potential health risk. While applauding the advances made by medical science in the two past centuries, Bryson is quick to point out that the body remains "a universe of mystery." He keeps the science lively by interweaving facts and statistics with anecdotes, interviews with scientists and doctors, and his trademark dry humor. VERDICT Bryson has shaped an enormous amount of anatomy and physiology into an informative and entertaining biostory. Recommended for Bryson fans and nonspecialists interested in human health and biology.—Cynthia Lee Knight, Hunterdon Cty. Historical Soc., Flemington, NJ
(c) Copyright Library Journals LLC, a wholly owned subsidiary of Media Source, Inc. No redistribution permitted.
Publishers Weekly Bryson (The Road to Little Dribbling), known for his travel narratives and, more recently, popular scientific works, turns his humorous and curious eye to the human body. Through anecdotes about scientific history and startling facts that seem too extraordinary to be true—the DNA in one person, if stretched out, would measure billions of miles and reach beyond Pluto—Bryson draws the reader into his subject. Tracing the beginnings of the modern understanding of the human body, Bryson introduces his audience to such foundational figures as Henry Gray, whose book Anatomy: Descriptive and Surgical (better known as Gray's Anatomy) has taught generations of medical students since its first publication in 1858, and Wilbur Olin Atwater, a chemist whose 1898 The Chemical Composition of American Food Materials "remained the last word on diet and nutrition for a generation." Bryson also describes the often bewildering mystery of diseases, the science of pain, and the advances made in medical treatment, all with care and concern. Bryson's tone is both informative and inviting, encouraging the reader, throughout this exemplary work, to share the sense of wonder he expresses at how the body is constituted and what it is capable of. (Oct.)
(c) Copyright PWxyz, LLC. All rights reserved