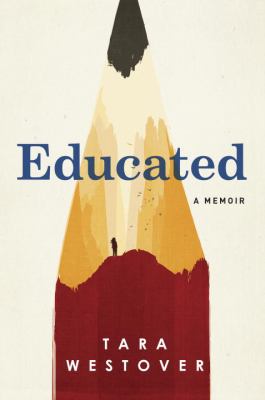 Educated
by Tara Westover


Book list To the Westovers, public education was the quickest way to put yourself on the wrong path. By the time the author, the youngest Westover, had come along, her devout Mormon parents had pulled all of their seven children out of school, preferring to teach just the essentials: a little bit of reading, a lot of scripture, and the importance of family and a hard day's work. Westover's debut memoir details how her isolated upbringing in the mountains of Idaho led to an unexpected outcome: Cambridge, Harvard, and a PhD. Though Westover's entrance into academia is remarkable, at its heart, her memoir is a family history: not just a tale of overcoming but an uncertain elegy to the life that she ultimately rejected. Westover manages both tenderness and a savage honesty that spares no one, not even herself: nowhere is this more powerful than in her relationship with her brother Shawn, her abuser and closest friend. In its keen exploration of family, history, and the narratives we create for ourselves, Educated becomes more than just a success story.--Winterroth, Amanda Copyright 2018 Booklist
From Booklist, Copyright © American Library Association. Used with permission.
Library Journal Raised on a secluded family compound in Idaho, Westover was seven before realizing the biggest difference between her family and others was not their remote home, or their Mormon religion-but that "we don't go to school." Westover helped the family maintain a minimalist existence through construction, scrapping, and midwifery, no matter how many injuries she sustained. But when the author's wounds go untreated, leaving her mother mentally compromised and herself an object of abuse, cracks in her upbringing began to appear. Westover's brother Tyler is the first to leave home for college, later encouraging her to do the same. "There's a world out there, Tara...it will look a lot different once Dad is no longer whispering his view of it in your ear." Starting her academic career at Brigham Young University, Westover continued to earn academic achievements, including a PhD in history from Cambridge University. VERDICT Explicit descriptions of abuse can make for difficult reading, but for a student who started from a point of near illiteracy, Westover's writing is lyrical and literary in style. With no real comparison memoir, this joins the small number of Mormon exposés of recent years. [See "Editors' Spring Picks," p. 29.-Ed.]-Jessica Bushore, Xenia, OH © Copyright 2018. Library Journals LLC, a wholly owned subsidiary of Media Source, Inc. No redistribution permitted.
(c) Copyright Library Journals LLC, a wholly owned subsidiary of Media Source, Inc. No redistribution permitted.
Publishers Weekly A girl claws her way out of a claustrophobic, violent fundamentalist family into an elite academic career in this searing debut memoir. Westover recounts her upbringing with six siblings on an Idaho farm dominated by her father Gene (a pseudonym), a devout Mormon with a paranoid streak who tried to live off the grid, kept four children (including the author) out of school, refused to countenance doctors (Westover's mother, Faye, was an unlicensed midwife who sold homeopathic medicines), and stockpiled supplies and guns for the end-time. Westover was forced to work from the age of 11 in Gene's scrap and construction businesses under incredibly dangerous conditions; the grisly narrative includes lost fingers, several cases of severe brain trauma, and two horrible burns that Faye treated with herbal remedies. Thickening the dysfunction was the author's bullying brother, who physically brutalized her for wearing makeup and other immodest behaviors. When she finally escaped the toxic atmosphere of dogma, suspicion, and patriarchy to attend college and then grad school at Cambridge, her identity crisis precipitated a heartbreaking rupture. Westover's vivid prose makes this saga of the pressures of conformity and self-assertion that warp a family seem both terrifying and ordinary. (Feb.) © Copyright PWxyz, LLC. All rights reserved.
(c) Copyright PWxyz, LLC. All rights reserved