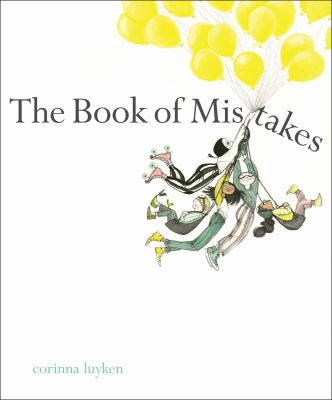 The Book of Mistakes
by Corinna Luyken


School Library Journal PreS-Gr 3-It starts with a mistake, but page by page, one slightly too large eye, a wonky elbow, and feet a little too far off the ground transform and combine into a larger picture-one that not only is functional but also works perfectly. Illustrations rendered in ink, colored pencil, and watercolor are the focal point. They start small-just a circle, a few lines, a dot on the page, a subtle bit of color here and there-but they slowly grow, flowing across one page and onto the next before reverting back to a smaller image that begins to slowly grow again. Each page shows one small glimpse of the final picture, inviting readers to turn the page to see the rest. The simple text draws readers' attention to the illustrations, and thorough examination is rewarded with playful little details. This is a story about how mistakes can change us all for the better if we are brave enough to face them and march ahead. Readers will love following along as the small spots and smudges on each page change the work in fun and unexpected ways, and even younger readers will finish with fresh optimism and a new idea of what mistakes may become. VERDICT Children, especially fledgling artists, will want to pore over this volume one-on-one. A must-have for every library.-Maggie Mason Smith, Clemson University, SC © Copyright 2017. Library Journals LLC, a wholly owned subsidiary of Media Source, Inc. No redistribution permitted.
(c) Copyright Library Journals LLC, a wholly owned subsidiary of Media Source, Inc. No redistribution permitted.
Book list *Starred Review* An inkblot and a face with an eye that's too big are those mistakes? The juxtaposition of mistakes and opportunity is the through line of this original offering that gives children a new way to think about the creative process. Each turn of the oversize, snow-white pages adds a fresh detail to the ink painting slowly being constructed. As the minimal text notes, some are good ideas the glasses on the character's face, for instance. Others, like the extra-long neck, not so much. But as the artwork becomes more detailed, and bits of color, then more, are added here and there, it becomes clear that even the unintentional or the unappealing can be turned into embellishments that enhance the whole. Sometimes the mistakes fundamentally change the whole, but if children are open to getting off the beaten path, they can find themselves immersed in magical new endeavors. Luyken, a debut author, delves into her own creative process, providing images to ponder. The final few spreads, especially, can be the springboard for an interesting discussion of imagination. One thing's for sure: this will lead kids to see their own so-called mistakes in a new, more positive light.--Cooper, Ilene Copyright 2017 Booklist
From Booklist, Copyright © American Library Association. Used with permission.