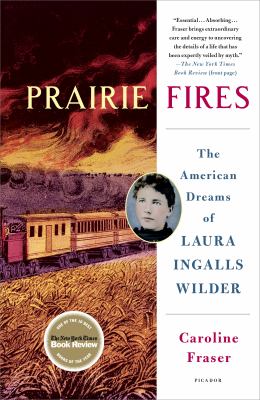 Prairie Fires: The American Dreams of Laura Ingalls Wilder
by Caroline Fraser


Kirkus A sensitive biography of the author of Little House on the Prairie.Many books about Laura Ingalls Wilder (1867-1957) have stirred up controversy about her writing career and political views. William Holtz's The Ghost in the Little House (1993) ascribes considerable authorship to Wilder's daughter, Rose Wilder Lane; Christine Woodside's Libertarians on the Prairie (2016) presents compelling evidence for Wilder's ultraconservatism. Fraser (Rewilding the World: Dispatches from the Conservation Revolution, 2009, etc.), editor of the Library of America edition of the Little House books, offers a cleareyed and well-documented examination of Wilder's life, writings, and career; her relationship with Rose; and her politics. Deeply respectful of Wilder as a writer, she deems Little House on the Prairie "a classic work" and "a cultural monument" that, although fiction, tells "the truth about settlement, about homesteading," and about farmers' "astonishing feats of survival," which Wilder experienced firsthand. As a child, she was "constantly uprooted and often imperiled"; married at 18, she faced years of "exhaustion, failure, and regret." After her husband was crippled in an accident, compromising his ability to farm, Wilder, in addition to farm work, took odd jobs. When Rose, a journalist, suggested publishing as a way to make money, Wilder eagerly recorded memories of prairie life. Rose served as editor. Fraser portrays the domineering Rose as erratic, angry, depressive, and self-destructive, repeatedly causing "ruination to herself, bringing her life down around her ears." She compulsively poured money into house renovations and lavish travel, often leaving herself destitute. Like her mother, she was adamantly opposed to Franklin Roosevelt's New Deal; she was anti-Semitic, "an apologist for dictatorial regimes," and a champion of Ayn Rand's work. The literary collaboration between mother and daughter was "a competition" between "Wilder's plain, unadorned, fact-based approach versus Lane's polished, dramatic, and fictionalized one. In Wilder's autobiographical work, truth' would become a battlefield." What emerged was a nostalgic life story, "reimagined as an American tale of progress," that catapulted Wilder to fame. A vivid portrait of frontier life and one of its most ardent celebrants. Copyright Kirkus Reviews, used with permission.
Copyright © Kirkus Reviews, used with permission.
Library Journal Eighty-five years after Laura Ingalls Wilder published her first book in the "Little House" series, she continues to captivate both young readers and scholars. The publication of Pioneer Girl (Wilder's originally rejected autobiography) in 2014 sparked further interest. Fraser (Rewilding the World) edited a two-volume edition of Wilder's works and knows her subject well. In this biography, Fraser provides historical context to many of the events (locusts, railway expansion, economic panics) discussed in Wilder's books. She also describes the lives of Wilder's immediate family, including her daughter, Rose Wilder Lane. In this thoroughly researched work, Fraser uses correspondence, diaries, and personal papers to debunk the theory that Lane ghostwrote the "Little House" series. Citing from original manuscripts, Fraser acknowledges that Lane assisted her mother in editing and rewriting certain passages, but the writing was Wilder's at the core. Fraser frequently portrays Lane negatively. Lane embraced libertarianism, despised the New Deal, and often flouted journalistic ethics. Unlike her mother, with whom she had a difficult relationship, Lane was a spendthrift and frequently in debt. Fraser reveals the real people behind the Little House myth. VERDICT An excellent work that will appeal to readers interested in the "Little House" books and the historical events they depict.-Erica Swenson Danowitz, Delaware Cty. Community Coll. Lib., Media, PA © Copyright 2017. Library Journals LLC, a wholly owned subsidiary of Media Source, Inc. No redistribution permitted.
(c) Copyright Library Journals LLC, a wholly owned subsidiary of Media Source, Inc. No redistribution permitted.
Library Journal Generations of readers believe they learned all about pioneer life on the prairie from Laura Ingalls Wilder's beloved "Little House" novels. However, Fraser's brilliant biography of their enigmatic author shows a truth much darker and more complex than her cozy autobiographical children's fiction. This penetrating and heavily researched examination of Wilder's life, drawing on unpublished manuscripts, letters, diaries, and property and financial records, shows the homesteaders' endless, soul-crushing struggle against starvation and financial ruin as they migrated across the harsh environment of the American West. Squarely placing the novels into their historical, cultural, and ecological context, Fraser, editor of the Library of America editions of the "Little House" books, demythologizes and deepens our understanding of Wilder's sunny tales of American opportunism and self--sufficiency. For instance, the heavy-handed role of the federal government in encouraging westward migration (then often abandoning settlers in times of need) as well as the heartbreaking treatment of Native Americans is only hinted at in Wilder's books. Maintaining a warm, enthusiastic tone for more than 21 hours and smoothly switching between detailed historical accounts and Wilder family stories, narrator Christina Moore offers an exceptional performance. VERDICT This will find a welcome audience in all libraries. ["An excellent work that will appeal to readers interested in the "Little House" books and the historical events they depict": LJ 11/15/17 starred review of the Metropolitan: Holt hc.]-Beth Farrell, Cleveland State Univ. Law Lib. © Copyright 2018. Library Journals LLC, a wholly owned subsidiary of Media Source, Inc. No redistribution permitted.
(c) Copyright Library Journals LLC, a wholly owned subsidiary of Media Source, Inc. No redistribution permitted.
Book list *Starred Review* The sesquicentennial observance of the birth of the author of the celebrated Little House books (65 million copies sold in 45 languages) has been the catalyst for the publication of a spate of books, now including this magisterial biography, which surely must be called definitive. Richly documented (it contains 85 pages of notes), it is the compelling, beautifully written story of a life whose childhood and early years of marriage were beset by incredible economic privation and disaster: poverty, hunger, fire, blizzards, invasions of locusts, and more, enough to seemingly eclipse the biblical plagues of Egypt. Somehow, Laura Ingalls Wilder survived it all and grew up to record her experiences in the pages of her Little House books, which as Fraser documents are a genial mixture of truth and fiction. Confronting allegations that Wilder's books were actually written by her daughter, author Rose Wilder Lane, Fraser evidences those claims' untruth, carefully demonstrating that the books were, instead, a sometimes uneasy collaboration of the two women, Wilder laying the foundation, Lane doing the editing and occasional embellishing. One of the more interesting aspects of this wonderfully insightful book is its delineation of the fraught relationship between Wilder and her deeply disturbed, often suicidal daughter. But it is its marriage of biography and history the latter providing such a rich context for the life that is one of the great strengths of this indispensable book, an unforgettable American story.--Cart, Michael Copyright 2017 Booklist
From Booklist, Copyright © American Library Association. Used with permission.
Publishers Weekly The autobiographical Little House on the Prairie novels by Laura Ingalls Wilder (1867-1957) occupy a curious space between national mythology, self-reinvention, and truth, as this overlong but engrossing biography from Fraser (Rewilding the World) makes clear. Lovers of the series will delight in learning about real-life counterparts to classic fictional episodes, but, as Fraser emphasizes, the true story was often much harsher. Meticulously tracing the Ingalls and Wilder families' experiences through public records and private documents, Fraser discovers failed farm ventures and constant money problems, as well as natural disasters even more terrifying and devastating in real life than in Wilder's writing. She also helpfully puts Wilder's narrow world into larger historical context, showing that the books' self-sufficient farmers were more dependent on federal assistance than Wilder depicted in her novels. Wilder's daughter, Rose Wilder Lane, emerges as an integral character in her mother's later life. Lane, a professional author in her own right, vigorously edited her mother's manuscripts, though Fraser debunks the myth that Lane ghostwrote the books. But their relationship was a fraught one, and Fraser paints an unflattering portrait of Lane's dishonesty and descent into right-wing paranoia. She concludes by examining Wilder's pop cultural legacy. Fraser's exploration of Wilder's life opens her subject to new scrutiny, which, for Wilder's many fans, may be both exhilarating and disconcerting. (Nov.) © Copyright PWxyz, LLC. All rights reserved.
(c) Copyright PWxyz, LLC. All rights reserved