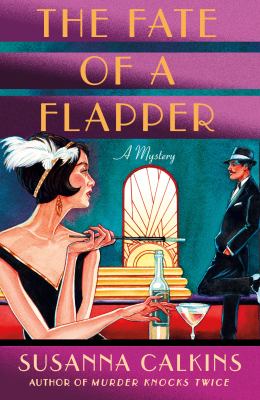 The Fate of a Flapper
by Susanna Calkins


Library Journal Gina Ricci isn't just a cigarette girl at the Chicago speakeasy the Third Door, she's a caretaker to her father, an amateur photographer, and a sometime sleuth, accompanying her police officer cousin Nancy on cases. It's 1929, and Prohibition is in full swing, but at the Third Door, the cocktails are flowing. Gina watches as two young women, Fruma and Adelaide, stumble into the street with two new gentlemen friends. The next time she sees Fruma is when Nancy asks her to photograph a dead body. Gina has more questions than answers. Is the Third Door a front for organized crime? Meanwhile, bombs are being set off randomly throughout Chicago, and when she and love interest Roark, a former cop, get caught in the middle of a bombing she's convinced the murder of Fruma is at the center of it all. VERDICT Written with wit and an understanding of the tensions during one of the most volatile times in history, Calkins's second "Speakeasy" story (after Murder Knocks Twice) will give readers insight into the world of Prohibition and what the human spirit is capable of in desperate times.—Jane Blue, Northumberland P.L., Heathsville, VA
(c) Copyright Library Journals LLC, a wholly owned subsidiary of Media Source, Inc. No redistribution permitted.
Kirkus The Roaring '20s approach a dark and dangerous end as criminal activity, bombings, and plunging stocks rock Chicago. Gina Ricci works as a cigarette girl and drink server at the Third Door, a speak-easy run by the iron-fisted Signora Castallazzo, who also has several legitimate businesses and a good relationship with the cops. Gina works to support her father, who has palsy. She's recently resumed a tenuous relationship with her wealthy great-aunt and great-uncle after the murder of their son, her cousin Marty, a photographer who left her the little he owned. Gina becomes involved in yet another murder when Marty's sister, Nancy, an ambitious cop who wants to become the first woman detective, asks her to take photos at a crime scene. The dead woman had been drinking heavily with a friend and two stockbrokers at the Third Door the night before, and there's a chance Fruma may have been poisoned by bad hooch. Naturally curious and hoping to save the speak-easy from ruin, Gina takes advantage of her insider position to snoop even though she's blindsided when the war veteran she's attracted to suddenly has a wife turn up out of the blue. The death of one of the stockbrokers Fruma was partying with makes the case more complicated and places Gina in a perilous position. You have to love a gal who takes chances while staying true to herself. Copyright © Kirkus Reviews, used with permission.
Copyright © Kirkus Reviews, used with permission.
Publishers Weekly Calkins's winning sequel to 2019's Murder Knocks Twice, likewise set in 1929 Chicago, finds cigarette girl Gina Ricci serving a rowdy crowd one night at the Third Door speakeasy. She takes particular notice of two young women, Fruma Landry and Adelaide , who receive the attentions of various men, not all of them welcome. The next morning, Gina gets a call from her police officer cousin, Nancy Doyle, who needs Gina, an amateur photographer, to take pictures of a dead body. The victim turns out to be Fruma, found by a neighbor in the apartment Fruma shared with Adelaide. Fruma's purple, distorted face points to poisoning. Did she die from drinking tainted hooch at the Third Door? Or is it a case of murder? Gina, who's suspicious of the stories Adelaide tells about the men in her late roommate's life, winds up investigating. Period slang lends authenticity. Calkins draws a memorable portrait of Prohibition-era Chicago. Agent: David Hale Smith, Inkwell Management. (July)
(c) Copyright PWxyz, LLC. All rights reserved
Book list This historical mystery is kind of rerun of the musical Chicago, with lots of 1920s atmosphere, but with the main characters, two women, solving rather than committing murder. Gina Ricci, a cigarette girl in a Chicago speakeasy in 1929, observes two young women tossing back drinks with two wealthy bankers. The next day, Gina's cousin, a female cop, calls Gina to a crime scene to photograph a dead body, who happens to be one of the women Gina saw the night before. Historical note: there were no women cops until after Title I in the 1970s, only police matrons to deal with women victims or perpetrators. Calkins, who has a doctorate in history, sacrifices credibility for plot, but—anachronisms aside—the story delivers a fun romp for readers more into mystery than history.
From Booklist, Copyright © American Library Association. Used with permission.