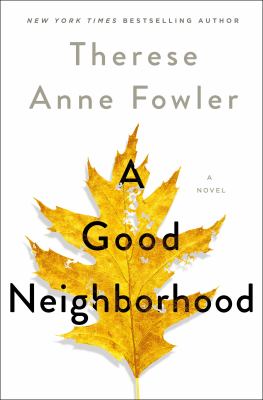 A Good Neighborhood
by Therese Anne Fowler


Book list The first page in Fowler's (A Well-Behaved Woman, 2018) third novel, her first set in the present, lets readers know that there will be a funeral; they'll wonder whose it might be right up to the book's final pages. With his wife and two daughters, local HVAC celebrity Brad Whitman moves into his new dream house on the lot behind Valerie Alston-Holt's property, where she lives with her son, Xavier, in charming Oak Knoll, North Carolina. When it's clear that the Alston-Holts' beloved, centuries-old oak tree is suffering because of the Whitmans' construction, ecology professor Valerie, who is Black, takes action that prompts Brad, who is white, to reveal his true colors in a spiral of devastation. This is hardly an easy setup for the budding romance between teens Xavier and Juniper Whitman, which was already complicated by the purity promise Juniper's parents encouraged her to take. Narrated by the neighborhood, a diverse, collective ""we"" that sometimes interrupt their storytelling to reflect on all they knew and didn't know, this is a rippling story for fans of suspenseful domestic dramas.--Annie Bostrom Copyright 2019 Booklist
From Booklist, Copyright © American Library Association. Used with permission.
Kirkus A riveting, potentially redemptive story of modern American suburbia that reads almost like an ancient Greek tragedy.When the Whitmans, a nouveau riche white family, move into a sprawling, newly built house next door to Valerie Alston-Holt, a black professor of forestry and ecology, and her musically gifted, biracial 18-year-old son, Xavier, in a modest, diverse North Carolina neighborhood of cozy ranch houses on wooded lots, it is clear from the outset things will not end well. The neighborhood itself, which serves as the novel's narrator and chorus, tells us so. The story begins on "a Sunday afternoon in May when our neighborhood is still maintaining its tenuous peace, a loose balance between old and new, us and them," we are informed in the book's opening paragraph. "Later this summer when the funeral takes place, the media will speculate boldly on who's to blame." The exact nature of the tragedy that has been foretold and questions of blame come into focus gradually as a series of events is set inexorably in motion when the Whitmans' cloistered 17-year-old daughter, Juniper, encounters Xavier. The two teenagers tumble into a furtive, pure-hearted romance even as Xavier's mom and Juniper's stepfather, Brad, a slick operator who runs a successful HVAC business and has secrets of his own, lock horns in a legal battle over a dying tree. As the novel builds toward its devastating climax, it nimbly negotiates issues of race and racism, class and gentrification, sex and sexual violence, environmental destruction and other highly charged topics. Fowler (A Well-Behaved Woman, 2018, etc.) empathetically conjures nuanced characters we won't soon forget, expertly weaves together their stories, and imbues the plot with a sense of inevitability and urgency. In the end, she offers an opportunity for catharsis as well as a heartfelt, hopeful call to action.Traversing topics of love, race, and class, this emotionally complex novel speaks toand may reverberate beyondour troubled times. Copyright Kirkus Reviews, used with permission.
Copyright © Kirkus Reviews, used with permission.
Library Journal In a departure from her best-selling historical fiction (A Well-Behaved Woman), Fowler writes a searing story of a neighborhood in present-day America, shining a spotlight on the effects of class and race as two families collide in a small, gentrifying community. Having made a fortune in the HVAC business, Brad Whitman, who is white, moves his family to a big, brand-new house in Oak Knoll, NC. He should be living the dream, but instead he's soon clashing with his African American neighbor Valerie Alston-Holt when she files a lawsuit against him for damaging the giant oak tree in her yard during construction of his new house. Meanwhile, despite the animosity between their parents and the difference in their skin color, teenagers Juniper Whitman and Xavier Alston-Holt are drawn to each other. They steal moments together at the border of their backyards and begin a tentative romance. As their relationship deepens, however, Juniper's family situation becomes even more complicated, threatening to jeopardize all of their futures. VERDICT Fowler skillfully renders her characters and their experiences into an unforgettable, heartbreaking story. Great for book clubs and fans of Tayari Jones and Jodi Picoult. [See Prepub Alert, 7/1/19.]—Melissa DeWild, Comstock Park, MI
(c) Copyright Library Journals LLC, a wholly owned subsidiary of Media Source, Inc. No redistribution permitted.
Publishers Weekly Fowler's fascinating follow-up to 2018's A Well-Behaved Woman chronicles the animosity generated between two families that leads to a tragedy in the suburban North Carolina neighborhood of Oak Knoll. Before local TV celebrity Brad Whitman, who is white, moves in, black single mother and ecologist Valerie Alston-Holt already has a poor opinion of him, as the house he is having built compromises an oak tree on Valerie's property. She grows even more wary upon learning that Brad's 17-year-old step-daughter Juniper took a purity vow. None of this deters Valerie's son, Xavier, a gifted musician and honors student who's headed to college in the fall, from pursuing her Juniper. A particularly ugly side of Brad emerges once Valerie sues him and his builder for damage to the tree: he doesn't understand her genuine concern for the ecosystem and makes a number of racist and misogynistic remarks to her. Brad sees an opportunity for revenge when he catches Juniper and Xavier in an intimate moment and later uses his connections to a prosecutor and spins the truth to trump up charges against Xavier. The plot is skillfully executed, delving into each character's complexities fully enough that their choices make perfect sense. This page-turner delivers a thoughtful exploration of prejudice, preconceived notions, and what it means to be innocent in the age of an opportunistic media. 350,000-copy announced first printing. (Feb.)
(c) Copyright PWxyz, LLC. All rights reserved