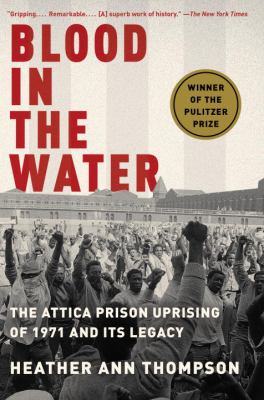 Blood in the Water: The Attica Prison Uprising of 1971 and Its Legacy
by Heather Ann Thompson


Library Journal Even after 45 years, the uprising at the New York State prison in Attica holds its fascination. In September 1971, the inmates took over the prison for four days until Gov. Nelson Rockefeller sent in troops to quell it. In the course of events, 43 inmates and guards were killed and many personal stories evolved. In contrast to the far shorter version by Tom Wicker (A Time To Die), Thompson's (history, Univ. of Michigan; Whose Detroit?) full-length account begins with the warning signs that were ignored, a day-to-day chronicle of the uprising, and for most of the book, details of the aftermath of political repercussions. Readers beware: it is a mammoth volume, with no letup of material. For the most part, Thompson is on the side of the inmates, but she does acknowledge that the guards were victims, too. Furthermore, she brings to light the most subtle forms of government corruption within the prison system. All in all, a dramatic retelling of a memorable event in our history and a cry for justice in the face of institutional authority. Verdict A must for anyone involved in the criminal justice system; also for the general reader interested in prisons with a lot of time on their hands.-Frances O. Sandiford, formerly with Green Haven Correctional Facility Lib., Stormville, NY © Copyright 2016. Library Journals LLC, a wholly owned subsidiary of Media Source, Inc. No redistribution permitted.
(c) Copyright Library Journals LLC, a wholly owned subsidiary of Media Source, Inc. No redistribution permitted.
Choice Thompson (Univ. of Michigan) has written a powerful, balanced account of the inhuman conditions that sparked the 1971 Attica prison riot, the agonizing days of negotiations when the inmates demanded to be treated as human beings, and the prison's armed retaking by New York State troopers and correction officers--despite both sides' wishes for continuing negotiations. A hail of bullets killed 29 inmates and 10 hostages, and wounded over 100 others. Following the retaking, surviving inmates suffered brutal physical, psychological, and racial abuse from both correctional officers and state police. Thompson's impeccable research and writing repulses and sickens readers as she recounts horrific descriptions of inhumanity. She chronicles the next 30 years as first inmates and then hostages or their families sought legal redress from a broken system. Throughout, New York State has remained steadfast in its refusal to accept responsibility. Whether one believes the inmates got what they deserved or that the armed assault was totally unnecessary, readers will find Thompson's objectivity beyond remarkable. Although conditions at Attica are worse today, the author remains hopeful as prisoners continue to struggle for humane treatment. Summing Up: Essential. All levels/libraries. --Duncan R. Jamieson, Ashland University
Copyright American Library Association, used with permission.