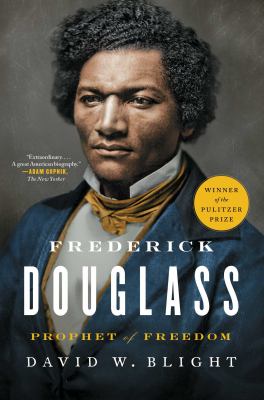 Frederick Douglass: Prophet of Freedom
by David W. Blight


Library Journal Blight (Class of 1954 Professor of American History and Director, Gilder Lehrman Ctr., Yale Univ.; Race and Reunion) has produced a comprehensive chronicle of Frederick Douglass (1818-95), abolitionist, orator, writer, and diplomat, using an exhaustive survey of existing research, including newspaper articles and family letters. Offering original insights into a man born on a plantation into the slave society of Maryland's Eastern Shore, the author presents Douglass as the oratorical and written voice of a generation who carried the fury and faith of African Americans to three continents throughout his varied public life. Blight also shares how Douglass went on to counsel U.S. presidents such as Ulysses S. Grant. VERDICT This magnum opus surpasses previous singular biographies in heft and depth, establishing an essential text for students and educators seeking to understand Douglass's complex and expansive narrative. It will appeal to general audiences and specialists alike.-John Muller, Dist. of Columbia P.L. © Copyright 2018. Library Journals LLC, a wholly owned subsidiary of Media Source, Inc. No redistribution permitted.
(c) Copyright Library Journals LLC, a wholly owned subsidiary of Media Source, Inc. No redistribution permitted.
Publishers Weekly Yale historian Blight's study of runaway slave-turned-abolitionist Frederick Douglass-a "radical patriot" and "prophet of freedom," a "great voice of America's terrible transformation from slavery to freedom"-benefits not only from Blight's decadeslong immersion in the history of American slavery and abolitionism, but also from his access to privately owned sources unavailable to previous scholars. To Blight, Douglass's character and ideology were rife with paradox, and in this huge and meticulously detailed study he unpacks apparent contradictions: Douglass's unexpected happiness as an urban slave in Baltimore; his devotion to his wife, Anna, and their children, whom he rarely saw due to his constant travels as an abolitionist orator; his love for the promise he saw in America and hatred of how slavery had degraded it; his repeated revisions of his autobiographical writings as he reinterpreted his experiences; his second marriage to a white woman, an act both socially transgressive and opposed by his children. The Douglass who emerges from this massive work is not always heroic, or even likable, but Blight illuminates his personal struggles and achievements to emphasize what an extraordinary person he was. Though one might wonder, given Douglass's extensive writings and the numerous works of scholarship discussing him, about the need for yet another biography, it turns out that there was much more to be learned about him. (Oct.) c Copyright PWxyz, LLC. All rights reserved.
(c) Copyright PWxyz, LLC. All rights reserved
Book list *Starred Review* Any biography of Douglass must compete with his own passionate memoirs, which vividly illustrate the anguish of slavery and testify to the humanity and intelligence of African Americans. Yet, as prizewinning historian Blight (American Oracle, 2011) demonstrates in this brilliant and compassionate work, Douglass could never escape the ingrained racism tainting even abolitionist circles. When he disagreed with Liberator William Lloyd Garrison's policy of combating slavery with suasion, as opposed to outright political activism, Garrison suggested that slaves lacked the sophistication to understand the philosophy of the antislavery cause. A pained Douglass replied, Who will doubt hereafter the natural inferiority of the Negro, when the great champion of the Negroes' rights thus broadly concedes all that is claimed respecting the Negroes' inferiority? In Douglass' resistance to the paternalism of white abolitionists, we hear premonitions of Martin Luther King's denunciation of mealymouthed white gradualism. Douglass' support for violent resistance against slave catchers and slave owners prefigures the King versus Malcolm X polarization of the 1960s as well as contemporary debates over radicalism and the Black Lives Matter movement. Blight's Douglass is an unapologetic prophet and radical, and the eloquent voice of this sacred extremist has never been more relevant. A must-read.--Lesley Williams Copyright 2018 Booklist
From Booklist, Copyright © American Library Association. Used with permission.
Kirkus A lengthy but easily digestible biography of the famed ex-slave, abolitionist, and autobiographer.In this superbly written book, Civil War and Frederick Douglass (c. 1818-1895) scholar Blight (American History/Yale Univ.; American Oracle: The Civil War in the Civil Rights Era, 2011, etc.), a winner of the Bancroft, Abraham Lincoln, and Anisfield-Wolf prizes, ably captures his complex subject from all angles. While many readers may be familiar with Douglass' escape from slavery, self-education, and early life (thanks to his autobiographies), most nonscholars are not as well-versed in the details of his later lifee.g., his role in the Civil War, political campaigning, fight for suffrage, complicated family relationships, and more. It's in these later years that Blight's work really shines; in fact, Douglass' early slave life and escape only cover roughly the first 100 pages of the 760-page narrative (followed by 100 pages of notes). From there, Blight makes the case for Douglass as an American prophet in the mold of the Old Testament's Jeremiah or Isaiah. Though he often scolded and admonished in his speeches and writings, often in King James-style vernacular, he also never gave up hope of a coming time of freedom for his black brethren. Douglass truly was the "prophet of freedom" all the way until his death in 1895, fighting for civil rights until the very end. While some readers may want more coverage of his early life, and perhaps more analysis of what Douglass means today, Blight viscerally captures the vitality, strength, and determination of his subject. For such a renowned figure, who was perhaps the most photographed and recognizable person of the 19th century, there is surprisingly little in the way of modern, full-scale, accessible biographies. Blight delivers what is sure to be considered the standard-bearer for years to come.A masterful, comprehensive biography, particularly of Douglass' Civil War, Reconstruction, and Gilded Age years and occupations. Copyright Kirkus Reviews, used with permission.
Copyright © Kirkus Reviews, used with permission.