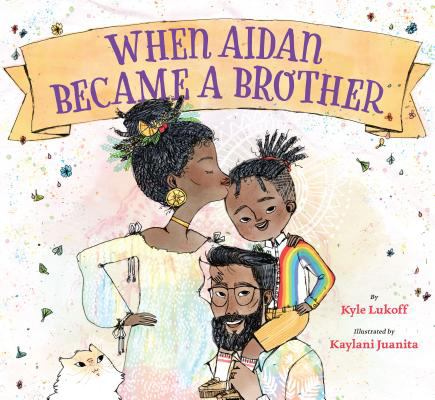 When Aidan Became a Brother
by Kyle Lukoff


School Library Journal PreS-Gr 2—This well-illustrated and sweet family tale centers on the experiences of a transgender boy. Like Erica Silverman's Jack (not Jackie), this title portrays parental support and love between siblings. In this story, Aidan has not yet met the baby who will be his sibling, and that's what has him worried. Will the baby like sea horse or penguin-themed outfits better? If Aidan helps paint the nursery to look like the sky, maybe his new sibling won't ever feel trapped the way Aidan did in his old room, before his parents knew he was a boy. Aidan does everything he can to prepare (short of accepting his dad's offer to practice changing diapers), but his excitement shifts to anxiety. What if he's making mistakes and the baby also ends up feeling misunderstood? Lukoff (himself a transgender man) nails the nuances of Aidan's conflict, providing believable reassurance through Aidan's mom, who offers support specific to her son's experience and proves universally calming advice: "We made some mistakes but you helped us fix them….This baby is lucky to have you and so are we." Juanita's playful watercolors make great use of clothing patterns and nature motifs, airily fashioning the sunny world of Aidan's mostly brown-skinned family and their friends, while framing curious or intrusive strangers from a child's-eye view. VERDICT A much-needed and appealing addition to the picture book canon; both emotionally and visually satisfying.—Miriam DesHarnais, Towson University, MD
(c) Copyright Library Journals LLC, a wholly owned subsidiary of Media Source, Inc. No redistribution permitted.
Book list Though assigned female at birth, biracial Aidan soon realizes he is actually a boy, one who dislikes his girl's clothes and pink bedroom. When he tells his parents that he is a trans boy, they lovingly rectify their errors. Upon renaming himself, Aidan gleefully explores ways of being a boy. Then he learns that his mom is pregnant, and he immediately becomes concerned that he might not be a good big brother. Since he doesn't know if the baby will be a boy or a girl, he searches for names that would fit either, and he is upset when people ask if he is excited by the prospect of a new brother or sister, and steadfastly announces he is simply excited to be a big brother. Though he knows he might make some mistakes, he understands that the most important thing is that he simply love his new sibling and so, when the baby is born (its sex is not given), he does. A trans man himself, Lukoff writes with authority and a loving spirit. Juanita's cheerful digital illustrations are a nicely harmonious match with the text, expanding it in meaningful ways. Together, the text and pictures create a heartfelt celebration of love that will be an ideal selection for trans children and for any who are expecting a new sibling.--Michael Cart Copyright 2019 Booklist
From Booklist, Copyright © American Library Association. Used with permission.
Publishers Weekly Everyone thought Aidan was a girl when he was born, but Aidan knows that "he was really another kind of boy." "He felt like his room belonged to someone else. And he always ripped or stained his clothes accidentally-on-purpose." Finally, Aidan cuts his hair short, dons clothes that suit him better, and tells his parents ("It took everyone some time to adjust, and they learned a lot from other families with transgender kids like him"). #OwnVoices author Lukoff (A Storytelling of Ravens) writes with sensitivity and candor as Aidan takes his first steps toward claiming his identity. When his mother is expecting another child, Aidan excitedly prepares for his big brother role and seeks to welcome his sibling in a way that "could fit this new person no matter who they grew up to be." Juanita (Ta-Da!) illustrates with fine ink outlines and loose patterns, filling Aidan's revamped bedroom with cozy fabrics, and populating a family baby shower with balloons that spell out an inclusive, triumphant sign: "it's a baby." The creators' exploration of one transgender child's experience emphasizes the importance of learning "how to love someone for exactly who they are." Ages 5-6. (June) © Copyright PWxyz, LLC. All rights reserved.
(c) Copyright PWxyz, LLC. All rights reserved
Kirkus A transgender boy anticipates his new job as a big brother by helping his parents prepare for his baby sibling's arrival.Aidan "felt trapped" in his old name, clothes, and room before he told his parents "what he knew about himself." Some girls never wore dresses, "but Aidan didn't feel like any kind of girl" because he was "another kind of boy." With his parents' support, he embraces his identity and takes on a new, important role, becoming a big brother. More than anything, he wants the baby to feel loved and understood. This picture book sets a new standard of excellence in transgender representation by centering the feelings of Aidan, a biracial (black and South Asian) transgender boy. Juanita's (Ta-Da!, 2018) digital illustrations have the look of ink and watercolor, and they bring the love in Aidan's family to life. Bright, mixed patterns in Aidan's clothes capture the vibrancy of his personality and his excitement to welcome a baby into the family. Lukoff (A Storytelling of Ravens, 2018) breaks away from binary language and stereotypical gender roles, highlighting within the text and in an author's note that there is more than one way to be a person of any gender. The hopeful message at the end emphasizes love and the importance of staying open to learning.Joyful and affirming, Aidan's story is the first of its kind among books for welcoming a new baby. (Picture book. 3-7) Copyright Kirkus Reviews, used with permission.
Copyright © Kirkus Reviews, used with permission.
Horn Book Brown-skinned (possibly biracial) Aidan, who's transgender, knows how it feels to be misunderstood, so he wants to get things right for his new sibling. Lukoff's straightforward approach to Aidan's gender transition rings with authenticity, and he puts the child-centered story ahead of message. Celebrating the family's close, affirming relationship, Juanita's vibrant digital illustrations take cues from the text, which models how to avoid the male/female binary. (c) Copyright 2019. The Horn Book, Inc., a wholly owned subsidiary of Media Source, Inc. No redistribution permitted.
(c) Copyright The Horn Book, Inc., a wholly owned subsidiary of Media Source, Inc. No redistribution permitted.