by Dennis Nolan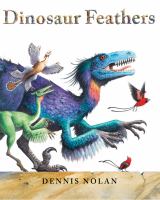 Horn Book
(c) Copyright The Horn Book, Inc., a wholly owned subsidiary of Media Source, Inc. No redistribution permitted.

Nolan beautifully pairs a clever rhyming text with luminous watercolors to express, for very young readers, the evolutionary link between several-million-year-old dinosaurs and modern-day birds. The poem's second half celebrates the varied bird species that evolved from their reptilian ancestors. Back matter includes a thumbnail index for featured dinosaurs and birds (including name, pronunciation, Latin translation, size, geographical location, time period), a illustration depicting four billion years of life on Earth, and a helpful description of the dinosaurs' evolution from reptiles to birds. Reading list, timeline. (c) Copyright 2021. The Horn Book, Inc., a wholly owned subsidiary of Media Source, Inc. No redistribution permitted.
---
Kirkus
Copyright © Kirkus Reviews, used with permission.

Viewers get ringside seats as dinosaurs march past in an evolutionary parade, giving way to their modern avian representatives.Nolan crafts a rhymed cadence that is itself an achievement"Ceratosaurus / Allosaurus / Archaeopteryx / Mamenchisaurus / Kentrosaurus / And Caudipteryx"but pales next to the brightly patterned, hyper-realistically detailed, and, increasingly often, gloriously feathered dinos marching by the dozens in close company across spacious pages. Just over halfway through, a flaming asteroid descending in the background signals a sudden change to an equally magnificent, more-contemporary cast whose feathers likewise "grew, and grew, and grew. / Flamingos, Owls, / Guineafowls, / And the Marabou." The portraits are all full-body, rendered (at least roughly) to scale, and with a low or level angle of view that sets them off to fine effect. Dino names throughout are matched to phonetic spellings, and a visual index at the back offers additional quick facts for every marcher. Following the image of a sinuous tree of life being studied by a racially diverse group of human offspring, a final rank of sprightly sauropod hatchlings fondly supervised by a humongous parent finishes off the parade on a homey note.A prehistoric progress that takes flight in more ways than one. (recommended books and museums) (Informational picture book. 5-10) Copyright Kirkus Reviews, used with permission.