by Kevin Noble Maillard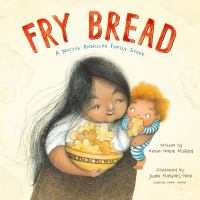 Horn Book
(c) Copyright The Horn Book, Inc., a wholly owned subsidiary of Media Source, Inc. No redistribution permitted.

More than just food, 'Fry bread is time...Fry bread is art...Fry bread is history.' An intergenerational group of Native American friends and family makes fry bread, a common Native food staple as varied as the people who make it; this diversity is reflected in Martinez-Neal's warmhearted illustrations. Back matter explains how fry bread became a part of many Native Americans' diet after being forced from their land and given limited U.S. government rations. Recipe appended. Bib. (c) Copyright 2021. The Horn Book, Inc., a wholly owned subsidiary of Media Source, Inc. No redistribution permitted.
---
Kirkus
Copyright © Kirkus Reviews, used with permission.

A bright picture book invites kids to cook with a Native American grandma.Kids of all races carry flour, salt, baking powder, and other supplies into the kitchen to make dough for fry bread. Flour dusts the counter as oil sizzles on the stove. Veggies, beans, and honey make up the list of toppings, and when the meal is ready, everyone is invited to join the feast. Community love is depicted in this book as its characters gather on Indigenous land across the continentindoors, outdoors, while making art or gazing at the night sky. This is about more than food, referencing cultural issues such as the history of displacement, starvation, and the struggle to survive, albeit in subtle ways appropriate for young children. With buoyant, heartfelt illustrations that show the diversity in Native America, the book tells the story of a post-colonial food, a shared tradition across the North American continent. Broken down into headings that celebrate what fry bread is, this story reaches readers both young and old thanks to the author's note at the back of the book that dives into the social ways, foodways, and politics of America's 573 recognized tribes. Through this topic that includes the diversity of so many Native peoples in a single story, Maillard (Mekusukey Seminole) promotes unity and familiarity among nations.Fry bread is much more than food, as this book amply demonstrates. (recipe) (Picture book. 3-8) Copyright Kirkus Reviews, used with permission.