by Thyra Heder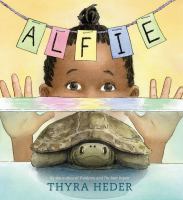 School Library Journal
(c) Copyright Library Journals LLC, a wholly owned subsidiary of Media Source, Inc. No redistribution permitted.

PreS-Gr 2-A girl named Nia gets a pet turtle on her sixth birthday. She names him Alfie and the two of them spend a year together with Nia making every effort to include her pet in all her activities. But turtles will be turtles-not being the most playful or cuddly as pets go-and Nia loses interest. Then, on the morning of Nia's seventh birthday, Alfie goes missing. That's when the story changes from Nia's to Alfie's point of view, as the intrepid turtle goes on the hunt for the perfect gift for Nia's birthday. He first explores around the house, encountering the family dog, then ventures out onto the fire escape, down into the yard, and through a sandbox until he grows cold and tired. A friendly snail suggests that Alfie take a nap in the pond in the yard. Readers see the passage of time illustrated through the change in seasons from fall to winter and then spring, when Alfie wakes up from his "nap" and emerges from the pond just in time to celebrate what Alfie believes is Nia's seventh birthday. Readers will delight to see the two reunited and will notice that it is actually Nia's eighth birthday, as the number indicates on her birthday balloon. The beautiful ink-and-watercolor illustrations, which feature an African American child (and her family), offer readers lots of clues and thoughtful details. An author's note tells how the story is based on Heder's real-life pet turtle Alfie that she got when she was six. VERDICT A welcome addition to picture book collections perfect for one-on-one and small group sharing.-Megan Kilgallen, Packer Collegiate Institute, Brooklyn © Copyright 2017. Library Journals LLC, a wholly owned subsidiary of Media Source, Inc. No redistribution permitted.
---
Publishers Weekly
(c) Copyright PWxyz, LLC. All rights reserved

Alfie is a pet turtle, and his new owner Nia, an African-American girl with braided hair and plenty of curiosity, tries hard to find ways to relate to him. "I taught him my wiggle dance and made him presents," she says, "but he didn't seem to notice." Nia's interest cools somewhat; then, on her seventh birthday, Alfie disappears. After a pause indicated by a spread with no text, the story resumes, now narrated by Alfie. It turns out that he's been paying more attention than anyone knew: "Nia taught me how to dance!" he explains. "She gave me presents! I had never been given presents." Hoping to find the perfect birthday gift for Nia, Alfie sets out on a shopping trip, and Heder's story really begins to shine as Alfie gets help from Toby (the family hound) and a snail in the backyard. Her watercolor spreads are carefully executed with few stylistic mannerisms; all the attention is directed toward the characters. It's a treat watching Alfie deliver Nia the perfect birthday present-albeit a little late. Ages 4-8. Agent: Stephen Barr, Writers House. (Oct.) © Copyright PWxyz, LLC. All rights reserved.
---
Book list
From Booklist, Copyright © American Library Association. Used with permission.

For her sixth birthday, Nia's delighted to receive a pet turtle, Alfie, and shares with him songs, stories, and little gifts. But lacking responses from Alfie, she starts losing interest, until, on her seventh birthday, she notices Alfie has disappeared but to where? Readers then get the story from Alfie's viewpoint as he relates both how happy Nia made him and why he's left his tank: to find her a special present. Eventually, after searching indoors and outdoors, as well as getting advice from a dog, a snail, and a fish, Alfie returns with the perfect gift, and a festive birthday is had. Nia's and Alfie's first-person descriptive accounts are extended by lovely, intricately detailed ink-and-watercolor illustrations that artfully highlight the varying perspectives and amusing moments, as when Nia introduces Alfie to her toys. Although the concept of hibernation may need explaining (Alfie returns on what's revealed to be Nia's eighth birthday), overall, this is a charming story of the bond between child and pet.--Rosenfeld, Shelle Copyright 2017 Booklist