by Mordicai Gerstein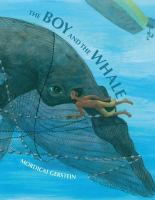 School Library Journal
(c) Copyright Library Journals LLC, a wholly owned subsidiary of Media Source, Inc. No redistribution permitted.

Gr 1-5-As the sun rises, a boy sees something big out in the sea-a whale. The boy Abelardo and his fisherman father ride their panga out to the whale who is caught in their fishing net. Pragmatic Papa is concerned about his net, but his son wants to save the whale. Back on shore, the boy's conscience tells him he must at least try to help the animal. He rides the panga back. He dives and cuts the net, dives and cuts, until the whale finally breaks free, reveling with joy. When Abelardo returns to shore his father awaits, hands on hips. With a hug, Papa commends his boy for following his heart to do something foolish yet brave. The first-person narrative balances action and dialogue that are both casual and filled with a gentle gravity. Gerstein's storytelling is simple yet effective. The story provides readers with the right amount of information, allowing them to easily understand the subtleties under the surface of Abelardo's relationship with his father. The mixed-media illustrations are dominated by ocean blues, creamy sun-dappled yellows, and the dignified dark gray whale. Gerstein explores light and shadow in the atmospheric and detailed images grounded in strong compositions and beautiful line work. The specific location remains unnamed; however Abelardo's Spanish name, the characters' brown skin, and the coastal setting point to a Latin American locale. According to the publisher's website, this story was inspired by a real-life video of a whale's rescue. VERDICT This beautifully illustrated story with universal themes is a definite first purchase for libraries.-Amy Seto Forrester, Denver Public Library © Copyright 2017. Library Journals LLC, a wholly owned subsidiary of Media Source, Inc. No redistribution permitted.
---
Publishers Weekly
(c) Copyright PWxyz, LLC. All rights reserved

A number of online videos show humans freeing whales tangled in ropes and nets; Gerstein acknowledges these as the inspiration for this story. Abelardo, the brown-skinned, shaggy-haired boy who narrates, is the son of a fisherman and lives by the ocean. One morning he spots a large mass in the bay. A whale is entangled in their only fishing net. It looks dead. His father is distraught: "He cursed the whale with words I'd never heard him say." Gerstein (The Sleeping Gypsy) paints father and son approaching the captive whale in their panga: "I had never been so close to an animal so huge." The story of how the boy discovers that the great creature is still alive, and gathers the courage to save it, will thrill readers. Gerstein writes with short, strong words, full of heart. Watery turquoise panels, including a dramatic vertical spread, emphasize the whale's size and the danger the boy faces. The boy disobeys his father to save a creature that cannot speak, and Gerstein paints the story in a way that allows readers to feel that they're part of the action. Ages 4-7. (Nov.) © Copyright PWxyz, LLC. All rights reserved.
---
Kirkus
Copyright © Kirkus Reviews, used with permission.

A boy defies his father's warning and rescues a whale tangled in their sole fishing net.The story opens with two clear viewpoints. Papa is distressed their only source of income is in jeopardy; Abelardo is very concerned for the whale's survival. He remembers a time when he had been trapped in a net and almost drowned before his father saved him. Papa leaves to borrow another net, and Abelardo, alone on the beach, takes their outboard-equipped panga out to the ensnared whale, dives in, and bravely works with a small knife to cut the tough plastic netting, finally freeing the animal. The boy's daring determination and his emotional and physical struggles are evident in the succinct, first-person narrative, which builds urgency, fear, and suspense to a one-word crescendo"BREATHE!"when Abelardo and whale must surface to do so. Realistic pen-and-ink-and-acrylic paintings alternate between sunny, glimmering sea and beach scenes and dark underwater scenes done in aquas and grays. The drama is vividly shown, paralleling the boy's passion with the whale's defeated resignation in a double-page image of the boy's grim face next to and as large as the gray whale's sad eye. The inspiring, humane adventure joyfully concludes with Gerstein's pinnacle scenes of the whale breaching joyfully. A Latin American coastal setting is indicated with naming conventions; Abelardo and his father have brown skin and straight, black hair. Bravo for a courageous boy's achievement. (Picture book. 5-8) Copyright Kirkus Reviews, used with permission.
---
Book list
From Booklist, Copyright © American Library Association. Used with permission.

Abelardo and his father make their living fishing, and their net is indispensable. When the child notices a whale tangled in their net, he and his father investigate. The man thinks practically: how will they make a living without a net? The boy thinks empathically: how can they save the creature? Abelardo defies his parent's order and boats out to see if he can help. When the huge mammal looks into the boy's eyes, a connection is forged, and the boy attempts the dangerous task of cutting away the net. The gray of the whale is repeated in the netting and a nearby rocky island. Ribbons of various colors in the wide-open sky blue, green, teal are reflected in the vast ocean. When the whale makes its first joyful vertical leap out of the sea, fins flared out at his side, the child's posture is virtually identical, and their joint elation is exhilarating. Gerstein has captured an extraordinary connection between the natural and human worlds that will be long remembered after the last page is turned.--Owen, Maryann Copyright 2017 Booklist