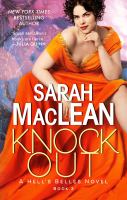 Book list
From Booklist, Copyright © American Library Association. Used with permission.

As far as Detective Inspector Thomas Peck is concerned, the third time with Lady Imogen Loveless is definitely not the charm. In the last three months, three different London businesses have been demolished by explosions, and each time Thomas has discovered Imogen at the crime scene. Given her fondness for dabbling in things that go boom—not to mention her rumored affiliation with the Hell's Belles, covert vigilantes—it seems only logical to wonder if Imogen may have some connection to his latest case. As it turns out, Thomas may soon have the answer he seeks when he is assigned by his superiors at Scotland Yard the task of guarding Imogen (or keeping her out of trouble, depending upon whom one asks). In the latest instantly irresistible addition to her Hell's Belles series, the always brilliant MacLean smartly plays to her literary strengths with a delightfully unconventional heroine and a by-the-book hero whose combined efforts to see that justice is done generate plenty of sexy sparks along the way as well as a deftly constructed plot that will richly resonate with twenty-first-century romance readers.
---
Kirkus
Copyright © Kirkus Reviews, used with permission.

Explosives are dangerous, but love is even riskier. Lady Imogen Loveless is considered by most to be "too much." Her penchant for chemistry makes her peculiar, and her brother, the sixth Earl Dorring—who's been her guardian since their father died—thinks it's time for her to marry. What few know is that explosives expert Imogen is part of the Hell's Belles, a woman-led collective that helps "those whom society ignored." DI Thomas Peck brought himself out of the gutter and is rising in the ranks of Scotland Yard. The Hell's Belles have been known to tip him off about crimes committed by the aristocracy, but they aren't looping him in on their discoveries about a recent spate of building explosions. He's captivated by the chaos that is Imogen and is more than happy to help when her brother hires him to protect her during his off hours. Tommy tells himself he's doing this to get information from her about the blown-up buildings, but he also just finds her company irresistible. Imogen loves to rile Tommy up and wants to trust him, but the evidence about the explosions so far points right at Scotland Yard. MacLean delivers big action, high heat, profound emotions, and a thoughtful critique of power and privilege in this dynamite tale sure to keep readers tearing through the pages. Like the protagonists of the series' previous installments, Imogen is tough and smart, yet there are layers to her characterization so that she becomes a fully developed and relatable character. Tommy complements her so well, as they're opposites in many ways yet both bighearted and dedicated to social justice. This sensational romance completely lives up to its title. Copyright © Kirkus Reviews, used with permission.
---
Library Journal
(c) Copyright Library Journals LLC, a wholly owned subsidiary of Media Source, Inc. No redistribution permitted.

The third entry in MacLean's vibrant historical "Hell's Belles" series (following Heartbreaker) is exciting and danger-filled—and not just because Lady Imogen is an expert at explosives. It is because the threat level against the Belles group of avenging women has risen to the point that their network, and Imogen in particular, is in mortal danger. The Belles are getting too close to taking down the most powerful men in the realm, and those men are used to winning. With the help of Thomas Peck, a detective of high honor and longstanding interest in Imogen, she and her sisterhood meet threat with cunning and face danger with determination. The story flows quickly once the threads are in place, as MacLean excels in crafting characters that know who they are and where they stand. Adding to the pleasures are the abiding friendships that make the story and the found family that spreads across London. VERDICT It may be historical romance, but the throughline is as modern as today's headlines. Series readers will be delighted, but those new to the run really should start at the beginning to enjoy how deftly MacLean is building these relationships.—Neal Wyatt
---
Publishers Weekly
(c) Copyright PWxyz, LLC. All rights reserved

Victorian girl gang the Hell's Belles returns (after their last appearance in Heart Breaker) in this fierce romance from MacLean. This time, the focus is on Lady Imogen Loveless, resident chemist and explosives expert, as she works to catch the culprit behind a series of explosions in London's East End. Meanwhile, her powerful and controlling family asks Det. Insp. Thomas Peck to keep an eye on her and pull her from trouble. But when the indomitable Imogen turns to Thomas for help in her investigation, he winds up getting into trouble right alongside her. Their attraction grows as danger mounts: after they're attacked by police officers, they learn that the explosions are part of a conspiracy that goes all the way up to the highest levels of Scotland Yard. As they fight for justice and work to keep each other safe, Imogen must also convince Thomas that she wants no other man but him, despite their class difference. MacLean's characters are refreshingly progressive and the plot has a kinetic energy that increases exponentially alongside the romance and suspense. It's a joy to revisit the Hell's Belles; series fans and new readers alike will get a kick out of Imogen's time in the spotlight. Agent: Holly Root, Root Literary (Aug.)