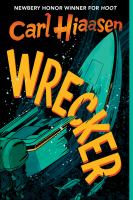 Kirkus
Copyright © Kirkus Reviews, used with permission.

During the pandemic, a teen inadvertently gets caught up in a crime ring in his touristy hometown of Key West. Fifteen-year-old Valdez Jones VIII calls himself Wrecker, after his ancestors who made a living salvaging shipwrecks. He is thriving thanks to the online schooling during lockdown that allows him the flexibility to be out on his boat. The flexibility also helps with his odd job, one that has him working graveyard shifts in an actual graveyard: A British man pays him $50 per week to clean one particular headstone of the accumulated iguana excrement that follows a day of reptilian sunbathing. One night, while he's at work in the cemetery, Wrecker is approached by a silver-mustachioed man who wants to hire him to keep an eye on a brand-new crypt, but there is something fishy about the situation and intimidating about the man, and soon Wrecker is being coerced into doing things that he is certain are tied to illegal activity. This thrilling story featuring wry, witty writing also explores the history of racism in Key West, the environmental impacts of cruise tourism, and the effects of Covid-19 on both people's lives and criminal activities. Wrecker is a sympathetic character whose intelligence, savvy, and strong moral compass lead to a satisfying finish. Wrecker is biracial, with Black and white ancestry; most main characters read white. A batten-down-the-hatches thriller anchored by critical real-life themes. (Thriller. 10-14) Copyright © Kirkus Reviews, used with permission.
---
Publishers Weekly
(c) Copyright PWxyz, LLC. All rights reserved

Fifteen-year-old Valdez Jones VIII—who calls himself Wrecker "because his great-great-great-great-great-grandfather salvaged shipwrecks for a living"—is fishing off the coast of Key West when a boat speeding outside the navigation markers becomes stuck in the shoal. The boat's owners try persuading him to tug them free, but Wrecker—wary of their lack of boating know-how and of damaging his own skiff—says he can't do it. Despite his refusal, they toss him a wad of cash, insisting that he keep it and that Wrecker "never saw us, okay, 'cause we were never here." Now, Wrecker suddenly sees the boaters everywhere, including at the marina and the cemetery, where he works a part-time gig cleaning gravestones. When one of the strangers from the shoal—a silver-mustachioed man—employs Wrecker to keep a lookout on one particular gravestone, Wrecker worries that he's gotten himself involved in something sketchy. Set during the Covid-19 lockdown, this enigmatic read by Hiaasen (Squirm) blends ecological conservation, family drama, and Key West history to present a multilayered telling with all the hallmarks of a thrilling heist. Wrecker's biracial (Black Bahamian and white) identity, and the ways in which it influences his interactions with the police, is empathetically wrought. Agent: Esther Newberg, ICM Partners. Ages 10–up. (Sept.)
---
Book list
From Booklist, Copyright © American Library Association. Used with permission.

After a five-year absence from the youth sphere, Hiaasen makes a welcome return with a new mystery set in Key West. Drenched in local color, the story begins as 15-year-old Valdez Jones VIII ("Wrecker") happens upon a suspicious boat while out fishing. That encounter is enough to get him unwillingly entangled with a dangerous smuggler, whom he refers to as Silver Mustache. Hiaasen packs his tale with rich character details, local history, and present-day concerns—from COVID-19 to the environmental degradation wrought by the tourism trade—all while carefully spinning a layered mystery that gets more serious with every turn. Wrecker is a wonderful protagonist by virtue of how average he is. He's a good kid who's awkward around girls and a bit of a loner. He also has an enduring pride in being descended from a long line of "wreckers" (people who free dive to salvage goods from shipwrecks), hence his self-ascribed nickname. Much of the story's action takes place on the water, which makes for a nice change of pace. The other prominent location is the island's cemetery, where Wrecker cleans tombstones and uncovers both a shameful piece of the island's history and a big clue to Silver Mustache's illegal operation. Wielding his writing talents and wit, Hiaasen seamlessly incorporates these disparate elements into one heck of a ride.