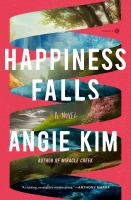 Kirkus
Copyright © Kirkus Reviews, used with permission.

When her father disappears, 20-year-old Mia Parkson cannot ask the one person who knows what happened—her brother, who does not speak. After Miracle Creek (2019), the title of Kim's second novel could make it seem to be part of a series—and thematically, it is, again combining an exploration of neurodiversity and its effects on family dynamics with a mystery, in this case a missing person story, again set in the Northern Virginia suburbs, again with a smart woman lawyer named Shannon Haug on the scene to make brilliant charts. Here, Kim has done even more with what are now clearly her signature materials by nesting this whole situation inside the philosophical question of what creates happiness, one which the missing man, Adam Parson, was privately studying in notebooks documenting his research and experimentation (most of it on his own family). All of this comes to us through the narrator, his daughter, Mia, a brilliant, acerbic chatterbox whose relentless analysis spills from long, ropy sentences into parentheticals and footnotes that lasso the reader into turning the pages. Listen to her: "Labeling anything about our family 'typical'—I just have to shake my head. I'm not even thinking about the typical-adjacent stuff like John's and my boy-girl twin thing, our biracial mix (Korean and white), untraditional parental gender roles (working mom, stay-at-home dad), or different last names (Parson for Dad + Park for Mom = mashed up into Parkson for us kids)....Where we're in-dubitably, inherently atypical is with my little brother Eugene's dual diagnosis: autism and a rare genetic disorder called mosaic Angel-man syndrome (AS), which means he can't talk, has motor difficul-ties, and—this is what fascinates many people who've never heard of AS—has an unusually happy demeanor with frequent smiles and laughter." Got all that? Mia is an amazing creation, as is Eugene. But what is most remarkable about this book is the way Mia's father's "happiness quotient" theory ripples not just through the plot of the novel, but through the life of the reader. The claim that a book will change your life often seems like exaggeration. Here the potential is real. Copyright © Kirkus Reviews, used with permission.
---
Publishers Weekly
(c) Copyright PWxyz, LLC. All rights reserved

Kim's bittersweet second novel (following Miracle Creek) intertwines an intimate family drama, a missing-persons mystery, and a philosophical rumination on happiness. Korean American college student Mia Parkson and her twin brother, John, are spending the Covid-19 lockdown at their parents' house in suburban Virginia. One morning, their autistic 14-year-old brother, Eugene, races home from a hike with their father, his clothing spattered with blood. Their father is nowhere to be found, and Eugene—who is nonverbal—isn't able to say what happened. While Mia and her family help authorities sift a bewildering array of clues, Mia studies analytical notes her father left behind, which posit that the experience of happiness is relative to an expected outcome—leading her to wonder whether her father is subjecting them all to an elaborate social experiment. Meanwhile, the Parksons investigate therapies Eugene has been undergoing that suggest they have underestimated his intelligence and ability to communicate—a revelation that dovetails with Mia's own complex thoughts on how factors including race, language, and emotion all impact people's interpretation of information and ability to relate to one another. Readers will be fascinated with how Kim bends the structure of a whodunit to serve a broader exploration of the dynamics of human relations and moved by her skill at wresting joy from tragedy. Agent: Susan Golomb, Writers House. (Sept.)
---
Book list
From Booklist, Copyright © American Library Association. Used with permission.

In Kim's latest (after Miracle Creek, 2019), Adam Parson goes missing, leaving behind his wife and children, including 15-year-old Eugene, who has autism and a rare genetic disorder called mosaic Angelman syndrome and is nonverbal. Narrated by hyperanalytical 20-year-old Mia, Eugene's sister, Happiness Falls follows this biracial Korean American family—mother, Eugene, and Mia's twin, John—as they try to figure out what happened to Adam. They follow sparse leads: the name of a woman with whom Adam was perhaps having an affair, and Adam's recovered, waterlogged notebook that detailed his work attempting to quantify a feeling called the Happiness Quotient. A dogged police officer raises suspicions, and soon Eugene is embroiled in the juvenile criminal justice system. Though there is no smooth resolution, it all circles back to Eugene in surprising ways. Kim explores themes of language and communication, with Mia reflecting on her time growing up in Korea and her family's methods for communicating with Eugene. Mia is a prickly, appealing narrator, going off on frequent tangents that add texture to the narrative. The result is a philosophical family drama that is as page-turning as it is thought-provoking. Book groups will find much to discuss here, especially those who like Celeste Ng.