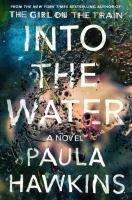 Kirkus
Copyright © Kirkus Reviews, used with permission.

Women in a small British town have been drowning since 1679. "No one liked to think about the fact that the water in that river was infected with the blood and bile of persecuted women, unhappy women; they drank it every day." So sayeth the town psychic in Hawkins' (The Girl on the Train, 2015) follow-up to her smash-hit debut. Unfortunately, there's nothing here to match the sharp characterization of the alcoholic commuter at the center of that story. Here the central characterDanielle Abbott, an award-winning writer and photographer who's also the single mother of a teenagerhas already died. At the time of her watery demise, she was working on a coffee-table book about the spot the people of Beckford call the Drowning Pool, once her "place of ecstasy," where she learned to swim, now her grave. She left behind a pile of typewritten pages and a daughter whose best friend also drowned just a few months ago. Danielle's estranged sister, Jules, returns to town to identify the body, relive the distressing past that led her to flee this creepy place, and try to deal with her snotty, grieving niece, Lena. Many of the neighbor families are also down a member via the pool, and even after you've managed to untangle all the willfully misleading information, half-baked subplots, and myriad characters, you're going to have a tough time keeping it straight. The spunkiest voice belongs to a somewhat tangential policewoman who probably should have been the narrator. "Seriously," she comments, "how is anyone supposed to keep track of all the bodies around here? It's like Midsomer Murders, only with accidents and suicides and grotesque historical misogynistic drownings instead of people falling into the slurry or bashing each other over the head." Let's call it sophomore slump and hope for better things. Copyright Kirkus Reviews, used with permission.
---
Publishers Weekly
(c) Copyright PWxyz, LLC. All rights reserved

In Hawkins's psychological thriller set in the sleepy English town of Beckford, photographer-author Nel Abbott is in the midst of writing a book about the township river-known among locals as the Drowning Pool because of the many lives it has claimed-when she too falls victim to it. The new police officer in town, Erin Morgan, is assigned to the case, and as soon as she declares Nel's death a murder, she realizes that nearly everyone in the village is a suspect. There are a number of different character-narrators, and the audio edition employs a full team of voice actors to portray them: actor Imogen Church reads Officer Morgan's chapters in a skeptical cockney accent; Sophie Aldred plays Nel's estranged sister Jules, confused and annoyed; Laura Aikman is Nel's petulant 15-year-old daughter Lena. Doing the lion's share of the narration, actor Bavidge covers the sections written in the third person with crisp efficiency, then switches to a soft, lyrical, and dramatic voice for excerpts from Nel's unfinished book-within-the-book, which help to fill in missing backstory pieces and eventually suggest both the reason she wound up in the drowning pool and who put her there. A Riverhead hardcover. (May) © Copyright PWxyz, LLC. All rights reserved.
---
Library Journal
(c) Copyright Library Journals LLC, a wholly owned subsidiary of Media Source, Inc. No redistribution permitted.

The mega-success of The Girl on the Train guaranteed Hawkins's sophomore title would be an instant best seller. The author provides another head-spinning mystery from which she slyly (mis)leads readers toward startling revelations. Nel Abbot is dead. Weeks earlier, Nel's daughter Lena's best friend Katie also died-in the same Drowning Pool. Nel's long-estranged sister Jules appears to proxy-parent orphaned Lena and attempt to figure out what happened. The characters proliferate, which could be why the producers decided on a five-narrator cast (Laura Aikman, Rachel Bavidge, Sophie Aldred, Daniel Weyman, and Imogen Church). The readers clearly aren't listening to one another when voicing the same characters: Katie's mother, Louise, sounds like a middle-aged matron or a hysterical suburbanite; Katie's little brother Josh flits between expected preteen boy or thug-in-the making; investigator Patrick and his estranged wife Helen sound like they have split personalities. Verdict Given Hawkins's phenomenal following, no plot or production missteps will deter her vast audience from demanding access to Water in multiple formats. ["A must-have for fans of twisty thrillers": LJ 4/15/17 review of the Riverhead hc.]-Terry Hong, Smithsonian BookDragon, Washington, DC © Copyright 2017. Library Journals LLC, a wholly owned subsidiary of Media Source, Inc. No redistribution permitted.
---
Book list
From Booklist, Copyright © American Library Association. Used with permission.

*Starred Review* Nel Abbott obsessed over the drowning pool, a spot in the river behind her family's Beckford, England, home where several women had lost their lives, as far back as her estranged sister, Jules, can remember. Nel was writing the dead women's stories, in fact, before her own body was discovered in the pool, prompting Jules' return to Beckford to care for Nel's prickly teenage daughter, Lena. As Nel's apparent suicide is investigated, past events surface and some of them are barely past. Just months ago, Lena's best friend walked into the river with a weighted backpack, and the girl's grieving family blames Nel for glorifying the drowned women. Needless to say, nothing is quite as it appears, but those who know more have reasons to keep quiet. In her second thriller, Hawkins (The Girl on the Train, 2015) returns to the rotating-narration style of her breakout debut, giving voice to an even broader cast this time, and readers will see shades of Girl'?s Rachel in Jules. Hawkins' creepy small-town setting is a draw, too. As a called-in investigator notes of Beckford, it seems like whichever way you turn, in whatever direction you go, somehow you always end up back at the river. HIGH-DEMAND BACKSTORY: Have you heard of The Girl on the Train? Sure you have along with everyone else. Order by the ton.--Bostrom, Annie Copyright 2017 Booklist
---
Publishers Weekly
(c) Copyright PWxyz, LLC. All rights reserved

Jules Abbott, the heroine of bestseller Hawkins's twisty second psychological thriller, vowed never to return to the sleepy English town of Beckford after an incident when she was a teenager drove a wedge between her and her older sister, Nel. But now Nel, a writer and photographer, is the latest in a long string of women found dead in a part of the local river known as the Drowning Pool. As Nel put it, "Beckford is not a suicide spot. Beckford is a place to get rid of troublesome women." Before Nel's death, the best friend of her surly 15-year-old daughter, Lena, drowned herself, an act that had a profound effect on both Nel and Lena. Beckford history is dripping with women who've thrown themselves-or been pushed?-off the cliffs into the Drowning Pool, and everyone-from the police detective, plagued by his own demons, working the case to the new cop in town with something to prove-knows more than they're letting on. Hawkins (The Girl on the Train) may be juggling a few too many story lines for comfort, but the payoff packs a satisfying punch. Author tour. Agent: Lizzy Kremer, David Higham Associates (U.K.). (May) © Copyright PWxyz, LLC. All rights reserved.
---
School Library Journal
(c) Copyright Library Journals LLC, a wholly owned subsidiary of Media Source, Inc. No redistribution permitted.

The small British town of Beckford, known for its winding river and history of women drowning (by suicide or in a test of witchcraft) provides an eerie setting for this tale. Fifteen-year-old Lena's mother, Nel, who has been researching the river's mysteries, is found drowned a few months after Lena's best friend's body is discovered. Did they take their own lives? Or were they murdered? Multiple detectives are on the case, and chapters from the perspectives of the many characters slowly reveal clues. Hawkins's sophomore effort after The Girl on the Train is bound to be a hit, but the plethora of characters and measured pace may deter some teens. Those who stick with the novel will be rewarded as the plot picks up toward the end of the book and builds to a satisfying denouement. -VERDICT For literary readers of atmospheric mysteries.-Sarah Hill, Lake Land College, Mattoon, IL © Copyright 2017. Library Journals LLC, a wholly owned subsidiary of Media Source, Inc. No redistribution permitted.