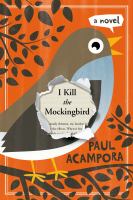 Kirkus
Copyright © Kirkus Reviews, used with permission.

Literary terrorists hit Connecticut, and things go awry for a trio of well-meaning book addicts. "What if we could make everybody read To Kill a Mockingbird this summer?" Lucy asks her friends Elena and Michael. They've received summer reading lists on the last day of eighth grade, and their favorite, To Kill a Mockingbird, is one of their choices. It's such a great book, though, that everyone should read it, so they go about scheming to make that happen. Operating on the principle of supply and demand, they figure if they make the novel scarce, students will flock to libraries and bookstores in search of it. Naming their conspiracy "I Kill the Mockingbird," they set out to hide copies of the Harper Lee classic, purposely misshelving it in bookstores and libraries in town and, eventually, throughout the state. They create a presence on Facebook, Twitter, Instagram and Tumblr, and their plot quickly goes out of control, encouraging copycats around the country. Soon, their plan to promote reading begins to seem like censorship, a plot by publishers or a big practical joke. Acampora's tale of three book-loving protagonists out to spread the love celebrates books and readers, and it fizzes in Lucy's lively first-person narration. The spot-on dialogue combines with the irresistible appeal of young teenagers enthusiastically pursuing bad ideas for a fast, page-flipping read. It'll make readers look at reading and activism in a whole new light. (Fiction. 10-14)]] Copyright Kirkus Reviews, used with permission.
---
Book list
From Booklist, Copyright © American Library Association. Used with permission.

It really begins with the death of everybody's favorite eighth-grade English teacher, Mr. Nowak. Affectionately dubbed Fat Bob because he was as wide as he was tall (and he was very tall), the teacher had assigned only one book as summer reading the previous year, Harper Lee's To Kill a Mockingbird. Now, best friends Lucy, Elena, and Michael vow to find a way to memorialize Fat Bob by insuring that everybody will want to read the modern classic. Their plan: make the book desirable by making it scarce. Their strategy: visit every library and bookstore in the area and hide all copies of the book, then publicize their campaign with posters and a website proclaiming, I Kill the Mockingbird. Will the kids succeed? Will Lucy and Michael's friendship blossom into something more? Will Lucy's mom, whose cancer is in remission, ever learn to eat healthfully? Acampora's well-­written, resolutely cheerful offering celebrates books, reading, and life, and that is surely enough to satisfy the most jaded reader.--Cart, Michael Copyright 2010 Booklist
---
Publishers Weekly
(c) Copyright PWxyz, LLC. All rights reserved

In this quick, witty novel, narrator Lucy and her bibliophile best friends Elena and Michael embark on a campaign of literary rebellion in an attempt to compel fellow students to read To Kill a Mockingbird over the summer. Their plan? Hide copies of Harper Lee's classic novel in local bookstores and libraries, which will promote a false sense of scarcity and increase demand. "It's not stealing," says Lucy in defense of the idea. "It's shrinkage." They also orchestrate an accompanying social media campaign, and before long the friends' brand of "literary terrorism" has grown out of their control. Acampora (Rachel Spinelli Punched Me in the Face) layers the novel with emotional nuance, as Lucy worries about her mother who recently beat cancer, and the friends contend with emerging romantic tension between Lucy and Michael. Strong characters bolster the narrative, including Elena's outspoken indie bookstore owner Uncle Mort. This strong novel stands on its own as a testament to the power of reverse psychology, but will resonate with fans of the original Mockingbird and maybe inspire a few to check it out. Ages 10-14. (May) (c) Copyright PWxyz, LLC. All rights reserved.
---
Horn Book
(c) Copyright The Horn Book, Inc., a wholly owned subsidiary of Media Source, Inc. No redistribution permitted.

In honor of her favorite (deceased) teacher, Lucy starts a guerilla campaign "to turn To Kill a Mockingbird into forbidden fruit." She creatively re-shelves copies in bookstores and libraries, making them nearly impossible to find and thus desirable; social media helps the campaign to take on a life of its own. Fans of the Harper Lee classic--and book nerds everywhere--should flock to this tribute. (c) Copyright 2014. The Horn Book, Inc., a wholly owned subsidiary of Media Source, Inc. No redistribution permitted.
---
School Library Journal
(c) Copyright Library Journals LLC, a wholly owned subsidiary of Media Source, Inc. No redistribution permitted.

Gr 5-8-The past year had been an emotional one for 13-year-old Lucy: her favorite English teacher collapsed and died next to her in line at the school cafeteria, and her mother almost died from cancer and is slowly recovering. Through it all, Lucy's friends Elena and Michael have stood by her. Now it's time for summer break and the new English teacher hands out a list of required summer reading. Lucy's favorite, To Kill a Mockingbird, is on the list. Lucy wants everyone to read this great book, and hatches a plan with her friends that will "go viral" in a way far beyond what she could imagine. Meanwhile, Lucy tries not to worry about her mother-it's hard for the teen to believe that her mother, who was once told she had only a few weeks to live, is actually well. Lucy's also coming to the realization that Michael may be more than a friend, and wonders if she's ready for all the challenges that high school will bring. Funny, poignant, and quirky, I Kill the Mockingbird will appeal to today's middle schoolers who are tech-savvy, literate, and idealistic. Acampora has developed likable characters that readers will relate to; they will cheer as Lucy, Elena, and Michael work together and amaze even themselves with their courage and conviction.-Kathy Kirchoefer, Henderson County Public Library, NC (c) Copyright 2014. Library Journals LLC, a wholly owned subsidiary of Media Source, Inc. No redistribution permitted.